The newest target of censorship on Twitter seems to be the Star of David used by Jewish users, which is being denounced and banned as hateful imagery.
The way Twitter has gone about enforcing this frankly warped belief means locking users out of their account if they are found to be using this symbol in their profile pictures.
For once, Twitter, which is often purposefully super vague if not silent about why they ban or censor users and their content, has been telling users who decided to use a variation of the Star of David to represent their identity on the platform that this violates Twitter rules against posting "hateful imagery" either in the profile or the header picture.
The message received by those whose accounts have been locked is that they must delete the portion of their profile that has been found to violate Twitter rules, and then verify their phone number.
As JPost reports, Things get tricky here when one bears in mind that the Star of David is a widely used symbol, featured most prominently on the flag of Israel itself, and that some of the users that contacted the Campaign Against Antisemitism after Twitter locked them out used that variation, while others chose to show the yellow Star of David that the Nazis forced Europe's Jews to display on their clothing as a way of identifying them.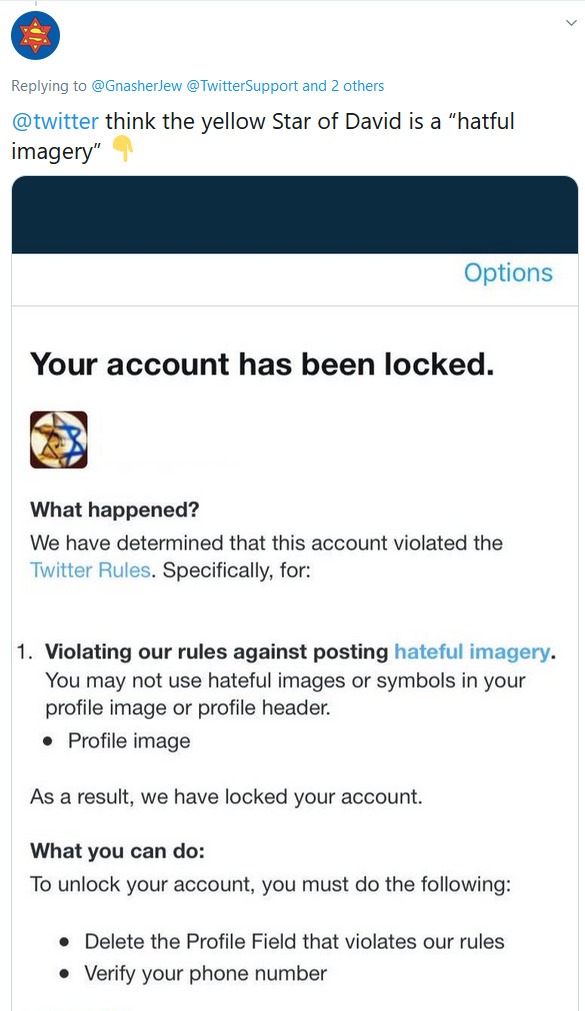 So if this violates "hateful imagery" rules – whose sensitivities is Twitter exactly trying to protect here?
Campaign Against Antisemitism's Stephen Silverman is not convinced that Twitter doesn't know any better, or that it's true it's not dealing with actual hateful content because of a lack of resources. Instead, it looks like a choice, he suggested.
"Twitter has put the lie to that claim by demonstrating that it does have the resources, but chooses to target the benign symbol of a victimized minority instead of the countless racists who use its platform with impunity," said Silverman.
Twitter responded to the allegations of censorship, appearing to suggest that it was a mistake. Twitter said: "We want to clarify some questions about hateful imagery on Twitter. We categorically do not consider the Star of David as a hateful symbol or hateful image. We have for some time seen the 'yellow star' or 'yellow badge' symbol being used by those seeking to target Jewish people."