Twitter's inability to properly serve its users has been showcased once again this week when an account set up by the murder victim Gabby Petito's family was temporarily disabled.
The account was soon reinstated, but it laid bare some of the problems the social media platform is consistently facing, and presenting to its users: clumsy enforcement of its own rules, and unwillingness to demonstrate transparency around those incidents.
The Gabby Petito Foundation account is envisaged as a tribute to the young woman, who was murdered during a long camping trip with her boyfriend – who subsequently disappeared and is still being searched by the authorities.
The tragic case and the so far unsuccessful search for the boyfriend, Brian Laundrie, has caused great interest in the country and abroad, and the victim' mother, Nichole Schmidt, who is behind the Foundation, is hoping to promote awareness and prevention, as well as help other families finding themselves in a similar predicament, and promote all this work on social media.
But the Foundation's page was up for mere minutes before Twitter blocked it. Schmidt is unsure why – because it appears Twitter never actually informed her – but assumes it has to do with the authentication process on the network, or the many "fake" accounts that have not been verified that are appearing on Twitter.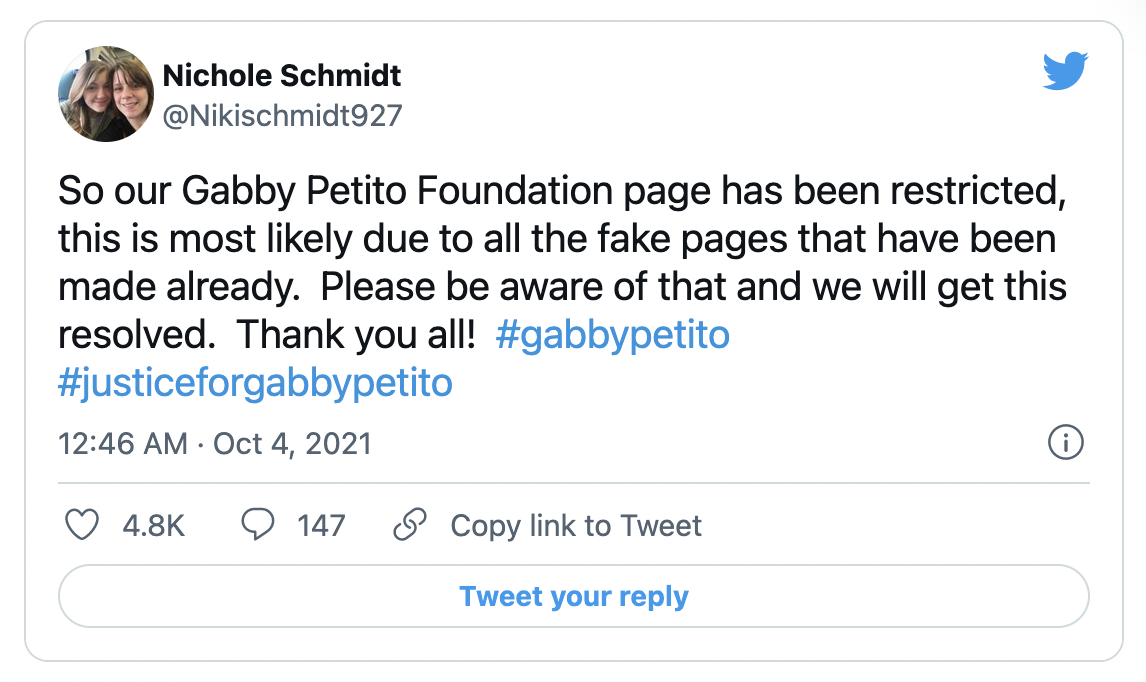 As ever, a user was left in the dark about why or how their presence on the platform got restricted, or reinstated, albeit in this case, given the nature of the Foundation and the case that is the reason for its existence, this behavior comes across as particularly insensitive.
Petito and Laundrie were traveling together and documenting their trip as bloggers on YouTube and Instagram, with the relationship reportedly starting to go south before the woman got murdered.