The new batch of "Twitter Files," posted by journalist Matt Taibbi on Friday, detail Twitter's decision to ban former President Donald Trump and show that Twitter was in constant communication with the FBI and other federal agencies.
Taibbi obtained internal messages, that were redacted, that showed "the internal debate leading to Trump's ban."
In one message, an employee wrote, "we currently analyze tweets and consider them on a tweet-by-tweet basis which does not appropriately take into account the context surrounding."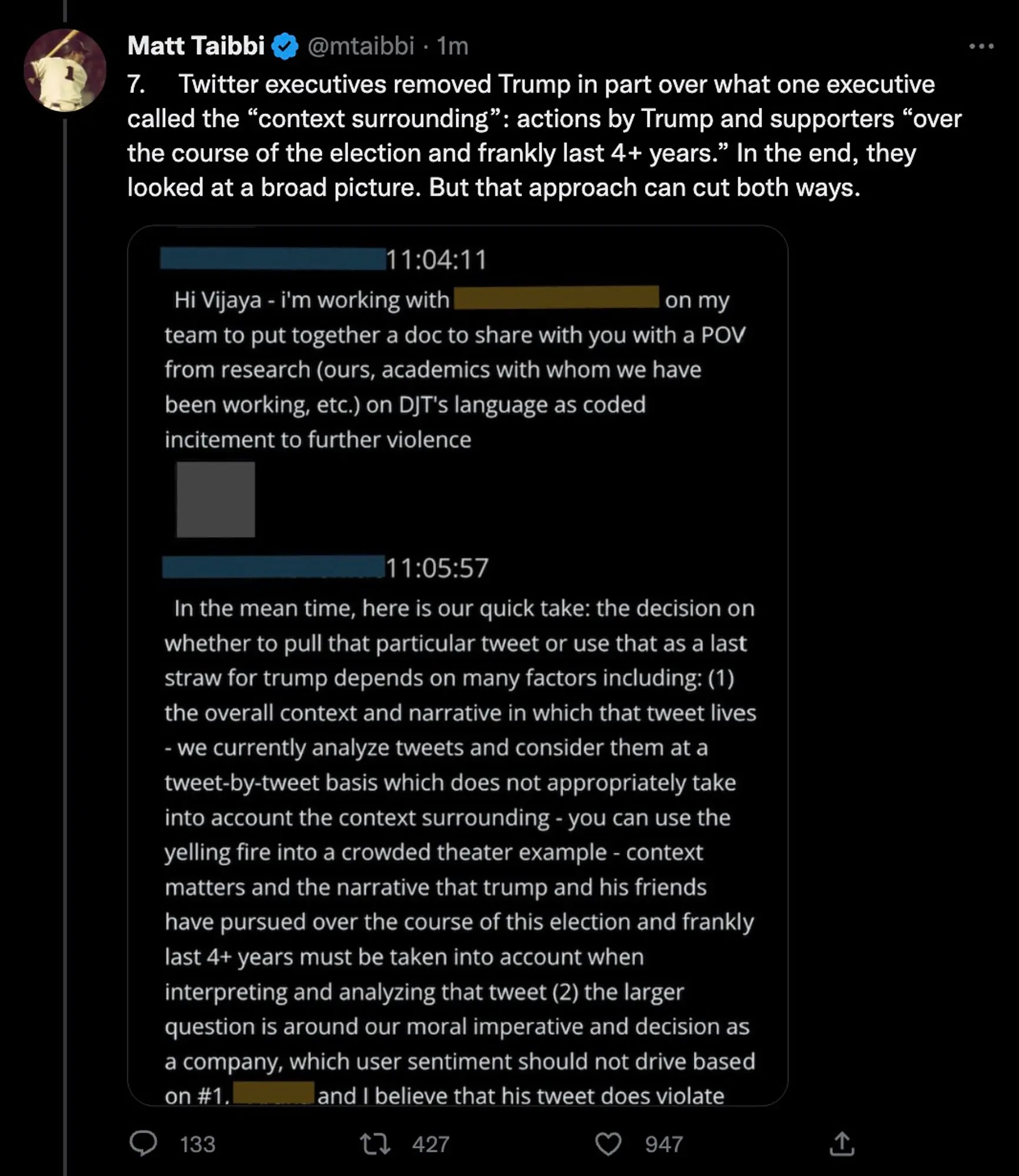 "You can use the yelling fire into a crowded theater example — context matters and the narrative that trump and his friends have pursued over the course of this election and frankly last 4+ years must be taken into account," the message continued.
According to Taibbi, before the Jan 6 riot, "Twitter was a unique mix of automated, rules-based enforcement, and more subjective moderation by senior executives."
"As the election approached, senior executives — perhaps under pressure from federal agencies, with whom they met more as time progressed — increasingly struggled with rules, and began to speak of 'vios' [violations] as pretexts to do what they'd likely have done anyway," he added.
Matt Taibbi told followers, "We'll show you what hasn't been revealed: the erosion of standards within the company in months before J6, decisions by high-ranking executives to violate their own policies, and more, against the backdrop of ongoing, documented interaction with federal agencies."
"Whatever your opinion on the decision to remove Trump that day, the internal communications at Twitter between January 6th-January 8th have clear historical import. Even Twitter's employees understood in the moment it was a landmark moment in the annals of speech," Taibbi wrote on Friday.
A Twitter employee asked, "Is this the first sitting head of state to ever be suspended?"
Before he was banned, Trump's tweets were slapped with warning labels. One message shows that on December 10, 2020, "Twitter executives announced a new 'L3 deamplification' tool" to also limit users from sharing Trump's messages.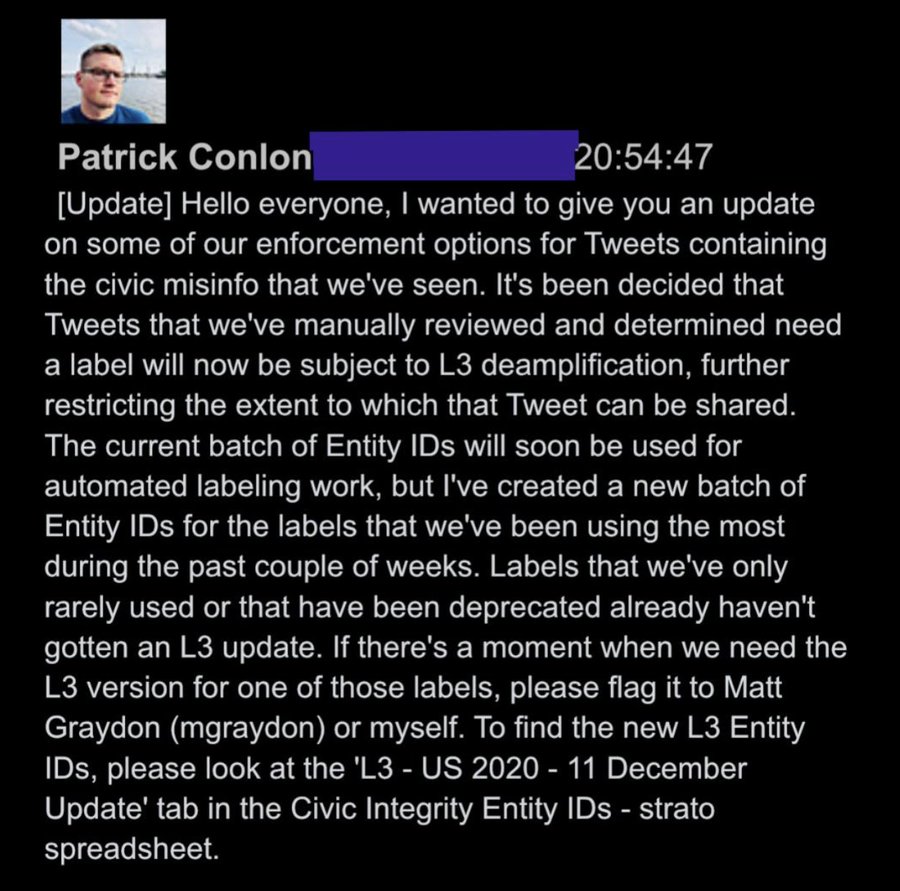 "Some executives wanted to use the new deamplification tool to silently limit Trump's reach more right away."
Taibbi said that executives at the company "started processing new power" following the decision to ban President Trump, saying they were "prepared to ban future presidents and White Houses – perhaps even Joe Biden. The 'new administration,' says one exec, 'will not be suspended by Twitter unless absolutely necessary.'"
"In the end, they looked at a broad picture. But that approach can cut both ways," Taibbi wrote. "The bulk of the internal debate leading to Trump's ban took place in those three January days. However, the intellectual framework was laid in the months preceding the Capitol riots."
Taibbi posted screenshots of messages that "show Twitter executives getting a kick out of intensified relationships with federal agencies." In one message, former head of trust and safety, Yoel Roth, described how he struggled to hide the purpose of weekly meetings with the FBI and others. The meetings were held to guide the platform's content moderation decisions.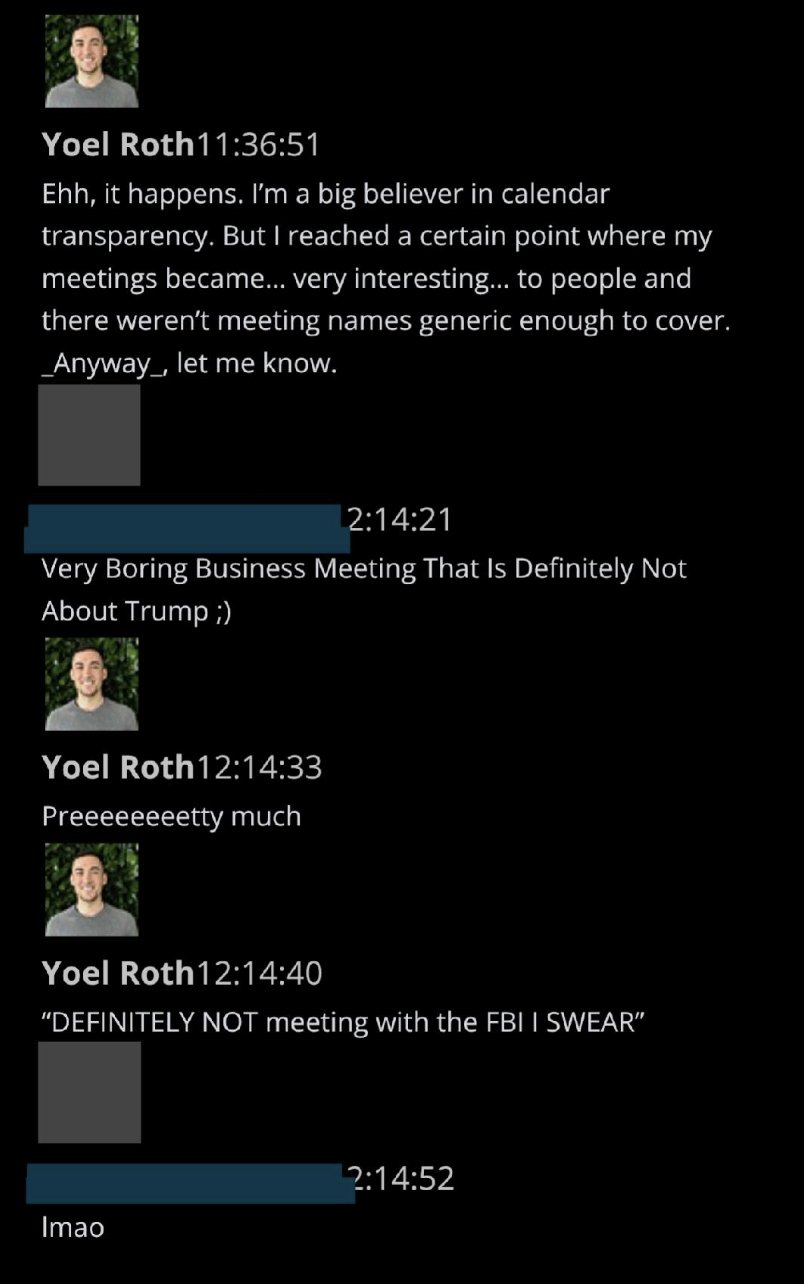 "I'm a big believer in calendar transparency. But I reached a certain point where my meetings became…very interesting…to people and there weren't meeting names generic enough to cover," Roth wrote.
An unnamed person suggested, "Very Boring Business Meeting That Is Definitely Not About Trump."
In another message, an employee complained about the personal fallout that followed the platform's decision to suppress the Hunter Biden laptop story.
"We blocked the NYP story, then we unblocked it (but said the opposite)…and now we're in a messy situation where our policy is in shambles, comms [public relations] is angry, reporters think we're idiots and refactoring an exceedingly complex policy 18 days out from the election," he or she wrote.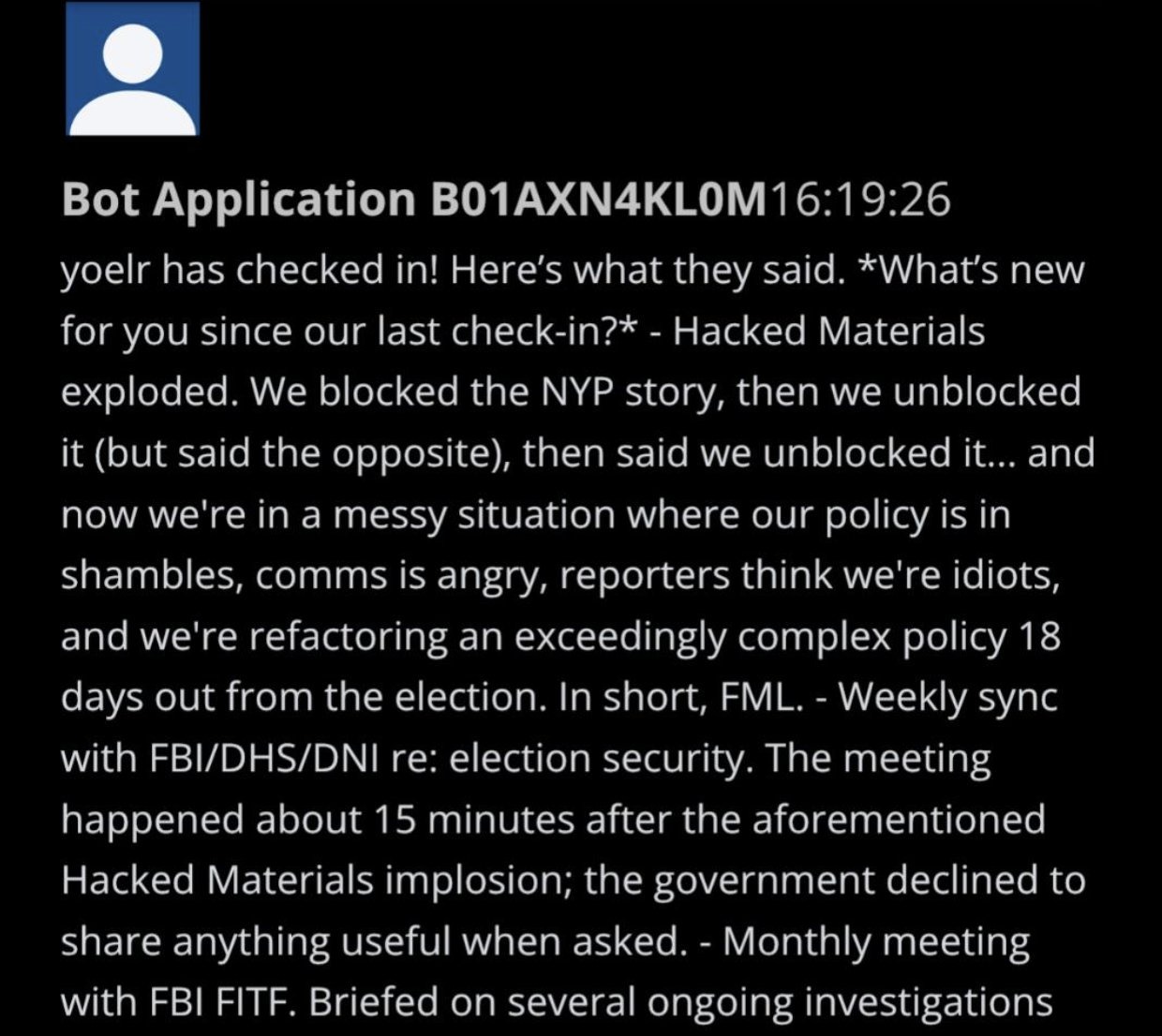 "In short, FML [fuck my life]," the employee added.