The relationship between data scientist Geoff Golberg and Twitter seemed to have had a good enough start: his company is in the business of researching automated manipulation on the giant social network, specifically that done using bots and inauthentic accounts. And Twitter had long been saying that it wanted to get rid of just such "users".
In addition to his anti-bot and anti-spam work, Golberg also over the years paid for ads on Twitter promoting his business and growing his following – $38,700, to be exact.
But it all ended when Twitter banned his own account, and now Golberg is suing in New York.
Unfortunately, it's not at all unusual for Twitter to lock, suspend, or permanently ban users; what's less common is to those users fight back in court.
According to the filing, Golberg is not only seeking up to $50,000 in damages, an injunction to reinstate his Twitter account, and give him back access to his account data – he also wants the judge to "prohibit Twitter from arbitrarily terminating the accounts of New York users with no cause."
But how did Golberg's own story with Twitter deteriorate to this low point?
Bot armies
Even though not all automated Twitter accounts are malicious, those who are represent a problem as they make it difficult to determine the real number of users on the platform, while undermining the actual value the number of followers, likes and retweets has.
Ultimately, they also damage the value of Twitter itself if high engagement on the platform fails to translate into real numbers for brands using the network to promote sales, for example.
But despite this chaotic situation and despite paying lip service to the idea, Twitter wasn't really doing much about it until it came under political pressure after the US elections of 2016, i.e., after the claims that bot accounts had been successful in tampering with the process.
Twitter proceeded to remove tens of millions of false accounts in 2018 alone.
Golberg's work focused on different topics, though, and was available to Twitter to use to clean up the platform from deceptive and manipulative behavior like astroturfing, which simulates authentic support for a product, service, or social or political cause, but is in fact deceptively steering public opinion in their favor.
One of the topics of Golberg's research was the cryptocurrency "XRP Army": and Golberg in late 2018 found that some 8,000 Twitter accounts were potentially XRP bots.
The XRP community didn't take kindly to these claims, and in March 2019 Golberg reported being "harassed and ridiculed" on Twitter, as well as receiving messages like, "Who can kill him?"
When he reported the threats to Twitter – he alleges the platform said that such content didn't violate its anti-harassment policies.
Around the same time, Golberg started getting "Twitter bombed" – i.e., having his feed filling by the same message from multiple accounts. Despite all this, he doubled down and vowed to continue with his research, which covered a range of other manipulative efforts besides the said case.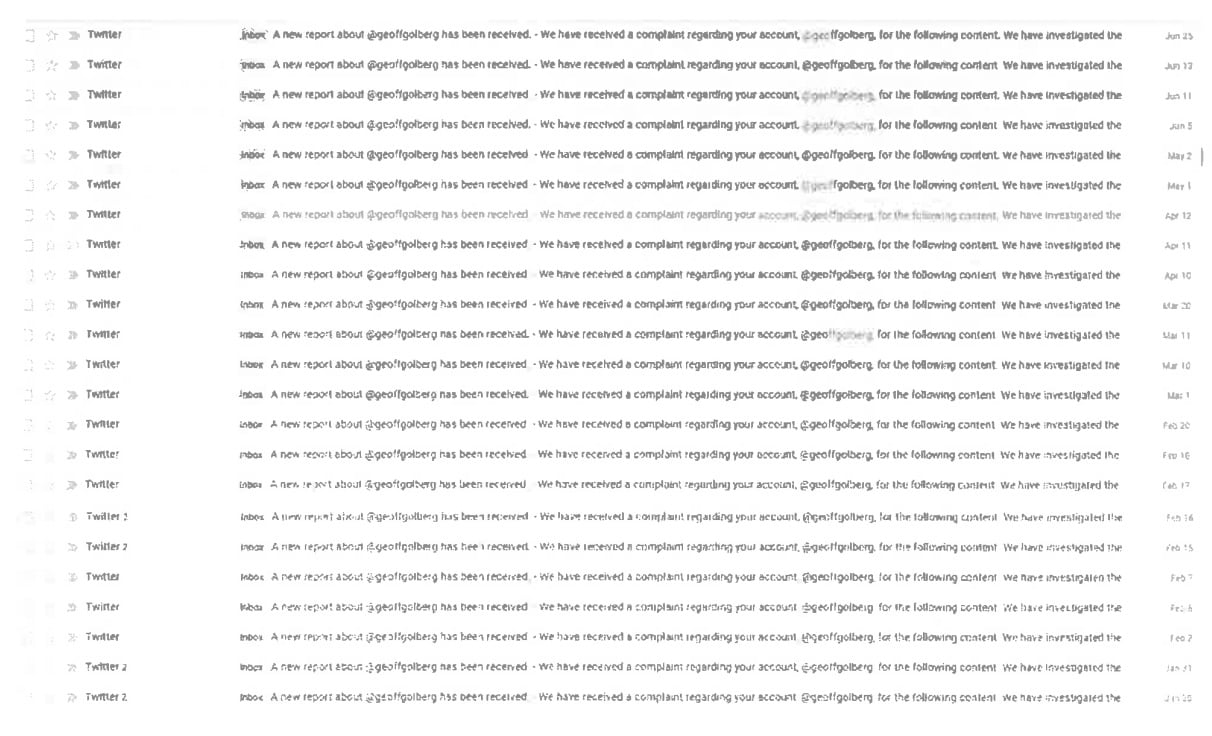 But in the end, it was Twitter and fake Twitter accounts who drove Golberg off the platform, when his account was banned in July 2019. He believes that the company acted on reports against him received from bot accounts.
At the time, Golberg said that Twitter wasn't willing to act when he reported accounts doxxing him and calling for his murder.
"Instead, they have suspended my account for calling someone a 'moron' (an account which continues to game Twitter's platform, no less)," he said last July.
The lawsuit
Golberg's approach now is to focus on consumer rights and accuse Twitter of violating contracts it has with its users. On the one hand, the data scientist says that Twitter took his ad money and therefore had a business relationship with him that was breached when his account was terminated.
On the other, this is not the only contract Twitter has with its users, nor the only way in which they pay for using the platform. Like every other Twitter user, Golberg said, he pays also with his data.
While Twitter doesn't ask users for money as they sign up – "the service does rely upon user data in order to sell and deploy targeted advertising for which it earns substantial revenue," the filing states, specifying that this revenue reaches billions of dollars every year.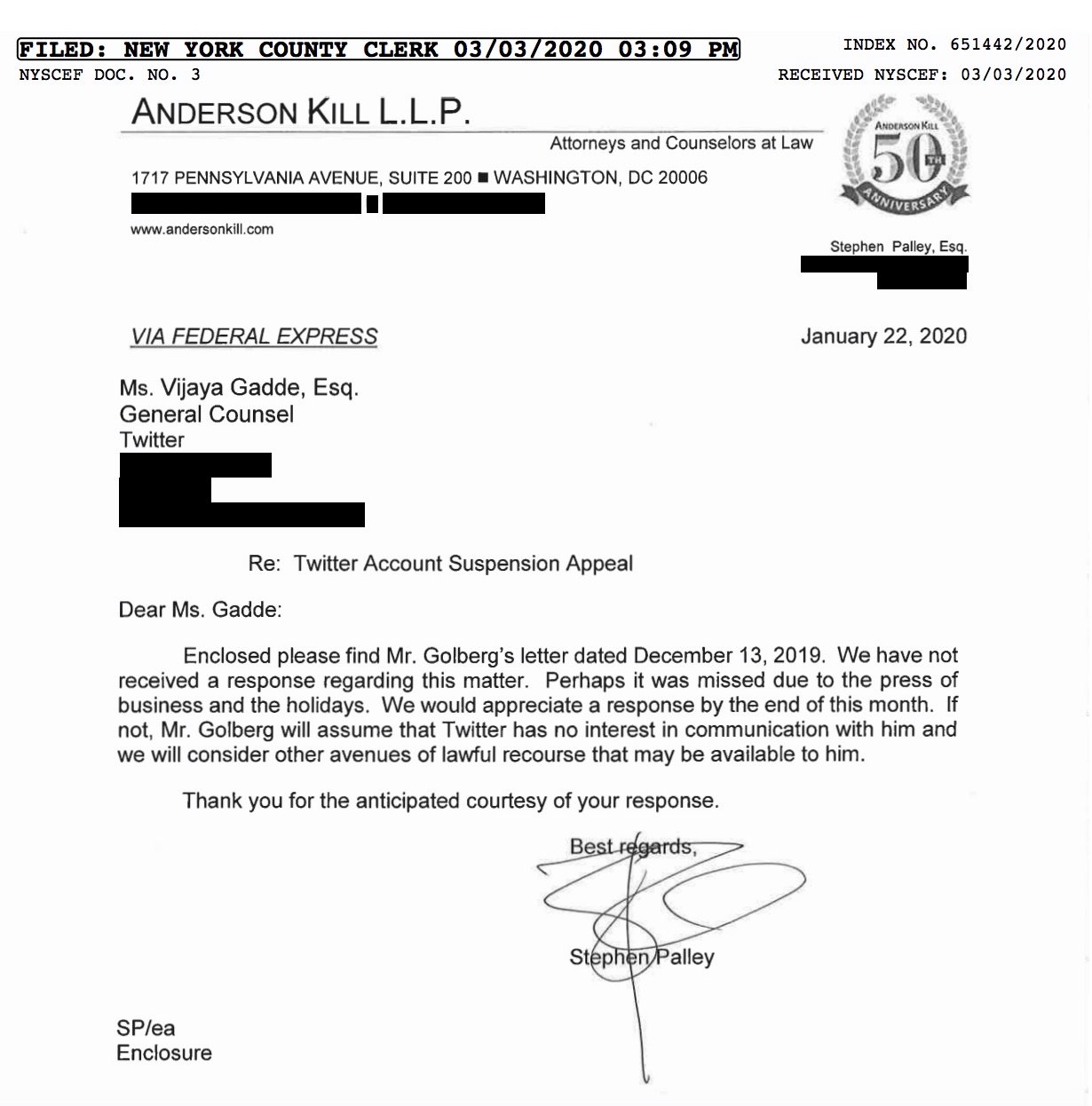 The lawsuit also touches on the nature of Twitter's interactions and relationships with users. As Golberg alleges in his case, Twitter allows bot accounts to target real users, only to direct any attempt to appeal a ban to yet more bots – this time, operated by the platform itself.
"The appeal process is algorithmic and arbitrary, providing no opportunity to speak or otherwise communicate with a human being," the lawsuit said.
Read the lawsuit here.