Twitter has lately been working hard to prove its allegiance to the prevalent mood among major media outlets and liberal politicians and their supporters – which states that voter manipulation ahead of the 2020 US presidential election is a serious threat, all the way to being democracy's enemy number one.
Spreading "misinformation," aka, "fake news," has been singled out as the most important vector along which an election might be skewed by a mighty outside force – in other words, Russia – and Twitter has just recently earnestly pledged, through the statements made by its CEO Jack Dorsey, to actively work against those "misinformation" ills.
But now – Twitter is summarily limiting and banning accounts who are tweeting messages and memes warning against allowing any tampering in the upcoming US election.
Before even attempting to understand the logic behind Twitter's latest move, it may be a good idea to find out what kind of content is supposed to get users banned as violating the social media giant's terms of service.
Not all election manipulation is created equal
"Misinformation" is a term broad and vague enough to make it easy to interpret to suit anyone's argument – a kind of a solution looking for a problem – just like the notion of deliberately giving "authoritative" sources a leg up in search results, something Google is doing, apparently with a fair election in mind – without ever explaining what an "authoritative" source actually means.
But these terms are parroted as if there's already broad consensus accepted by everyone to their true meaning – which might be a manipulation in and of itself, one could argue – because the truth is, there are no clear explanations and definitions, and there is no consensus.
Conversely – the idea of securing the integrity of the upcoming US, or any other election for that matter, with voter IDs, looks like a concrete and practical measure that leaves very little room for controversy.
But it's precisely this idea, expressed by Twitter users via the #DemandVoterID hashtag, that has rubbed the social giant the wrong way.
Posting this slogan along with a picture of Russian leader Vladimir Putin, and stating that Russia must not be allowed to "interfere" in 2020 elections didn't help, either.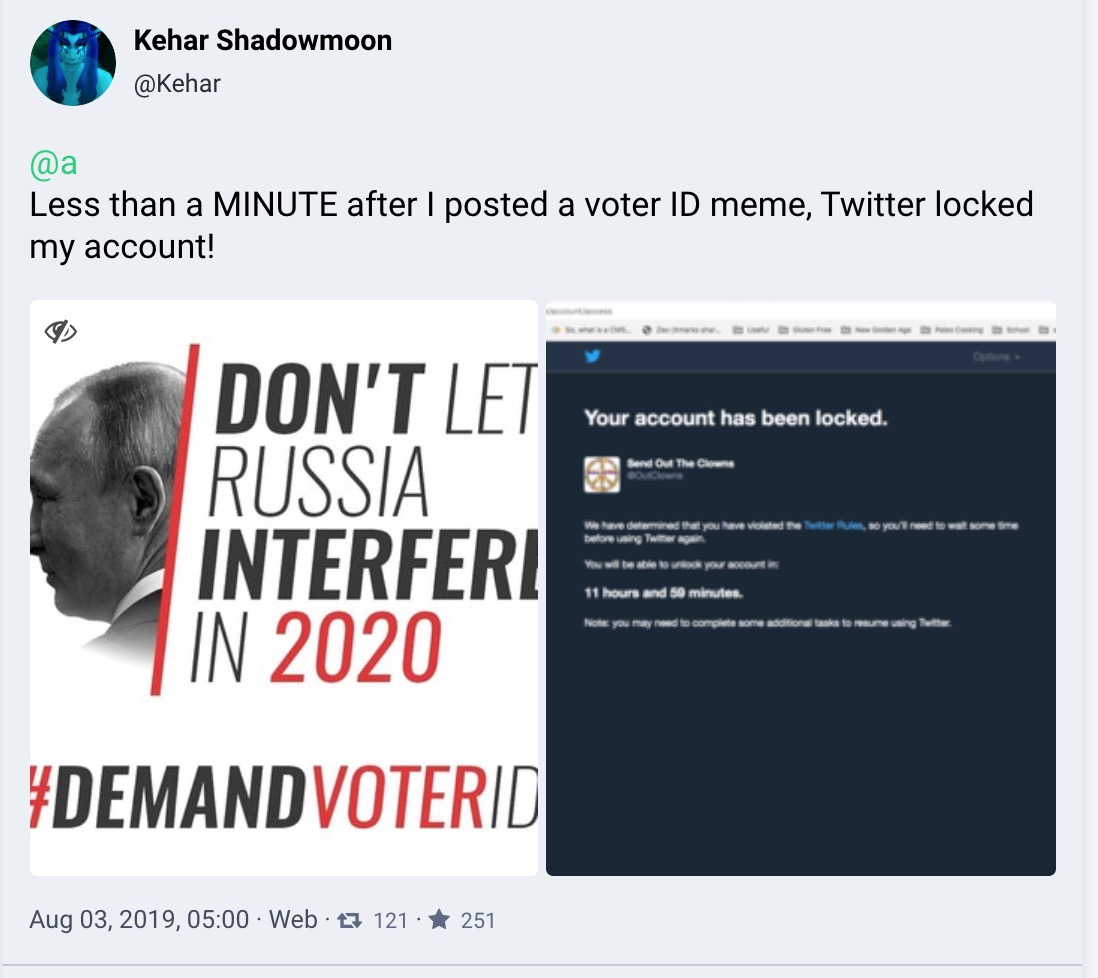 Other Twitter users are reporting the same result when attempting to promote a fair election in this particular way.
Now – the way voter ID rules would help afford credibility to an election and rule out voter fraud is by demanding that all those casting ballots in the US must first provide ID proving their identity – and legal eligibility to vote.
If you're European, you might be flabbergasted by the very idea that this is even a controversial requirement – in fact, there is no other way to vote over there than to first prove your identity at the polling station. Anything less is accepted as a sure road to massive voter fraud.
However, the US is different in many ways, this being one of them – with liberals claiming that voter fraud is "virtually non existent" and not worth anyone's time of day.
In addition, they claim that implementing voter ID would only serve to stop Democrats and minorities from voting – for Democrats.
Twitter's case, and origins of the "voter ID troll"
Twitter is explaining its decision to penalize users using the "DemandVoterID" hashtag by its "election integrity rules."
"You may not use Twitter's services for the purpose of manipulating or interfering in elections. This includes posting or sharing content that may suppress voter turnout," says a notice sent to many Twitter users promoting voter ID.
The origin of the meme is the aftermath of last August's Trump-Putin summit in Helsinki, Finland, when the US president decided not to "accuse" Russia in meddling in his 2016 election victory – hardly surprising, as Trump maintains the outcome was the will of the American people.
However, at the time, liberal media came down on the president like a ton of bricks – with his supporters coming up with a clever way to join in the fray by sharing memes featuring Trump and Putin – and demanding voter ID in future elections.
But the campaign that is now resurfacing with the goal of preventing non-US citizens from voting – clearly, including, but not only Putin – would also affect any number of illegal immigrants currently on US soil – who are expected to support anyone but Trump.
Long story short: Trump's supporters have turned the tables on those who tried promoting an anti-Trump narrative – and now Twitter is doing its best to suppress them.