Twitter's seemingly overzealous interpretation of its own rules regarding terrorist content is resulting in journalists being banned and prevented from doing legitimate reporting about the topic.
A number of journalists have had their Twitter accounts suspended for attempting to inform their audience about the motivations of the perpetrator of a recent shooting at the US Naval Air Station Pensacola.
And although Twitter prohibits content that promotes terrorist goals and bans users permanently for that violation – in theory it allows tweets about terrorism that have "clearly educational or documentary purposes."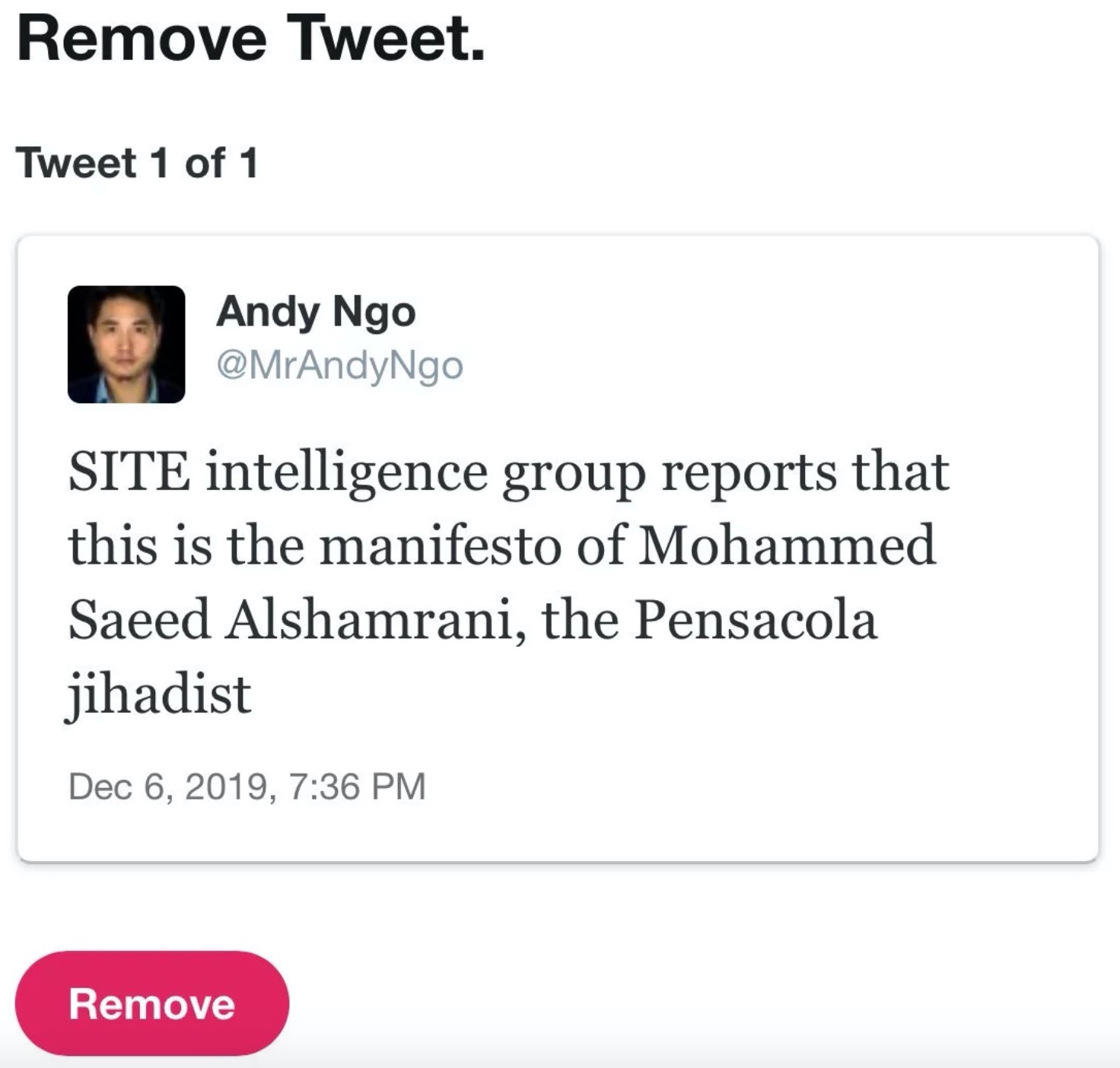 https://www.instagram.com/p/B50WhfLFxlV/
But journalist Andy Ngo, filmmaker Mike Cernovich, and Fox host Pete Hegseth have all had their accounts suspended for referring to shooter Mohammed Alshamrami's manifesto and his social media postings in an attempt to shed light on his motivation.
Alshamrami, a Saudi Air Force force officer who was a student of Naval Aviation Schools Command, was killed by police after shooting three sailors dead and injuring eight others.
Why did he do it? Those hoping to find the answers on Twitter will have a hard time achieving that, judging by the way the platform has treated Cernovich, Ngo, and Hegseth, among others.
Cernovich and Hegseth tweeted parts of Alshamrami's social media posts that suggested his motive may have been his anti-American and anti-Israeli sentiments.
Ngo, meanwhile, included a link to the manifesto of the shooter.
The rule that publishing content from a shooter's manifesto is prohibited – including for informational purposes – has already taken root in countries like Australia and New Zealand, who were shutting down access to entire websites at the ISP level after the Christchurch shooting; however, it would appear to be new in the United States.
Either way – Cernovich's and Hegseth's tweets didn't even make any mention of the manifesto. Chernovich was allowed to get back on Twitter after he complied and deleted his tweet, while Hegseth and Ngo's accounts remain suspended.