As the uncertainty around the 2020 US presidential election result reaches its third day, Twitter has continued its pattern of mass censorship and permanently suspended conservative media outlet The National Pulse.
The account had over 78,000 followers before it was booted and The National Pulse had been using the account to share its reporting on vote-counting irregularities across the US.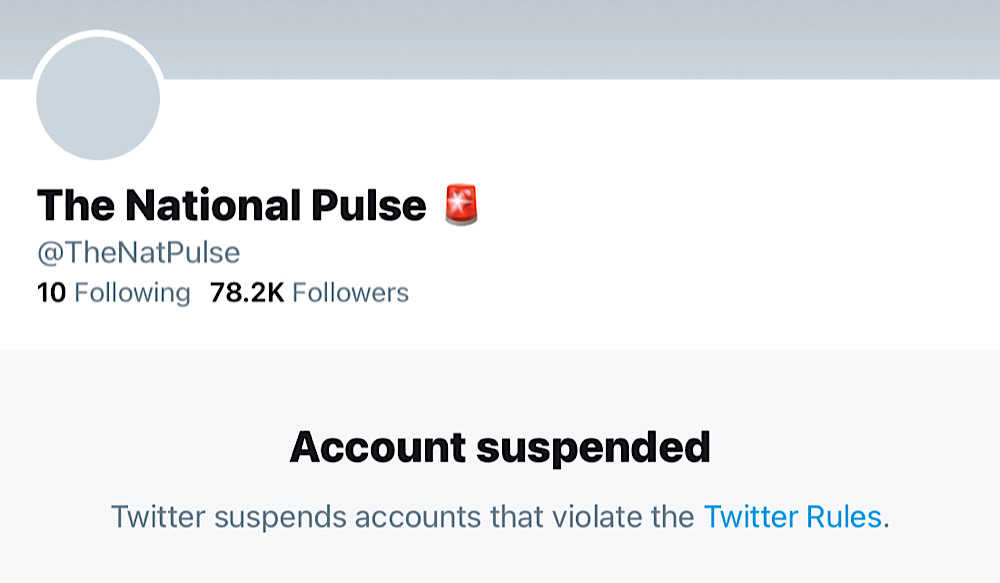 A day before the suspension, The National Pulse's Editor-in-Chief Raheem Kassam had noted that Twitter was restricting The National Pulse by flagging several of its stories about vote-counting irregularities and claiming that they had violated Twitter's rules around "misleading information about voting."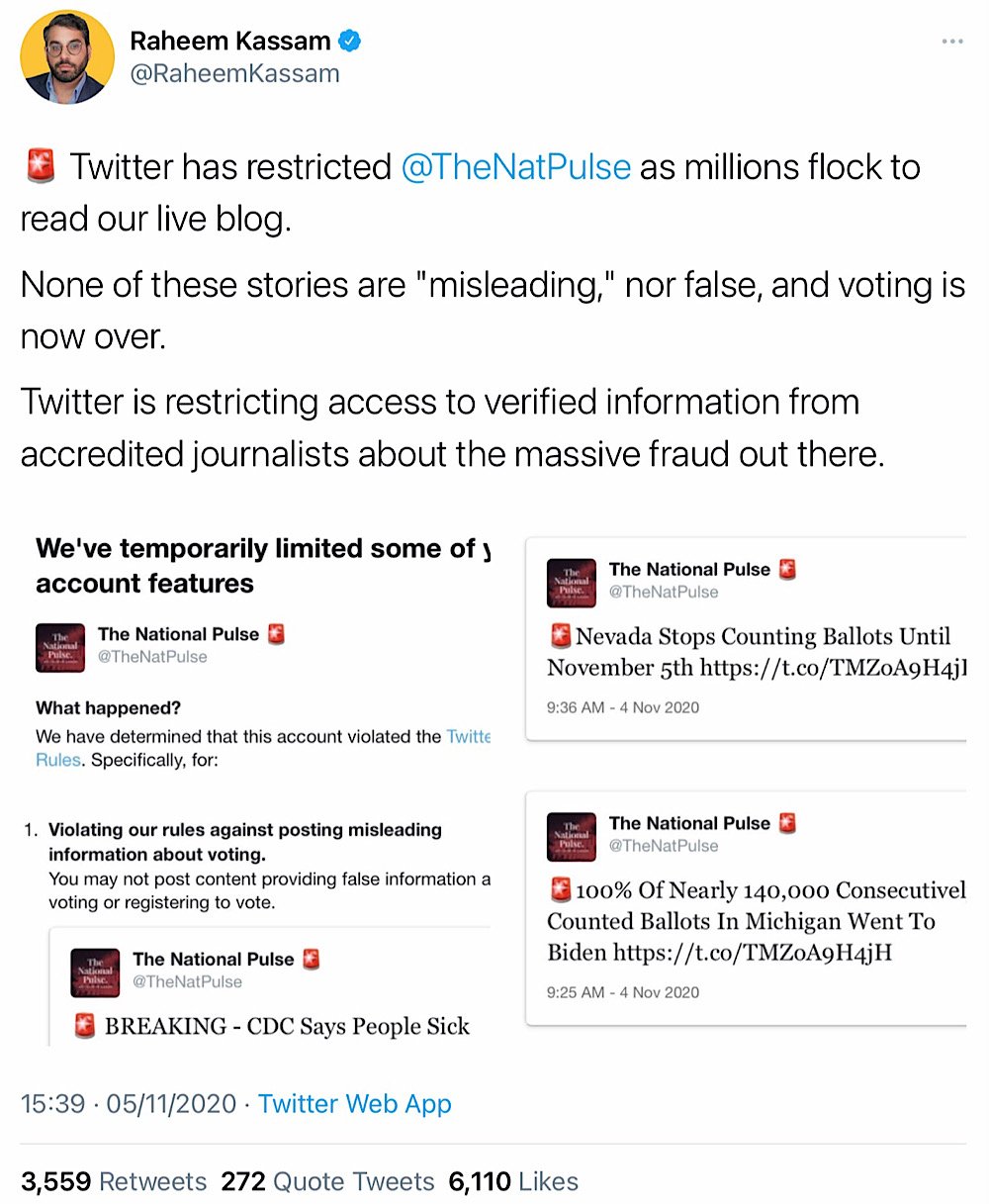 Kassam slammed Twitter's takedown of The National Pulse:
"This is straight up totalitarianism and the intentional destruction of business for political ends.

That's what tyranny looked like in Europe last century and it's what tyranny looks like in America today."
Congressman Matt Gaetz also blasted the social media platform and tweeted: "Twitter wants to control what you see so they can control how you think."
The suspension of The National Pulse is the latest development in Twitter's unprecedented level of censorship since election night.
Videos of poll watchers who claim that they're being prevented from properly observing vote-counts, statements from President Trump's advisors providing updates on legal victories, and countless other tweets have been removed or hidden behind warning labels.
11 of President Trump's tweets have been hidden behind these warning labels since election night. An analysis of one of these tweets showed that its shares and replies dropped by more than 5x after Twitter censored it.
Rather than letting its users see the videos, claims, and reports for themselves and then come to their own conclusions, Twitter has decided to act as an arbiter of truth and hide anything that it deems to be "disputed."
Twitter faced heavy scrutiny in October when it mass censored a story from The New York Post about Democratic presidential candidate Joe Biden engaging in an alleged corruption scandal. In addition to censoring the story, Twitter locked The New York Post out of its account for over two weeks.
This was the first time Big Tech platforms had deployed such heavy censorship against a media outlet and it demonstrated to many people the chilling nature of tech giants being able to determine which mainstream news stories the public are allowed to see.
"Mr. Dorsey, who the hell elected you and put you in charge of what the media are allowed to report and what the American people are allowed to hear?" Senator Ted Cruz said during a recent Big Tech antitrust hearing when quizzing Twitter CEO Jack Dorsey on the censorship of The New York Post. "Why do you persist in behaving as a Democratic super PAC, silencing views to the contrary of your political beliefs?"
But just three days after election night and less than a month after it censored The New York Post, Twitter is censoring a media outlet again and this time, the outlet has been completely purged from Twitter's platform.