A new batch of internal Twitter Files has revealed that after mounting pressure from Democrats and the legacy media, Twitter allowed the United States (US) intelligence community to influence whether specific accounts would be allowed to advertise on Twitter. And once the US intelligence community gained this foothold, it would not leave.
This batch of Twitter Files was published by journalist Matt Taibbi and contains internal Twitter emails and messages documenting Twitter's decision to allow the US intelligence community to influence content moderation.
The pressure leading up to the decision started to mount in September 2017 after Facebook disclosed that around $100,000 worth of political ads that were displayed on the platform between June 2015 and May 2017 were purchased by a company with ties to the Russian state. This disclosure was used by the media as evidence that Russia had influenced the 2016 US presidential election.
Internally, Twitter executives responded to the news of Facebook's disclosure by stating that they "did not see a big correlation" like Facebook.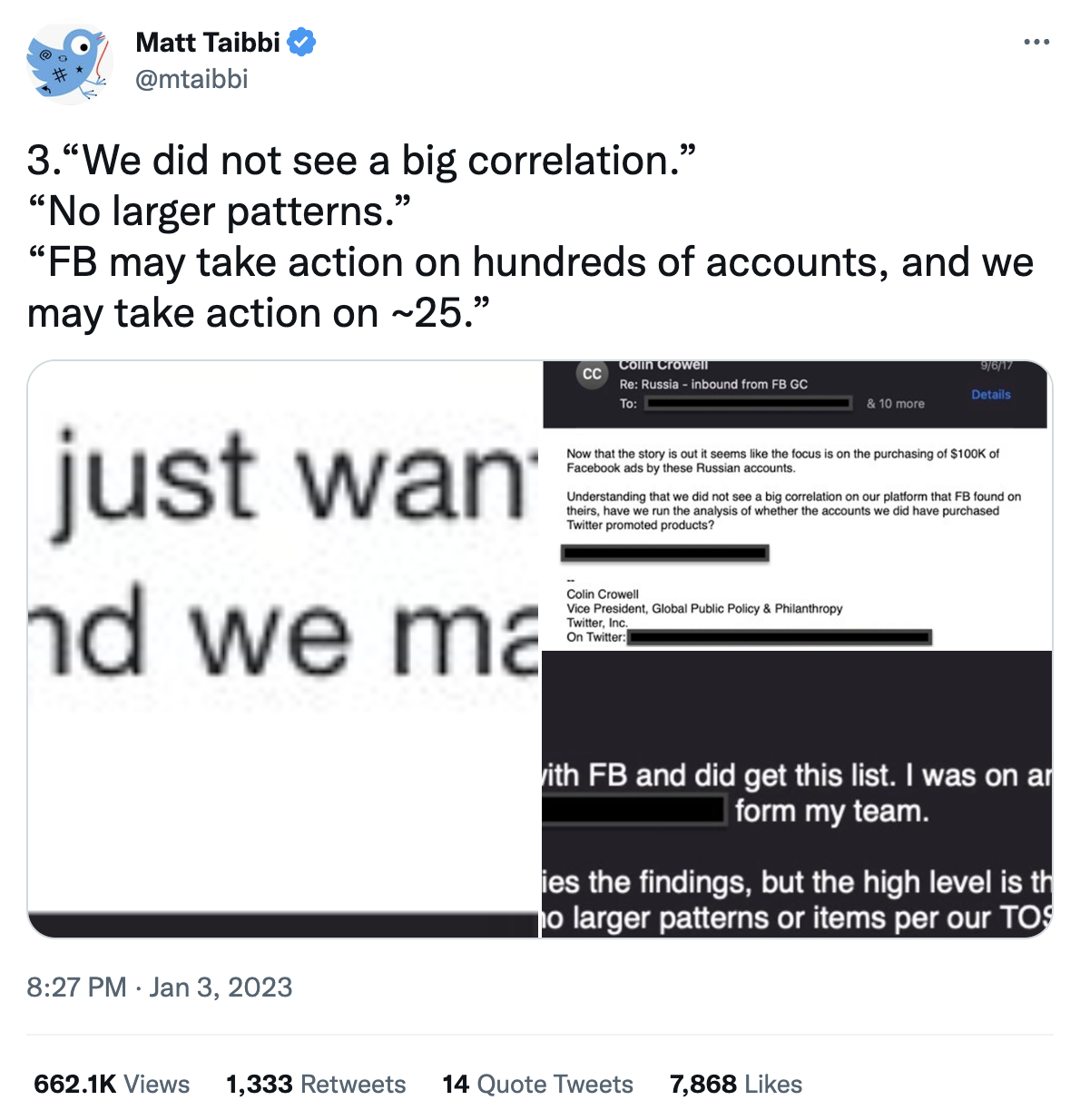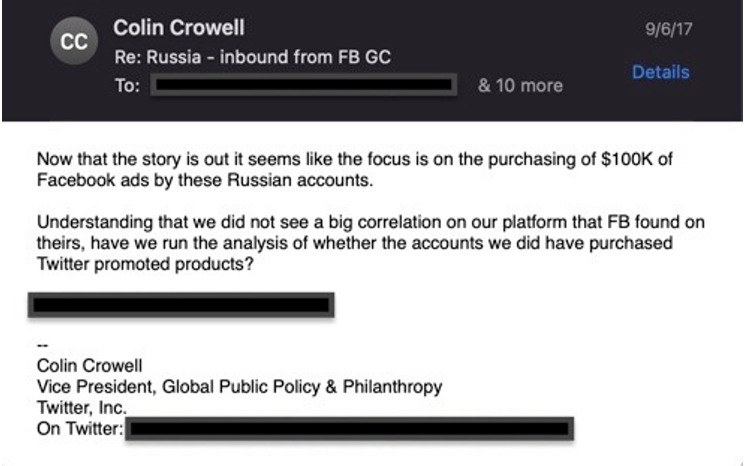 Twitter's policy team recommended against issuing an on-the-record statement about Russia and suggested "pushing the book back to Facebook on background."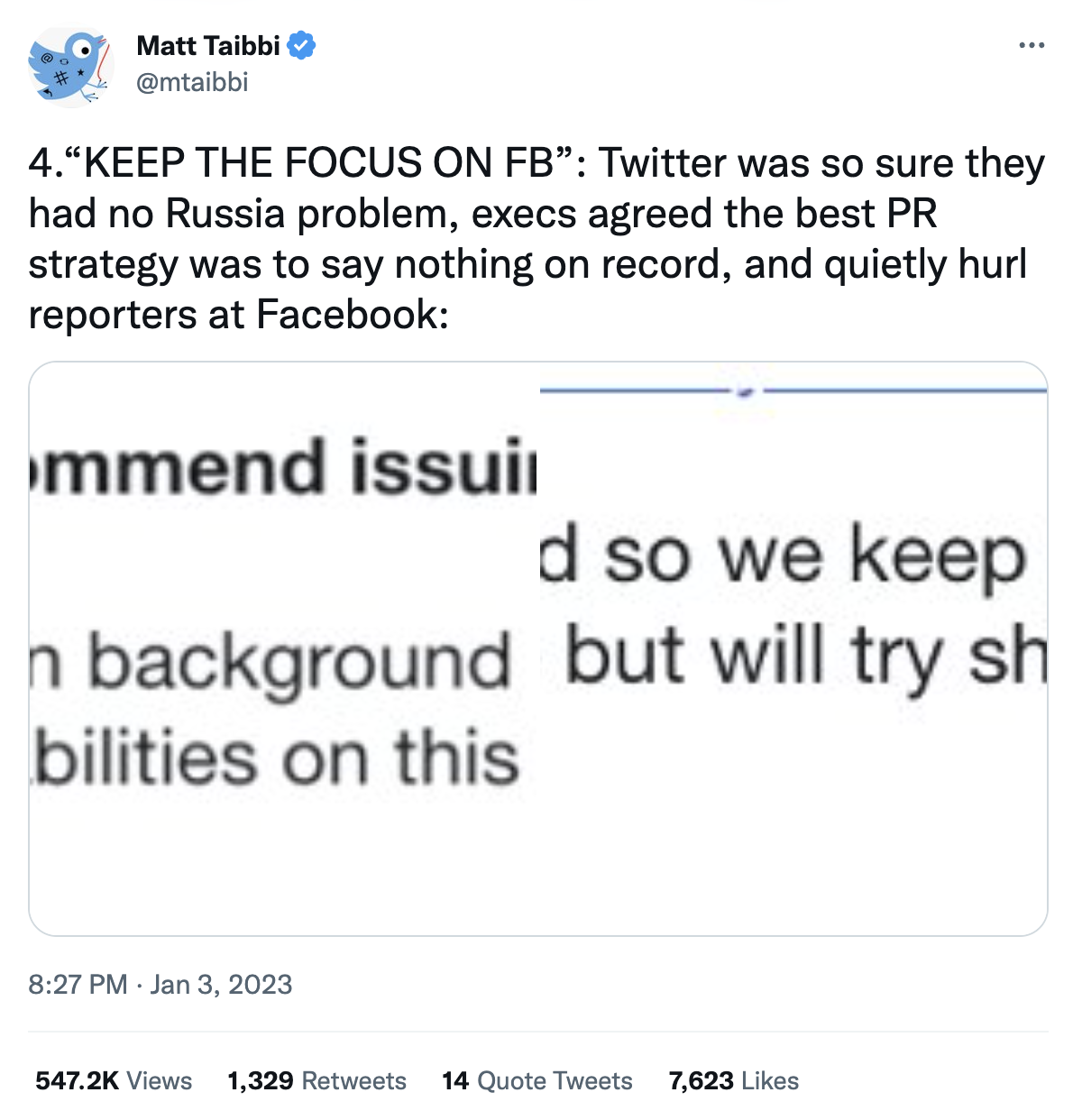 However, Twitter's Vice President of Public Policy, Colin Crowell, acknowledged that Facebook's announcement would draw the company into conversations with Congress and noted that Twitter representatives were due to meet the Democratic staff of the Senate Intelligence Committee, which included Senator Mark Warner and his staff, at the end of September 2017 to discuss the topic.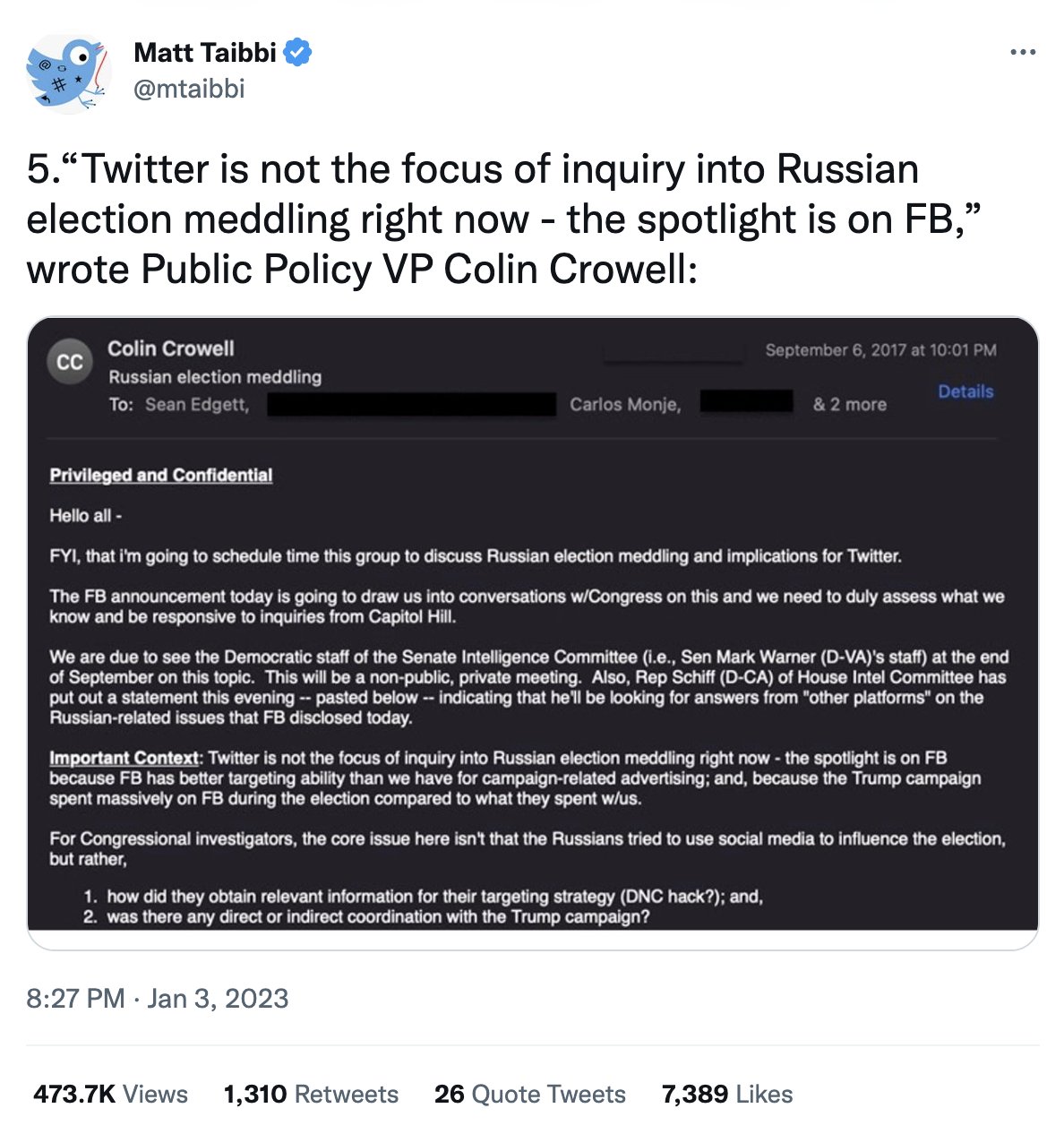 During this September meeting, Twitter told the Senate it had suspended 22 possible Russian accounts and 179 other accounts with "possible links" to those accounts. Warner reacted to Twitter's disclosure by branding it "frankly inadequate on every level."
After Twitter's Senate meeting, Crowell acknowledged the growing pressure from Democrats in an email to then-CEO Jack Dorsey.
"Warner has political incentive to keep this issue at top of the news, maintain pressure on us and rest of industry to keep producing material for them," Crowell wrote.
Crowell added: "Democrats also taking cues from Hillary Clinton, who in her 'What Happened' book tour is pointedly talking about role of Russian propaganda and dirty tricks that were pushed through social media had in her demise. She has specifically has called out FB [Facebook] 'and other social media' for not doing enough to address state-sponsored mischief in the election."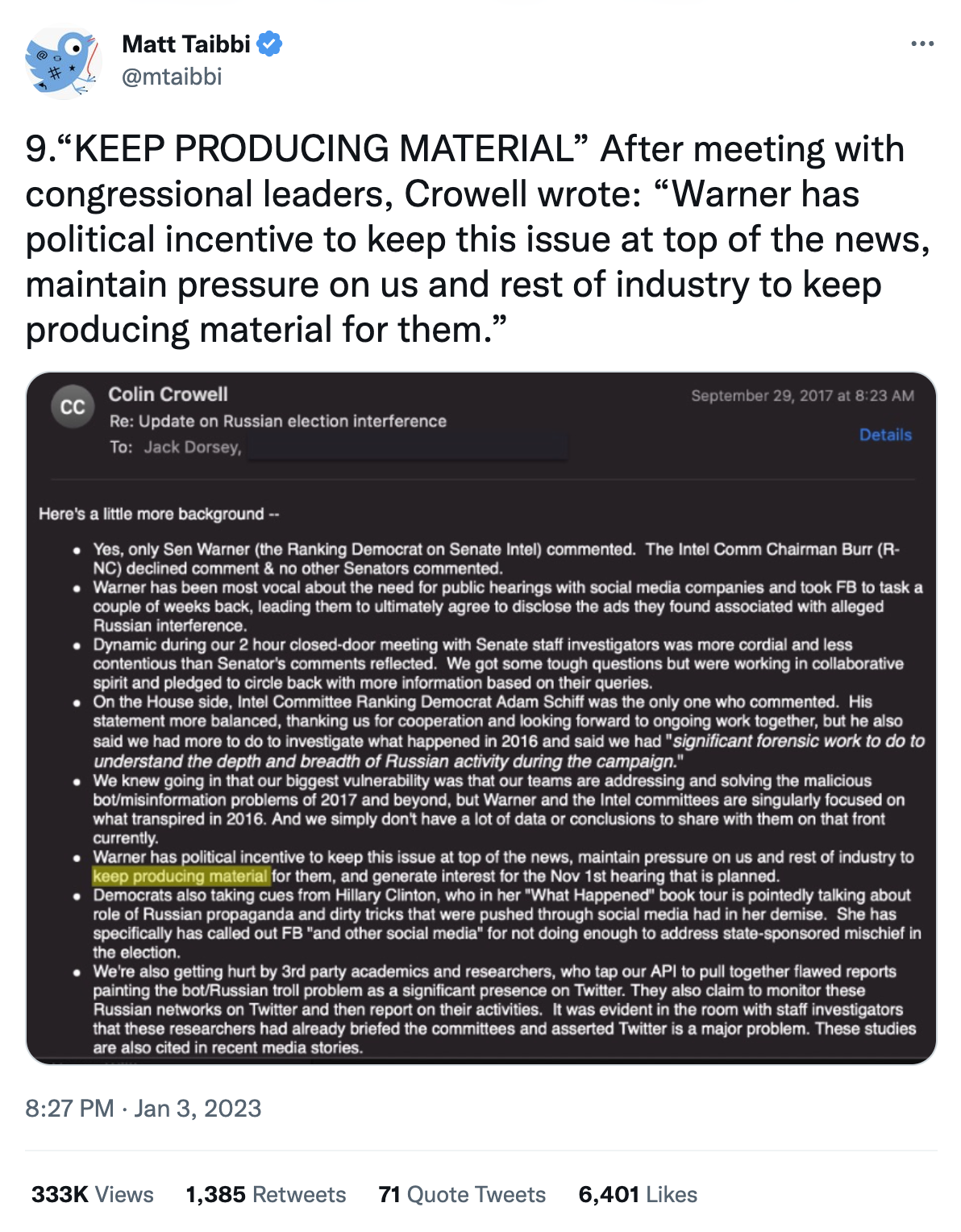 According to Taibbi, Twitter responded to the "growing anxiety over its PR problems" by forming a "Russia Task Force" that would "proactively self-investigate."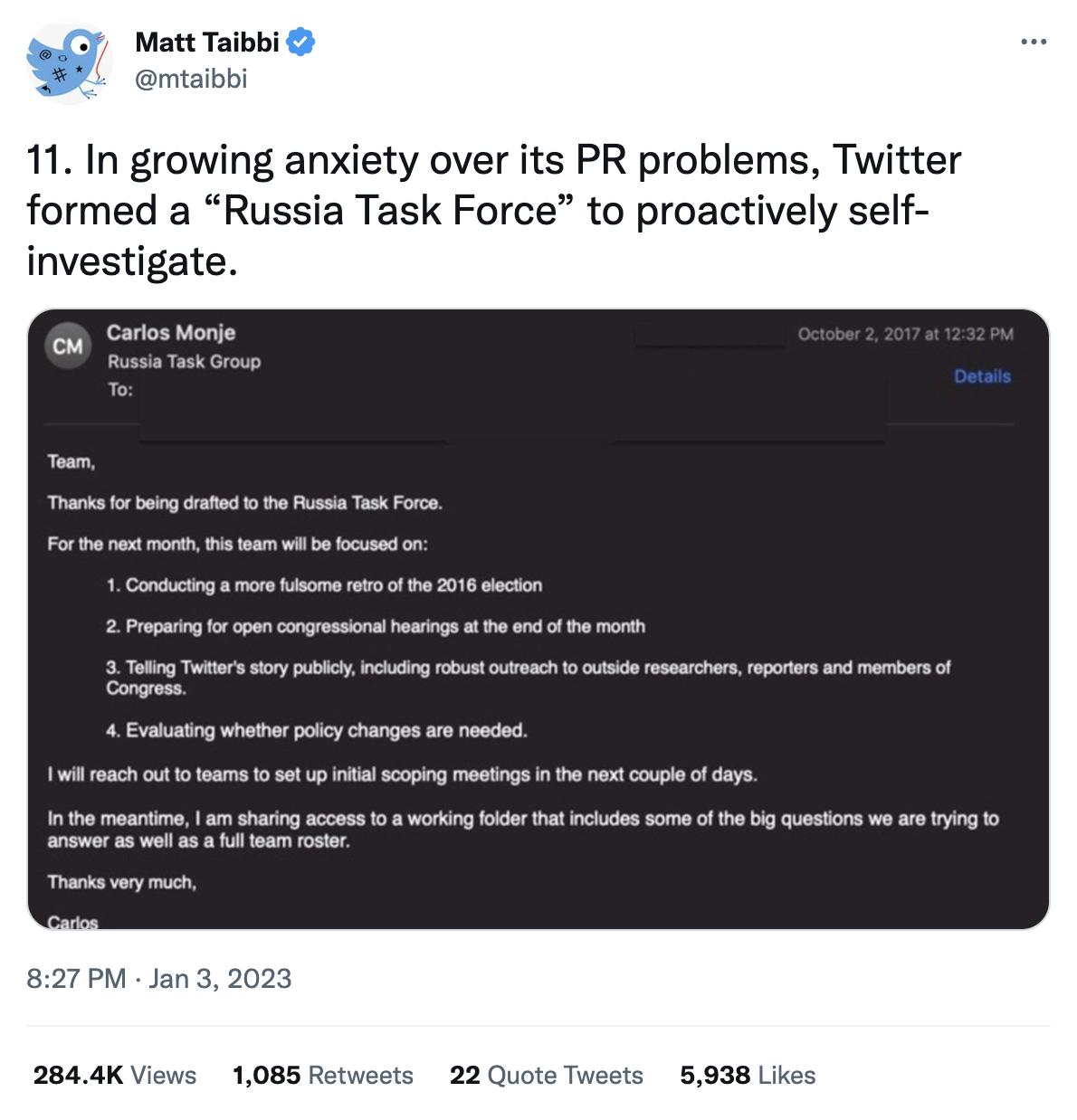 However, the task force found "no evidence of a coordinated approach." After finishing its investigation, it found: "32 suspicious accounts and only 17 of those are connected with Russia, only 2 of those have significant spend one of which is Russia Today…remaining <$10k in spend."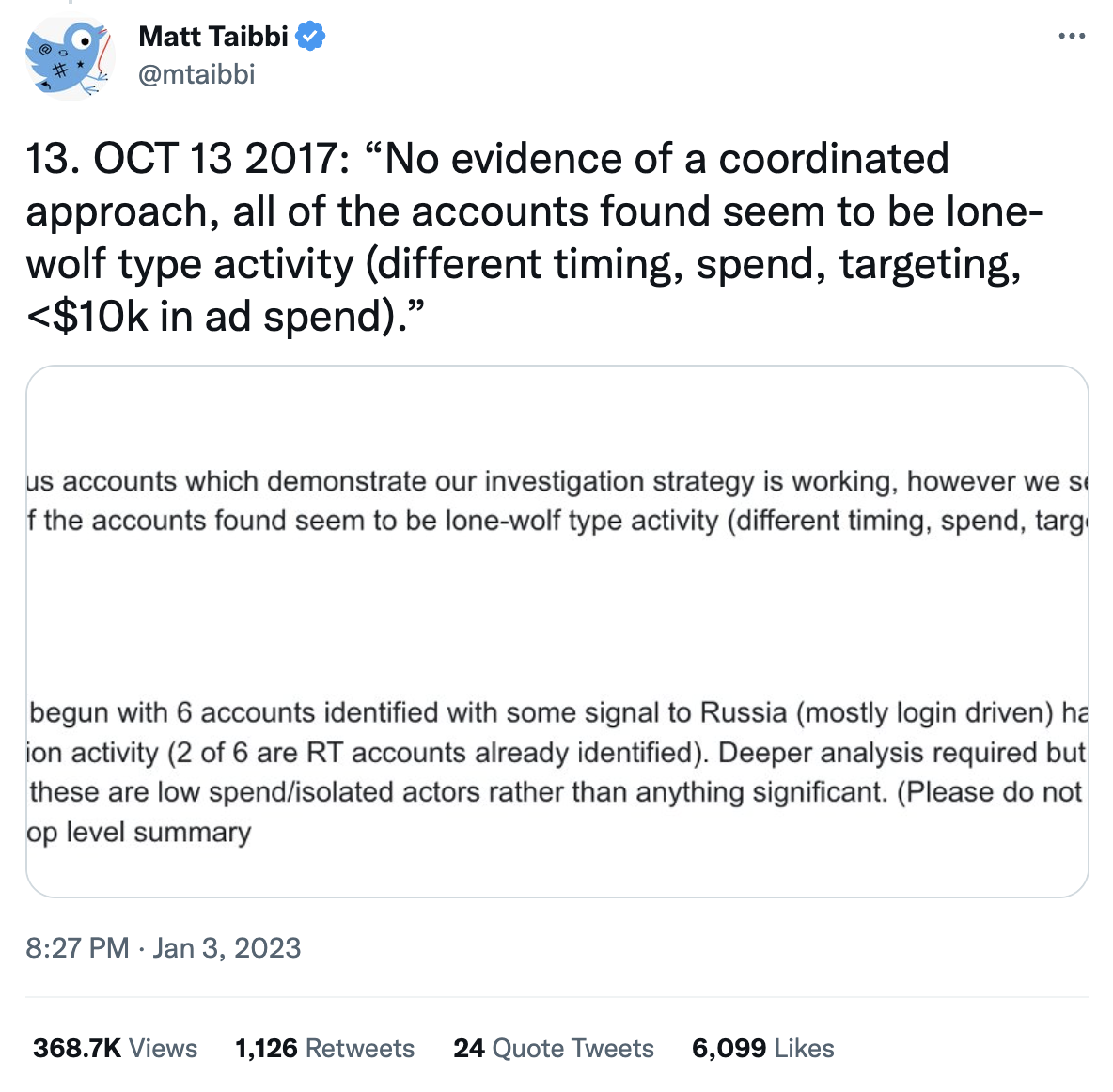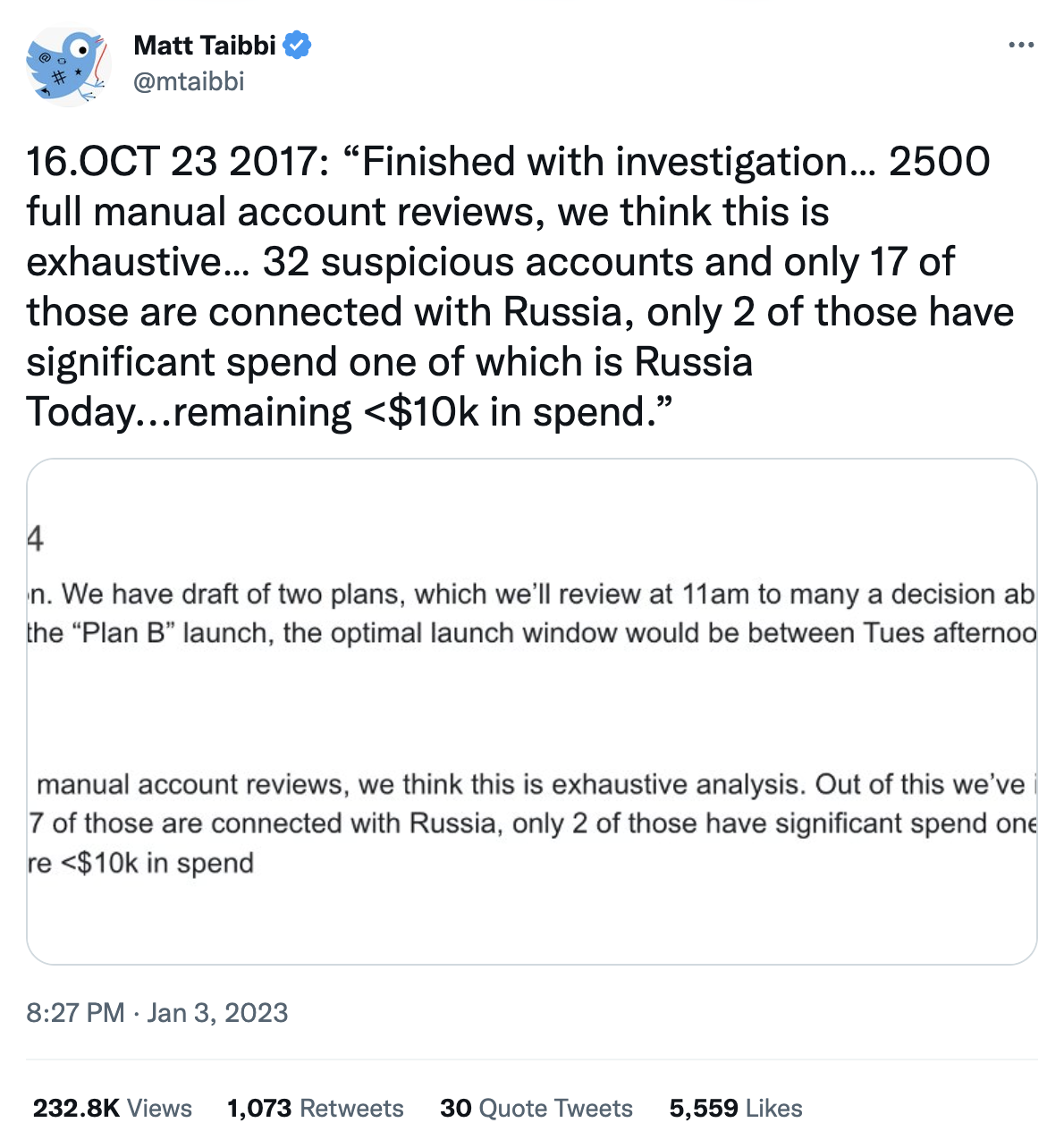 This finding of just two significant accounts, one of which was Russia Today (RT), made Twitter's PR crisis worse, according to Taibbi.
In the weeks that followed, Congress threatened Twitter with legislation and POLITICO amplified claims that "Twitter deleted data potentially crucial to Russia probes" and that "were Twitter a contractor for the FSB [a Russian intelligence agency]… they could not have built a more effective disinformation platform."
Internally, Twitter acknowledged that this legislation "may affect our political advertising" and noted that an intelligence committee staffer had mentioned "big interest in the Politico article about deleted accounts and Tweets and said the Intel staff may seek clarification in writing from us as they need to know what data they could seek from us or whether certain information is gone."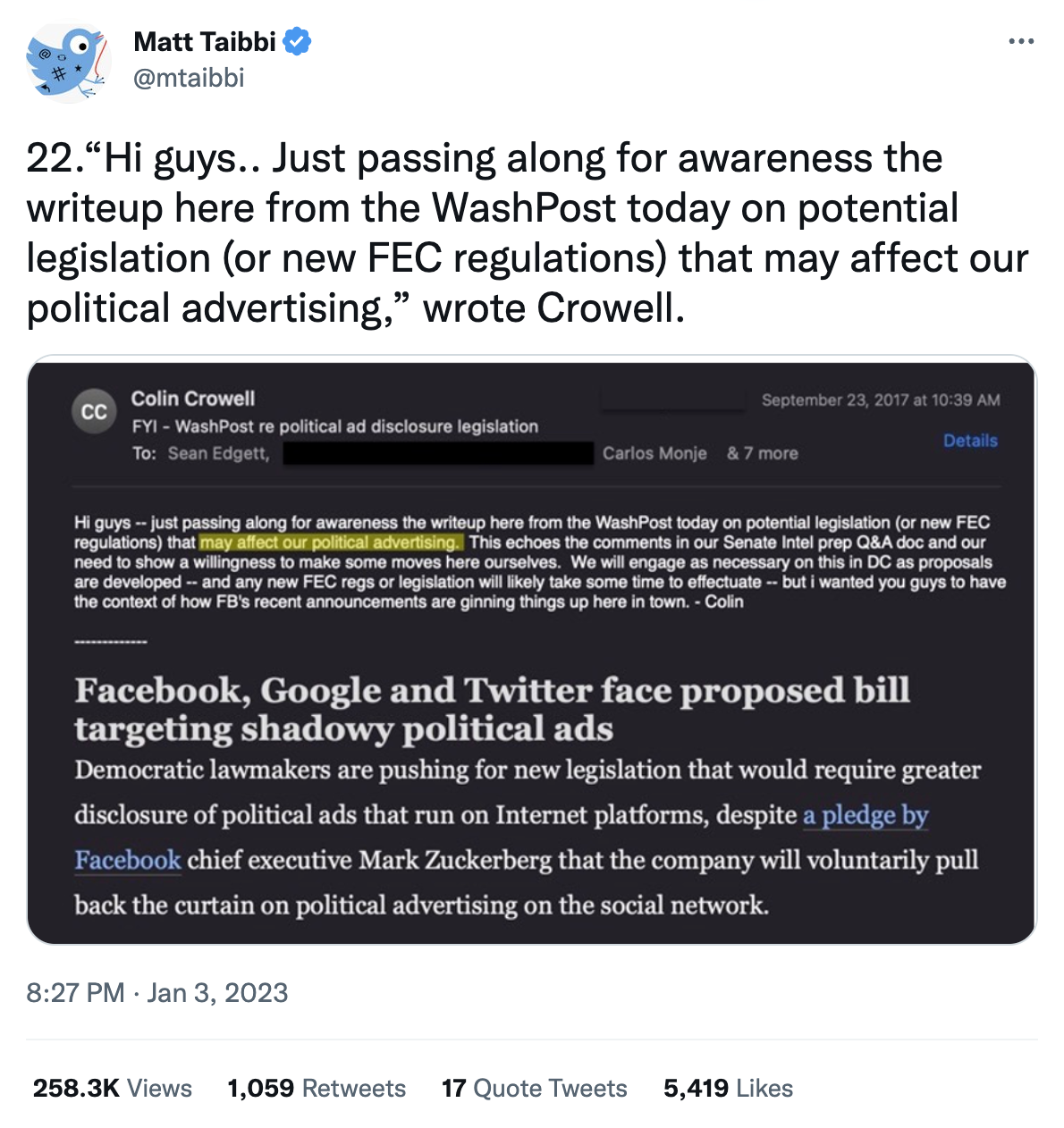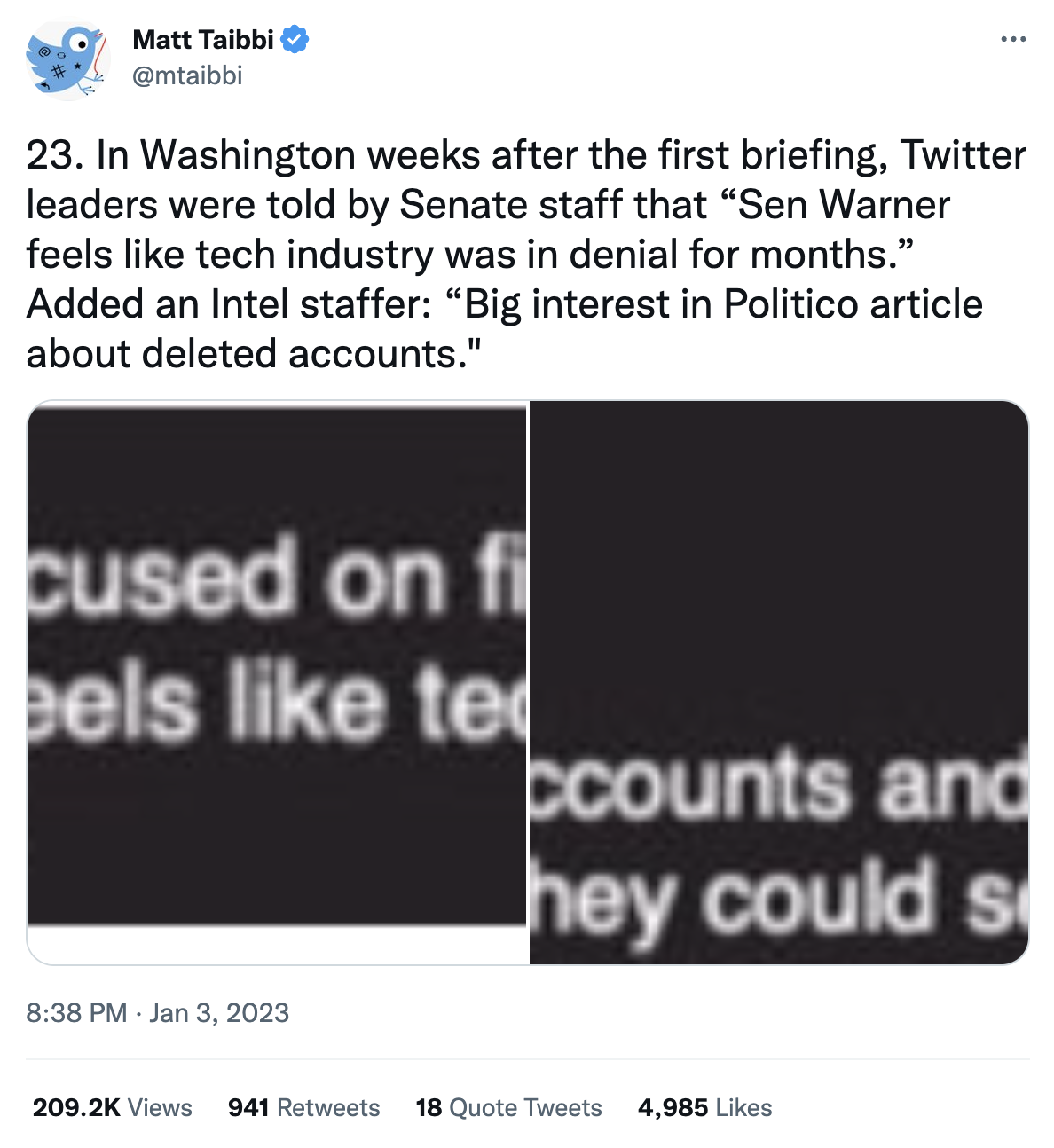 The pressure came to a head in November 2017 when a larger list of account names that Twitter had provided to Congress was leaked to the media.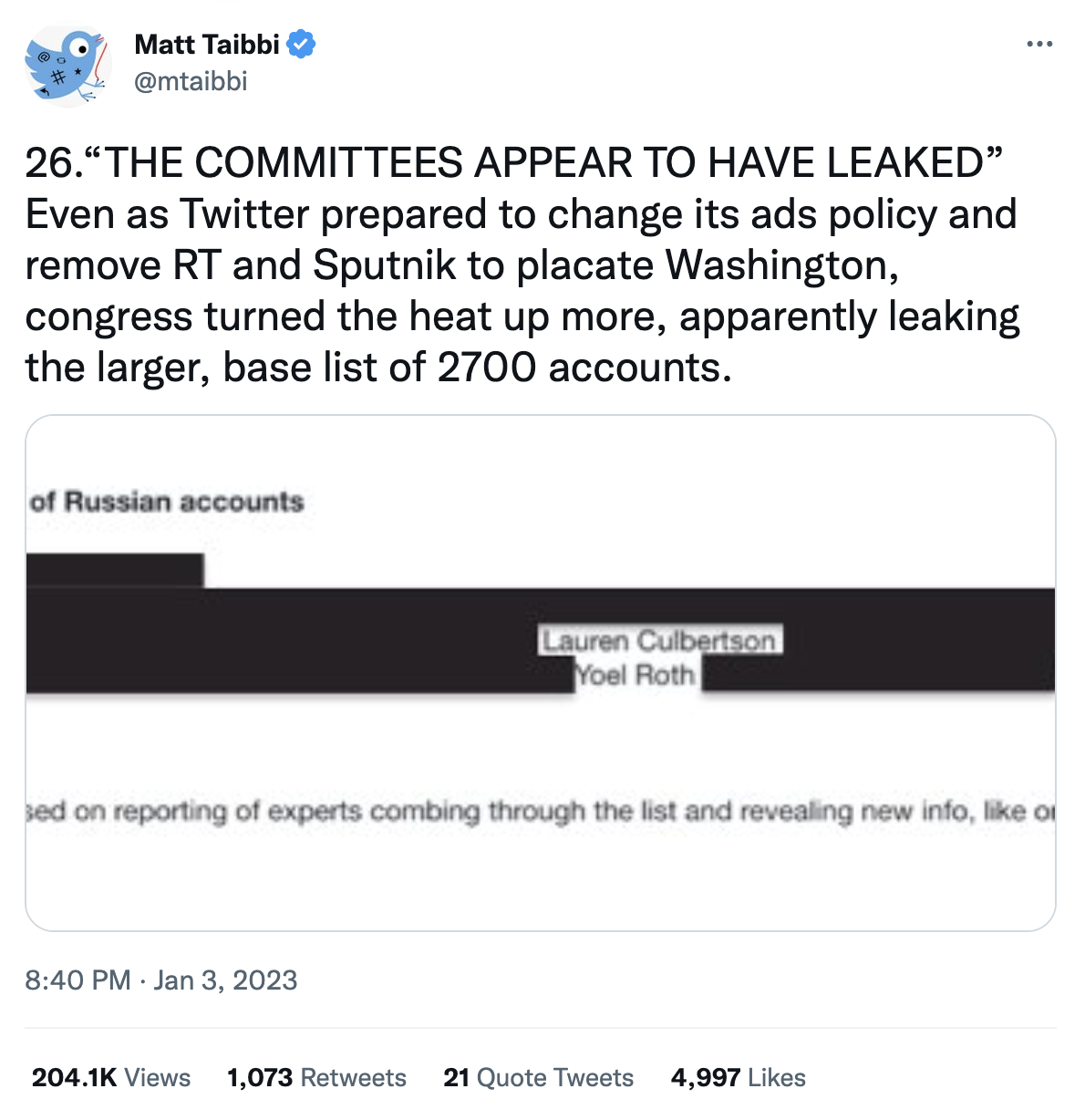 BuzzFeed News claimed to Twitter that it had worked with the University of Sheffield to find a "new network" of accounts with "close connections to… Russian-linked bot accounts" based on analysis of this leaked list of account names.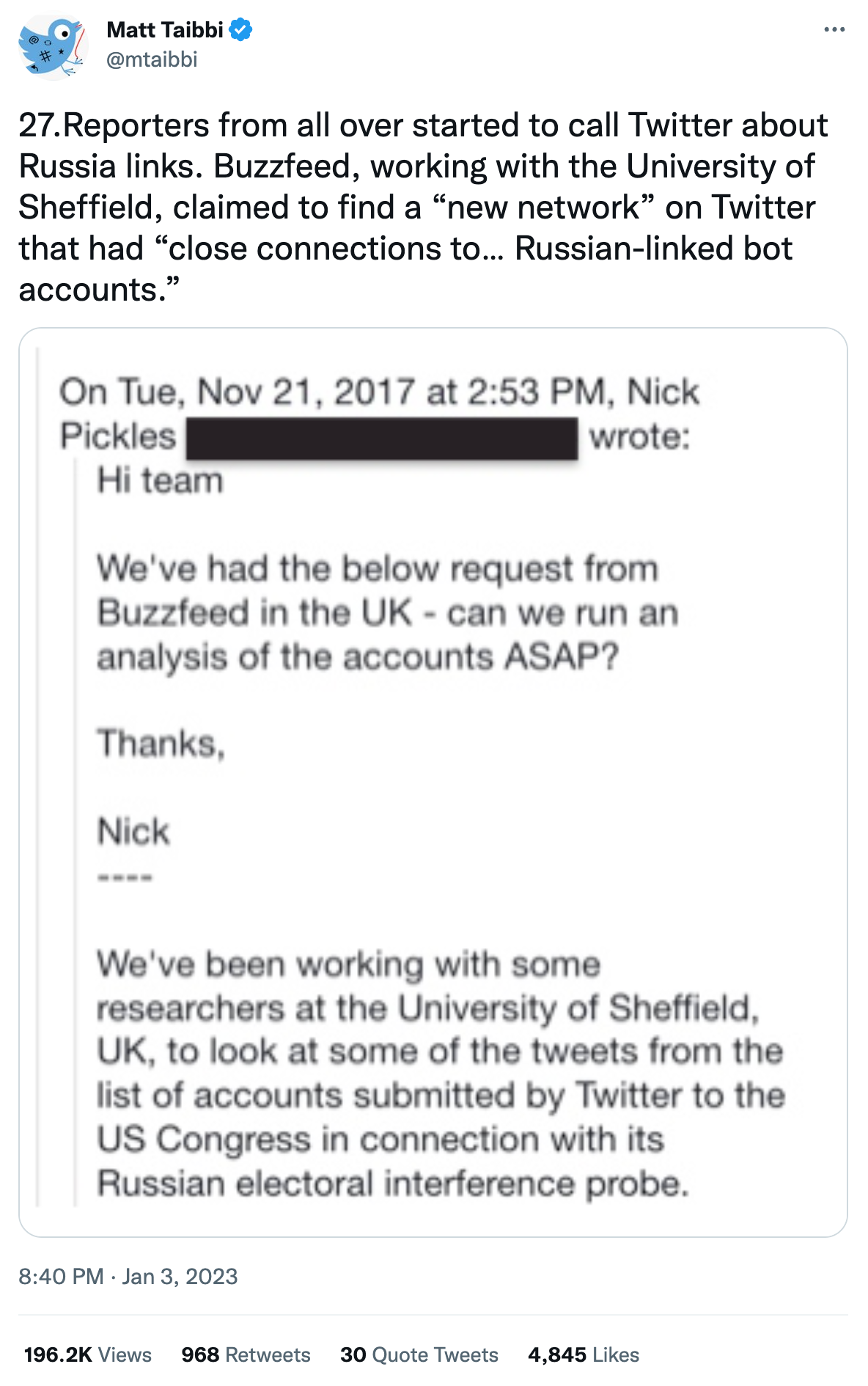 Twitter was initially reluctant to ask about the methodology BuzzFeed News and the University of Sheffield had used because "it will only embolden them."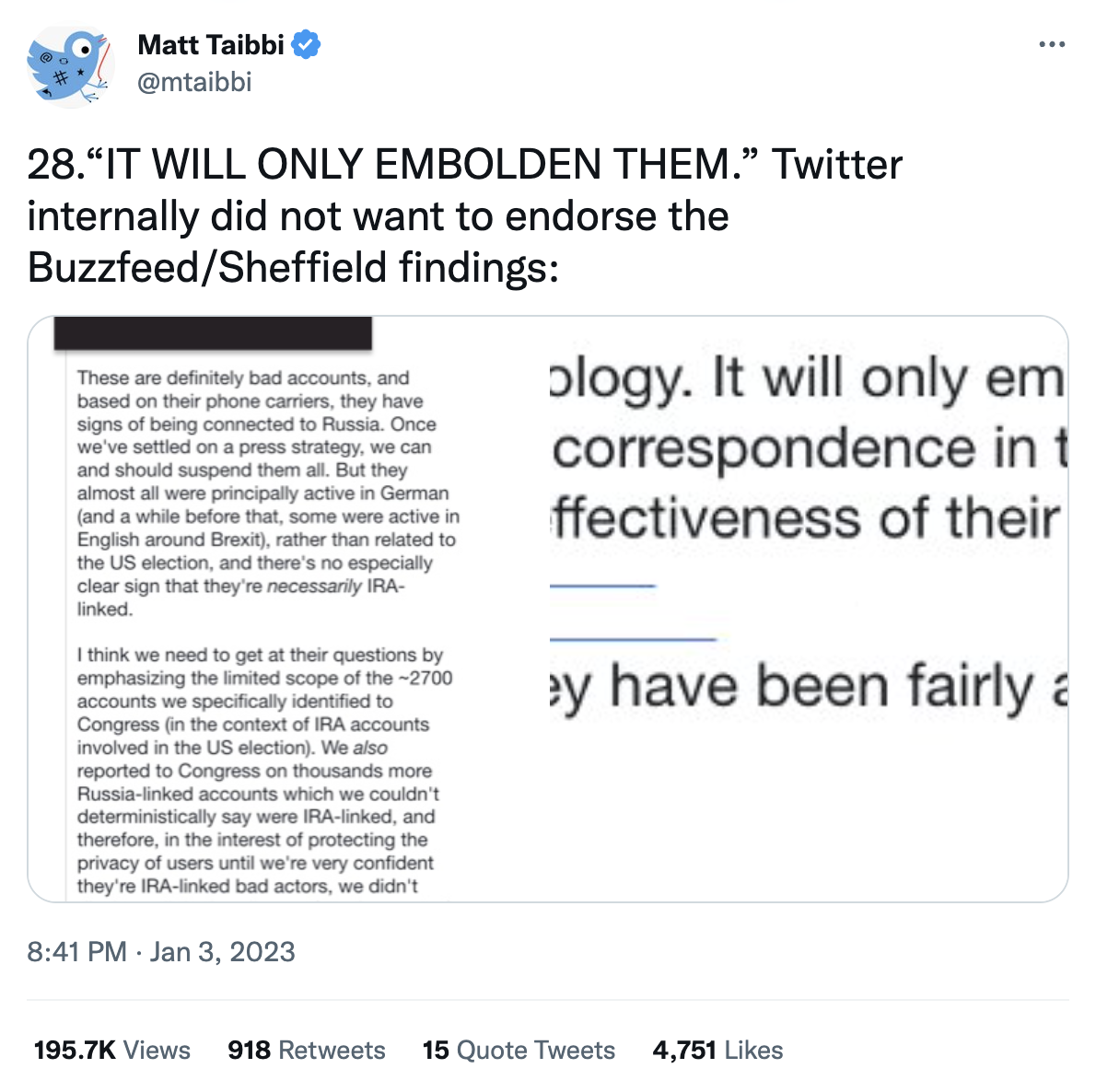 However, Twitter ultimately suspended the the accounts that had been flagged by BuzzFeed News and admitted internally that there would likely be more media investigations of accounts that are "tangentially associated" with the leaked list of account names because "reporters now know this is a model that works."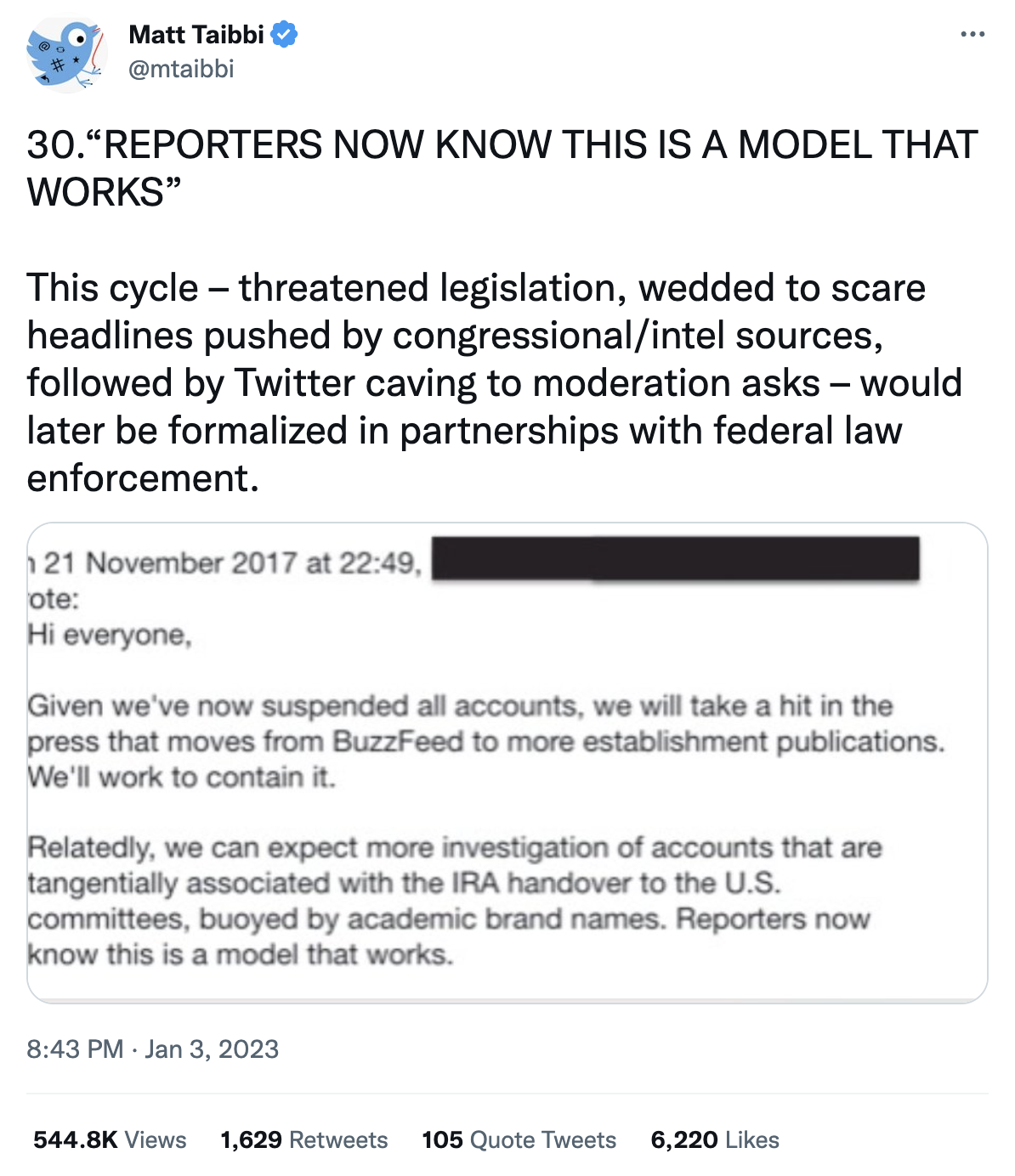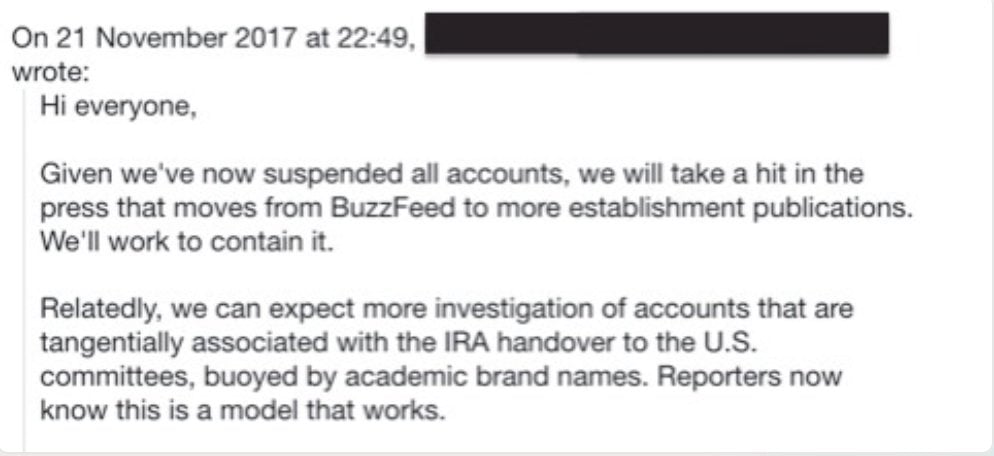 Taibbi said that after this internal admission, "Twitter soon settled on its future posture of publicly stating that it removes content based on "our sole discretion" but internally following a policy of barring "any user identified by the U.S. intelligence community as a state-sponsored entity conducting cyber operations against targets associated with U.S. or other elections, or an entity associated with such operations" from advertising on Twitter.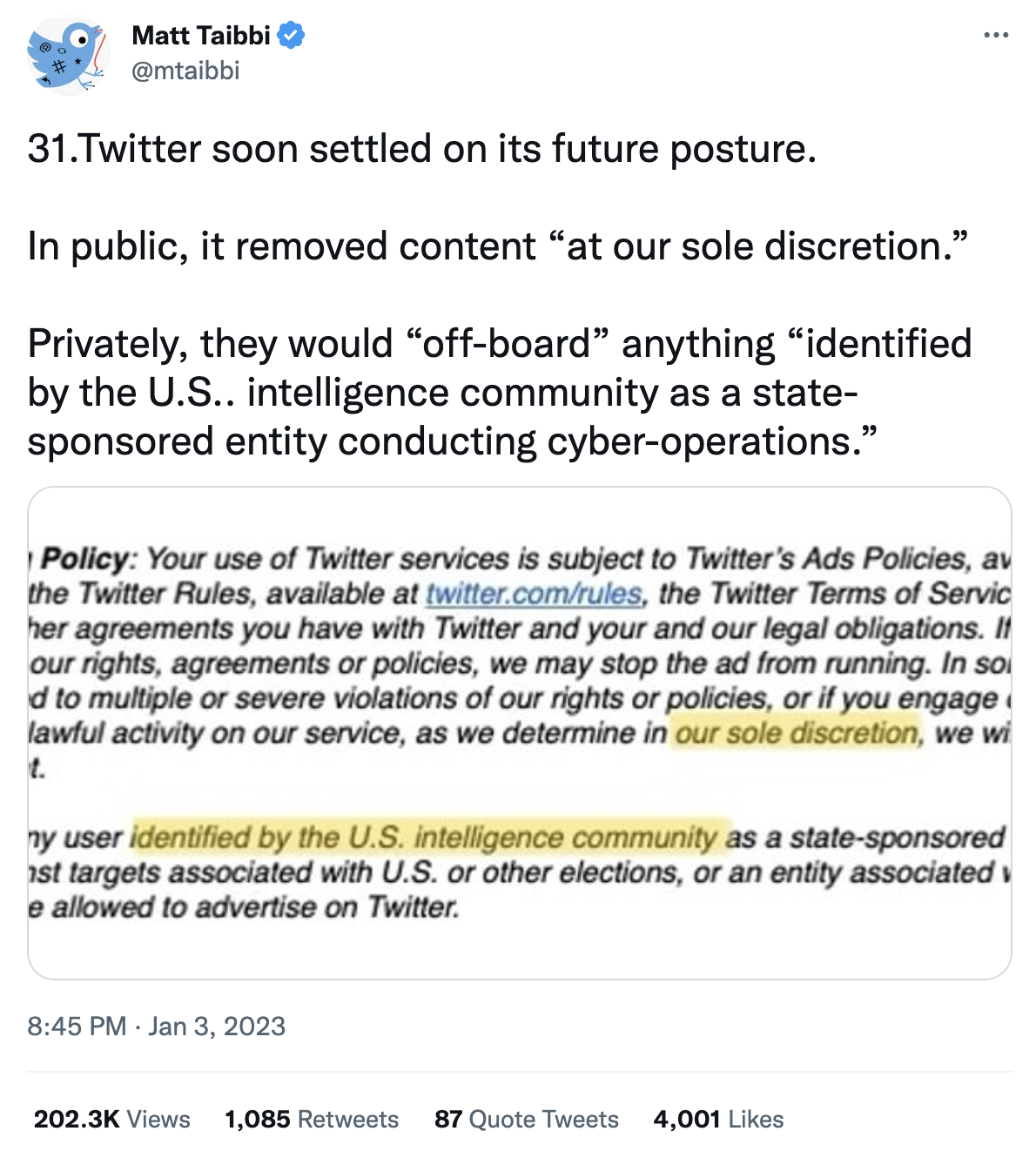 And according to Taibbi, once Twitter had "let the 'USIC' [US intelligence community] into its moderation process…it would not leave."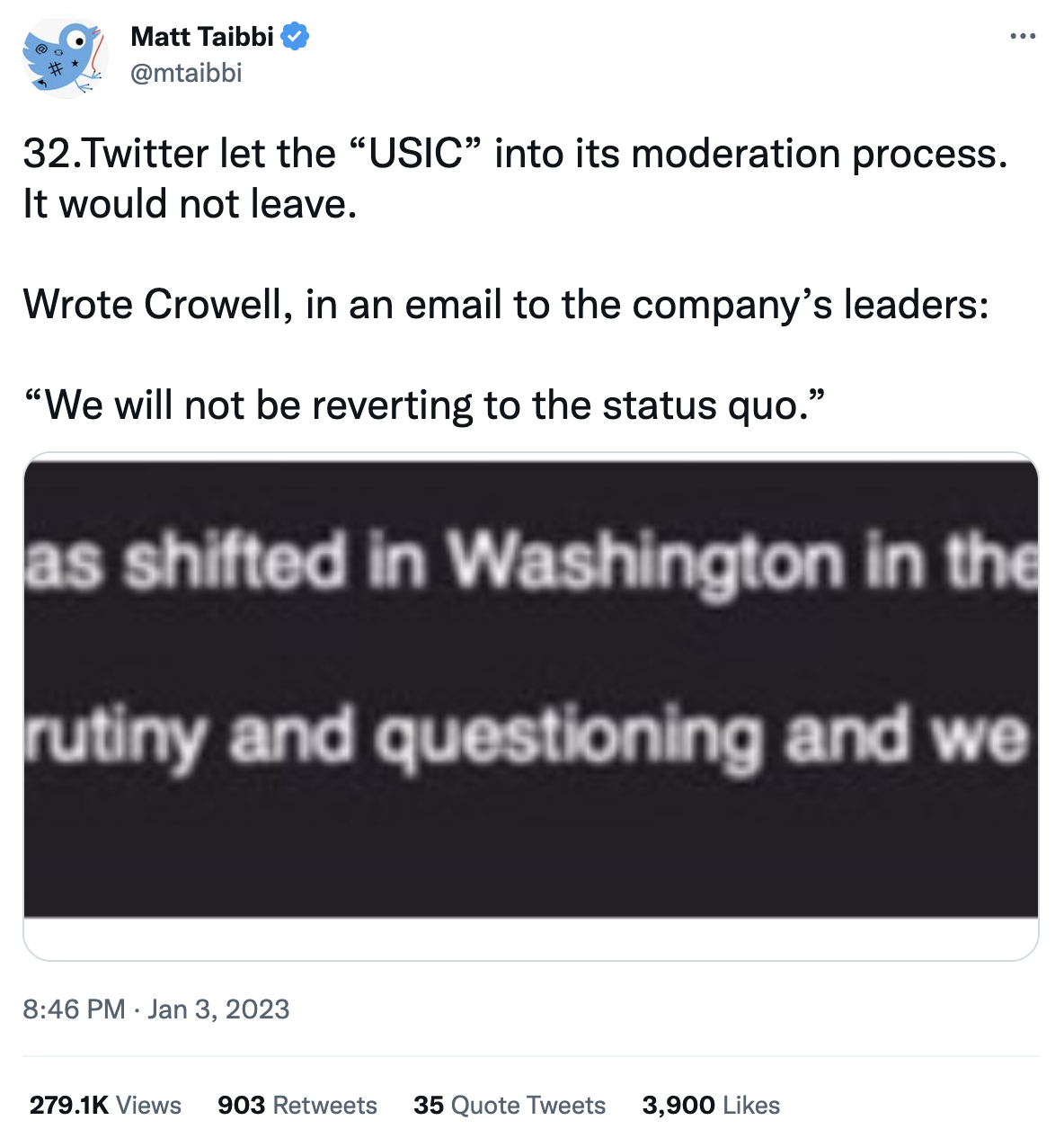 Taibbi noted that this cycle of using the threat of legislation and media pressure to push Twitter into removing accounts would "later be formalized in partnerships with federal law enforcement." Some examples of partnerships between federal law enforcement and Twitter that have been uncovered include the Federal Bureau of Investigation (FBI), Department of Homeland Security (DHS), and others flagging tweets to Twitter for censorship.