The University of California Berkeley said it will take no action against a music instructor over a decade-old Facebook post. A graduate started a petition calling on the university to take action against the professor over the post.
In 2012, violinist and music instructor Dan Flanagan wrote on Facebook: "I performed the Tchaikovsky Concerto with Lara St John 3 times over the weekend. I haven't been this disgusted with art since I watched Mel Gibson's The Passion. She's a beast…and she ought to be euthanized. And contrary to popular assumption, she's not pregnant."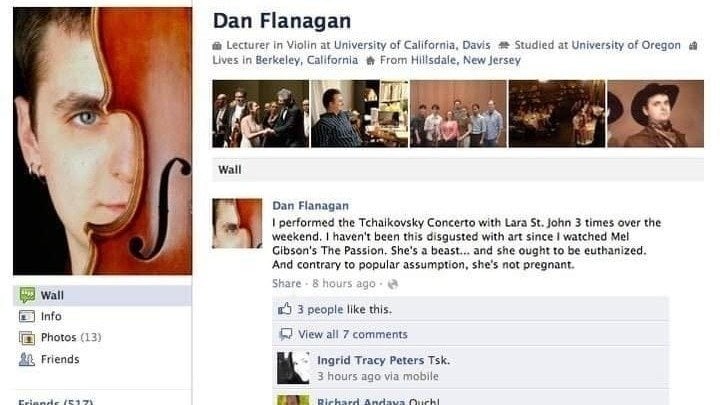 Over a decade later, UC Berkeley alumnus Pranav Sivakumar started a Change.org petition asking the university to remove Flanagan from his position, "not only because of how it can affect the young people he teaches – especially female students."
The petition also demanded that, "if this behavior was already known when Flanagan was hired, an internal review must be conducted to determine why that decision was made and ensure that it never happens again."
The petition notes that no action was taken against Flanagan by his former employer University of California Davis.
"The campus administration has no comment and is taking no action," a spokesperson for UC Berkeley told The College Fix.
"When acting in their private capacities, University employees in the United States have the same rights and responsibilities as any other member of the public, including freedom of speech, as guaranteed by our Constitution," the spokesperson added. "At the same time, individual employees, including faculty, do not speak for or represent the values, perspectives or positions of the University."