The UK government has asked for the removal of a "misleading" online video that features Home Secretary Suella Braverman being questioned by a woman over her alleged use of derogatory language to describe refugees.
According to the Home Office, the video, tweeted by the nonprofit Freedom from Torture was edited to mislead people on how the Home Secretary responded.
In the video, Joan Salter, 83, is seen confronting Braverman over her use of the word "invasion" and "swarms" to describe migrants attempting to cross to the UK.
Freedom From Torture wrote: "BREAKING: a Holocaust survivor just confronted Suella Braverman to say: your hateful language has consequences."
Salter said to Braverman: "When I hear you using words against refugees like 'swarms' and an 'invasion,' I am reminded of the language used to dehumanize and justify the murder of my family and millions of others.
"Why do you find the need to use that kind of language?"
While Braverman has not used the term "swarm" publicly to describe the migrants, she has said that part of her job is "about stopping the invasion on our southern coast."
The video posted by the nonprofit cuts to where Braverman said, "I won't apologize for the language that I've used to demonstrate the scale of the problem."
The Home Office insisted that the video omitted part of Braverman's response.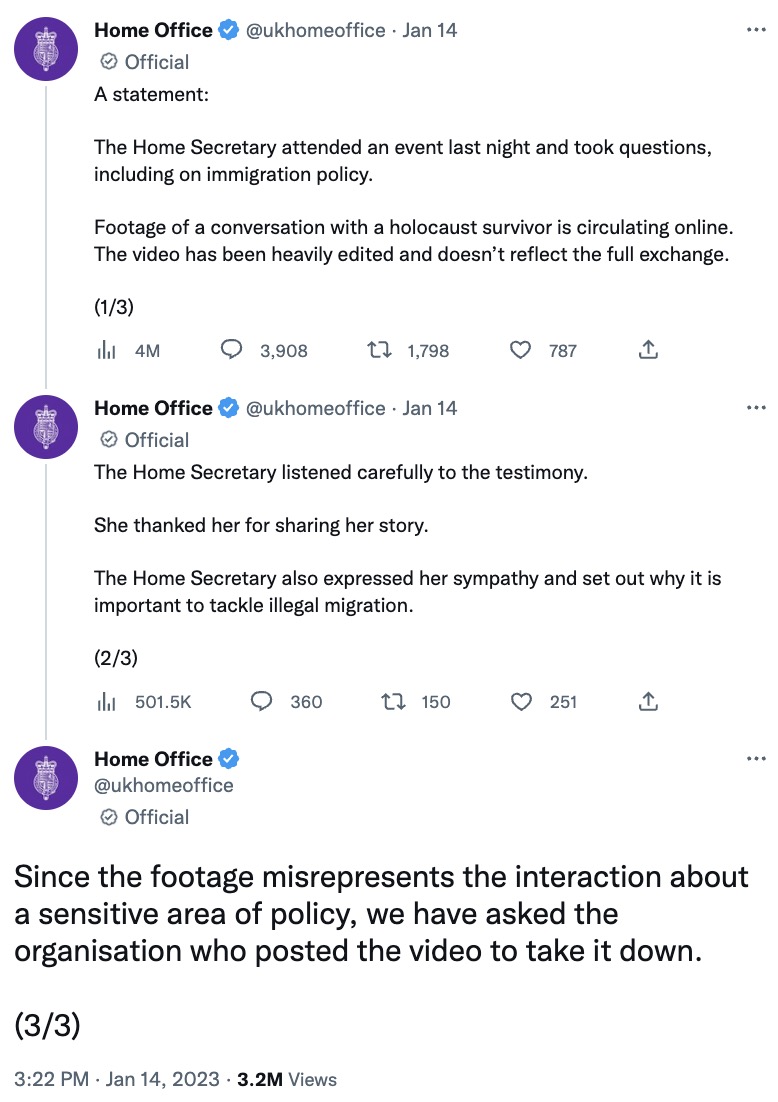 "Footage of a conversation with a holocaust survivor is circulating online. The video has been heavily edited and doesn't reflect the full exchange," The department said in a statement posted on Twitter.
The statement added that Braverman carefully listened, thanked Salter for sharing her story, and "expressed her sympathy and set out why it is important to tackle illegal immigration."
"Since the footage misrepresents the interaction about a sensitive area of policy, we have asked the organization who posted the video to take it down," the statement added.
In response, Freedom from Torture tweeted: "The Home Office is seeking the removal of our video of Joan's exchange with Suella Braverman. But we are standing our ground." The charity included a link to the full video in the tweet.