UK civil liberties and privacy group Big Brother Watch Director Silkie Carlo has criticized the country's Secretary of State for Health and Social Care and MP Matt Hancock for retweeting a post by Mail on Sunday commentator Dan Hodges, who praised the NHS App.
In the tweet, Hodges appears delighted with the National Health Service (NHS) app, calling it amazing, complete with "cool" features like scanning one's face and driver's license – to reveal "everything": medical records, including those related to Covid.
"I now want Covid passports just so I can use it (the app)…," tweeted Hodges.
But Carlo, whose organization also says its goal is to roll back the surveillance state and protect people in the UK from unfair intrusion – noticed Hancock retweeting the post (referencing "crazies") was disrespectful towards other MPs, many of whom come from his party, who have spoken out against Covid passports, and towards the anti ID-minded UK public.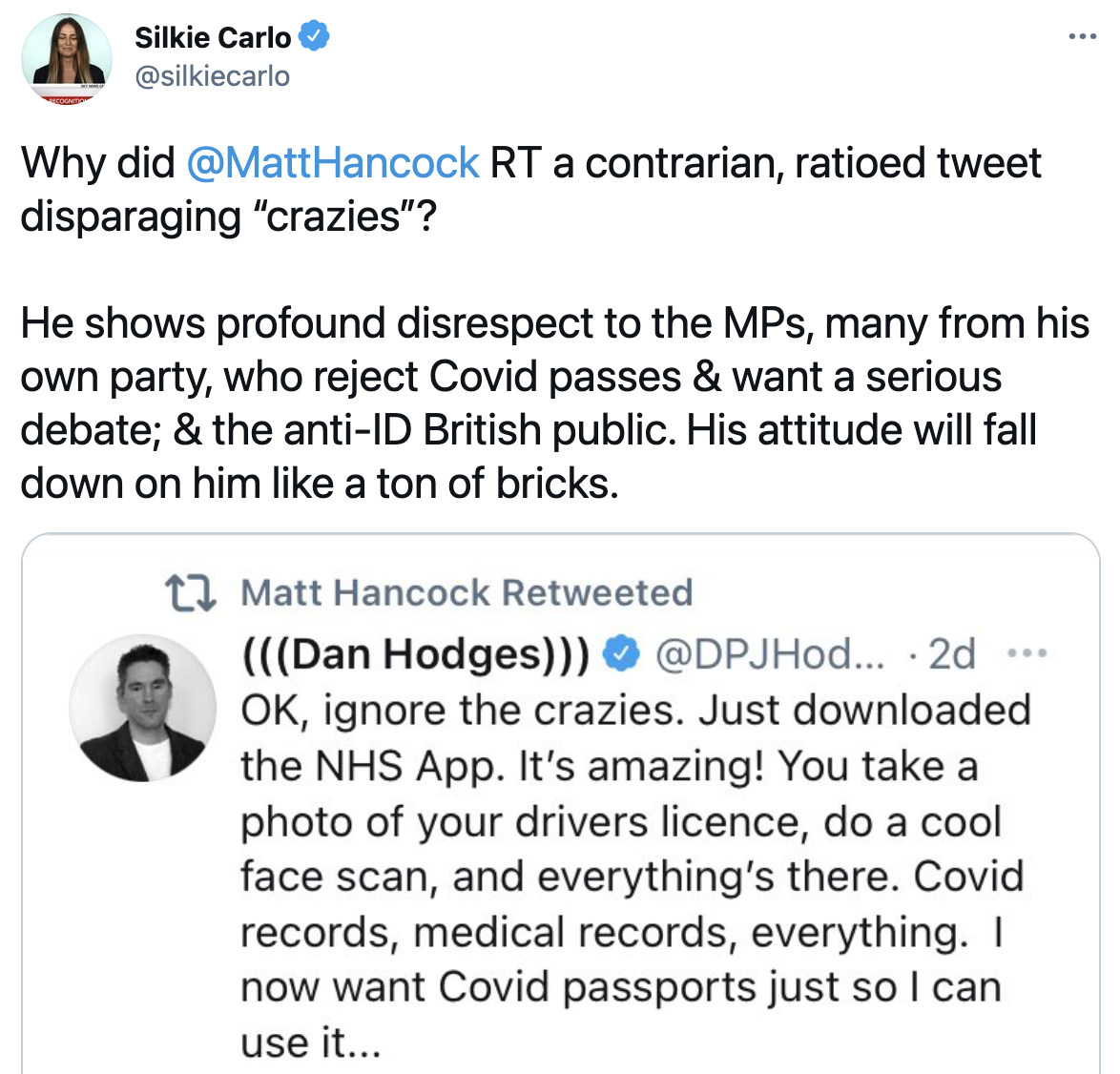 Carlo also expects this government official to face political fallout for such behavior.
The controversy came as the NHS App saw a surge in newly registered users, driven by the addition to the Covid vaccine status, which the authorities say brought in more than 1.3 million people since May 7.
This brings the number of users to 4.8 million, and its Covid vaccine pass, said to be designed according to WHO's interim guidance, can be used to demonstrate that the carrier has been inoculated against coronavirus. The app also allows making GP appointments and viewing GP and hospital records.
Privacy and sensitive data security are always a concern with such apps, but the inclusion of a Covid pass has the advocate communities additionally worried, asking for a debate before taking such steps.
In making its case against Covid passes in general – while preparing to launch a legal challenge in the UK – the Watch says these passes are an unnecessary form of overbearing society controls – if vaccines prove to be effective and protect people from getting reinfected.
At the same time, excluding those who are not vaccinated from social and economic public life is not only discriminatory, but also unfounded, as current evidence shows that both those who got the jab and those who did not can still transmit the virus.