It's not often you can say this of a UK government, but this time, they seem to be moving fast.
This comes after the guise of concern for the well-being of regular folk – children in particular – that the government has pushed for a long time, and finally managed to pass, in the form of the draconian Online Safety Bill.
And just one day after that happened, it went against what opponents have long been saying is the real purpose of it – namely harming, possibly eventually irreparably, end-to-end encryption, which happens to guarantee everybody's safety and privacy on the internet.
But, as politics oblige, the Home Office seems to first probe what, if anything, can be done through intimidation tactics. Especially with their previous and in many cases susceptible "clients," like Meta (Facebook.)
So, Facebook seems to be chosen as the first for the slaughter (for real or promised E2E). After all – "make the first one count."
The situation is the following: Meta – is still in the phase of "planning" to E2E messages on its platforms, like WhatsApp. That is strongly discouraged by the government in London, and while this is no "new news" – they now have a legal argument to pursue.
Judging by reports in outlets such as the BBC, the whole thing is like a bad case of role-play in a community theater production: on one hand, Meta is "upset" that its (billions) of users expect it to – eventually – keep their private conversations private, while on the other, officials like UK Home Secretary Suella Braverman are "upset" that apparently nobody but them is "thinking about the children."
Five years – that's how long it apparently took Meta to come up with secure messaging on its platforms, and now the giant says its "rolling out end-to-end encryption."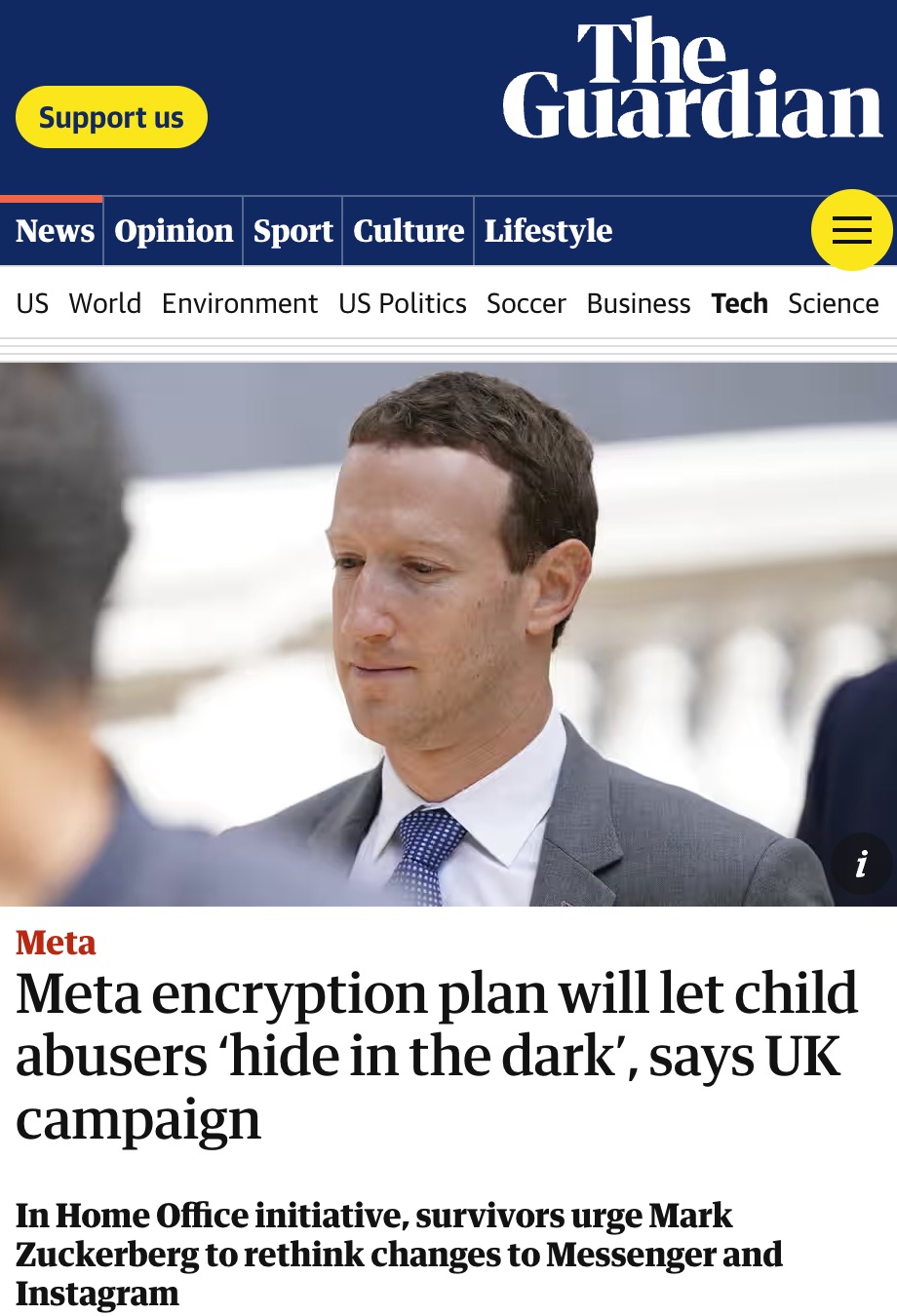 Braverman, on her end, plays the role of a state official in distress – nothing will persuade her that E2E is (not only the very foundation of an open internet, though perhaps she never heard of that concept) – but that if Meta somehow finally managed to "roll out" whatever it has in mind – it would spell the end of protection from "child abusers."
Braverman is not alone. "We are not asking for new or additional law enforcement access, we simply ask that Meta retains the ability to keep working with us to identify and help prevent abuse," National Crime Agency's James Babbage said, tellingly.
Digital rights group Stop Common Pass is fully unconvinced any of this makes sense.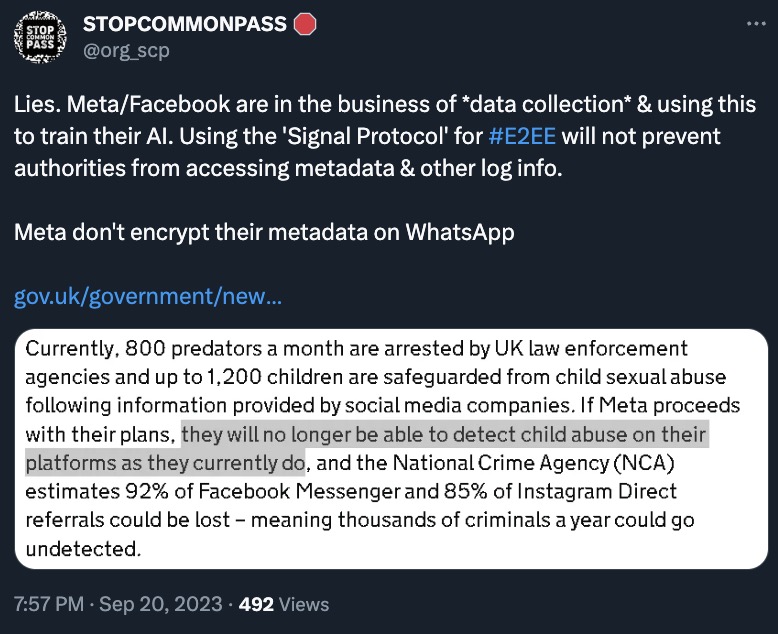 "Lies. Meta/Facebook are in the business of data collection and using this to train their AI. Using the 'Signal Protocol' for E2EE will not prevent authorities from accessing metadata & other log info.
Meta don't encrypt their metadata on WhatsApp," a post on X said.