"Don't forget your passport," the World Economic Forum recently tweeted – promoting the idea of people having to show documentation to enter gyms, restaurants, and bars.
One country that likes the sound of the idea is the United Kingdom.
UK's Prime Minister Boris Johnson hinted that Brits might require vaccine passports domestically, to access public venues such as pubs and theaters. The UK government has previously adamantly denied it was working on the so-called vaccine passports.
In an interview on Sky News, the PM said that Cabinet Minister Michael Gove, was going to lead the government's vaccine passport scheme. Apparently, the government is researching the "best scientific, moral, philosophical, and ethical viewpoints" on the vaccine passports issue. Gove is one of the government officials that have previously denied that the government would deploy a vaccine passport scheme.
"This is an area where we're looking at a novelty for our country. We've never thought of having anything like this before, that you have to show when you go to a pub or a theatre," the PM said in the interview when asked about the vaccine passport policy.
"There are deep and complex issues that we need to explore, ethical issues about what the role is for the government in mandating people to have such things or indeed banning from people doing such a thing. I know the fervent libertarians will object but other people will think that there is a case for it," Johnson added.
Like others who support the idea, Johnson said "COVID status certification" could play a vital role in the safe opening of venues.
Critics noted the doublespeak from the government.
Big Brother Watch, a civil liberties group, mocked the PM's description of vaccine passports as "Covid Status Certification," pointed out the doublespeak, and warned of the vaccine passports privacy concerns and potential for discrimination and exclusion.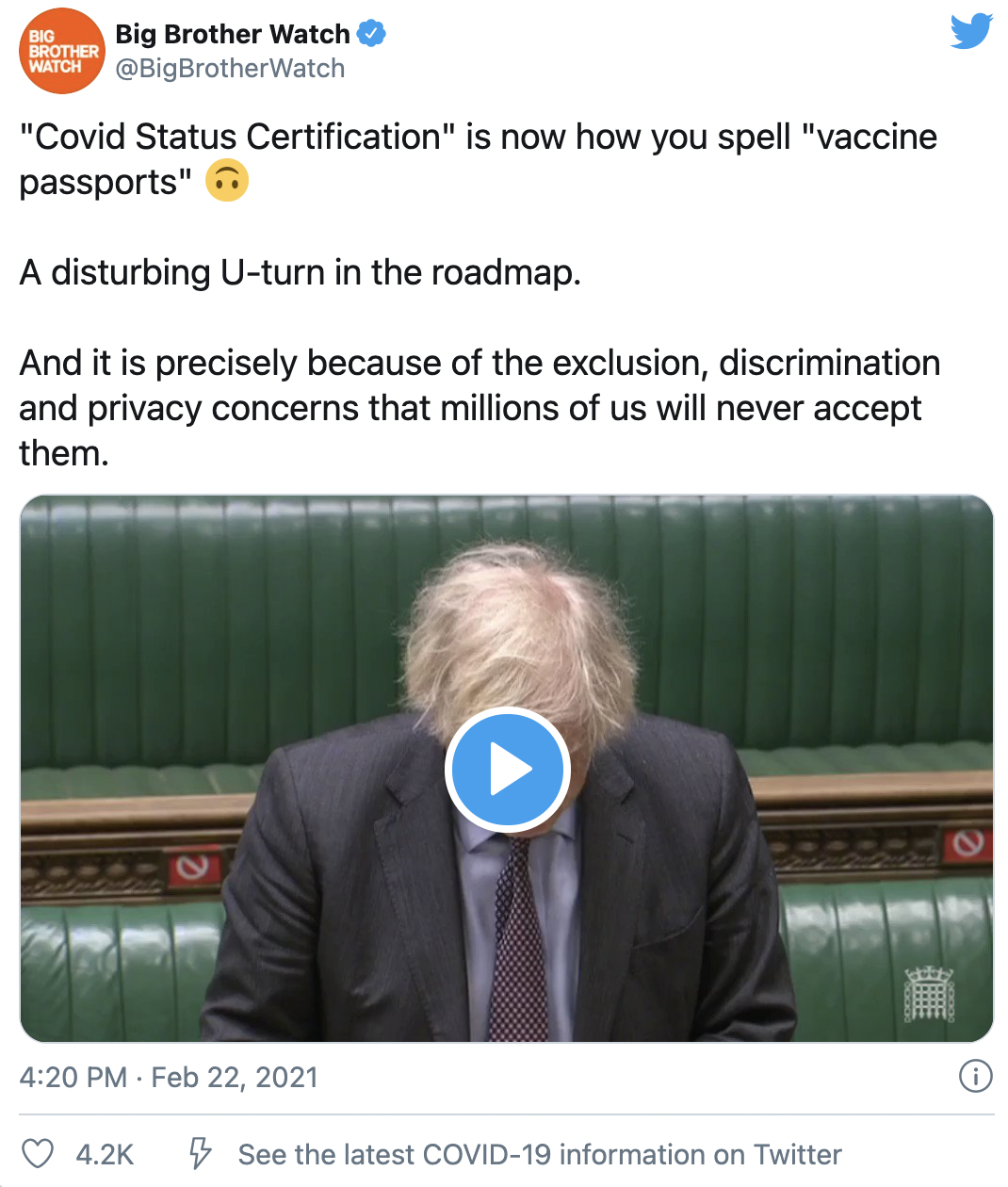 According to reports, the UK government is currently funding at least eight digital vaccine passport projects. Other countries in Europe, including Denmark and Greece have also announced their plans to implement vaccine passports.