The police in Wiltshire, UK, have admitted in a statement posted on Twitter – reacting to what they call widespread commentary online – that their response to Kellie-Jay Keen's YouTube video was "not wholly proportionate."
Two police officers showed up at feminist YouTuber's home on Sunday because of her comments made online about transgender issues, informing Keen they were acting on a complaint received by a viewer unhappy about her content.
It was a video titled, Mermaids, Drag and Grooming, that contained footage from a gay pride gathering showing a 12-year-old boy dressed in drag. The YouTuber's comment about the child seen dancing on stage was that he was "being exploited."
According to Keen, the officers said the complaint had to do with her "saying something untoward about pedophiles." It soon became clear that the policemen never watched the video and could not properly answer whether her online activity constituted a crime, but said they were ready to go back to the station and watch it.
Predictably, the incident produced "widespread commentary online," as the Wiltshire police put it, and then they produced the statement.
It says that officers acted on a report from a member of the public, and were dispatched to Keen's house with the purpose of offering "words of advice" concerning her comments heard in the video – that those behind the complaint "felt" were offensive.
Since "words of advice" have been delivered, "no further additional police action will take place and the matter has been closed," Wiltshire police tweeted.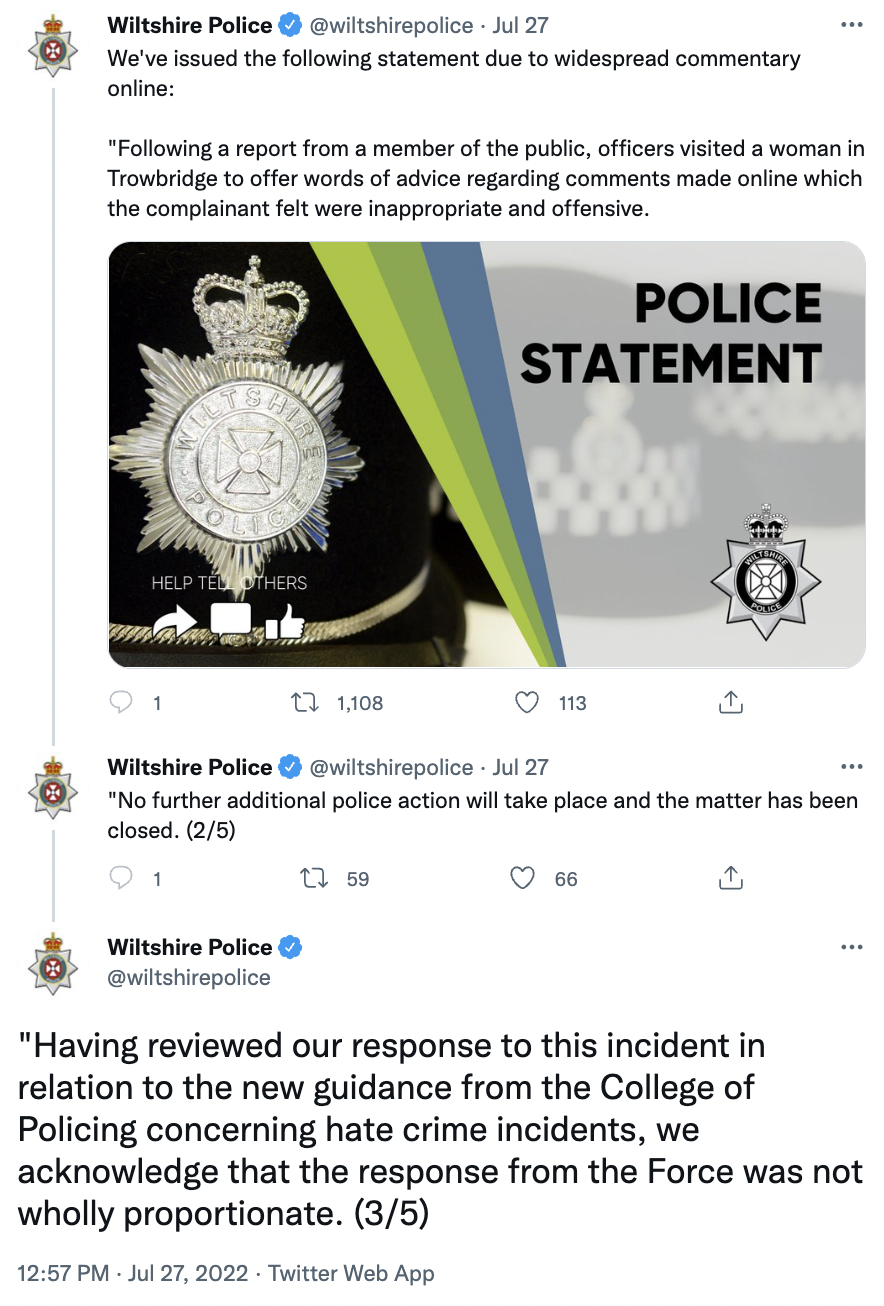 The statement added that the response was reviewed, in the context of the new guidance from the College of Policing concerning hate crime, and that the result of this introspection is that, "the response from the force was not wholly proportionate."
In order to justify the incident, the police further said that its officers "acted with the best intentions" – but apparently unaware not only of the content of the video, but also of the most up-to-date version of the guidance that is supposed to inform their actions.
The guidance "only changed last week," said the police.
"We are currently working on ensuring the latest national guidance is fully shared within our organization to provide clarity to officers on how reports of this nature should be dealt with on a case by case basis to ensure a consistent and proportionate response," they concluded.
But some activists on Twitter reacted by recalling that the guidance the police relied on was in late 2021 declared unlawful by the Court of Appeal.