Amidst the coronavirus pandemic, the UK police force has been accused of going a step too far in tweet "warning" their citizens about social gatherings.
In a tweet that reads like it was almost taken from George Orwell's masterpiece 1984, here's what the Central Community Team of the Bedfordshire Police said: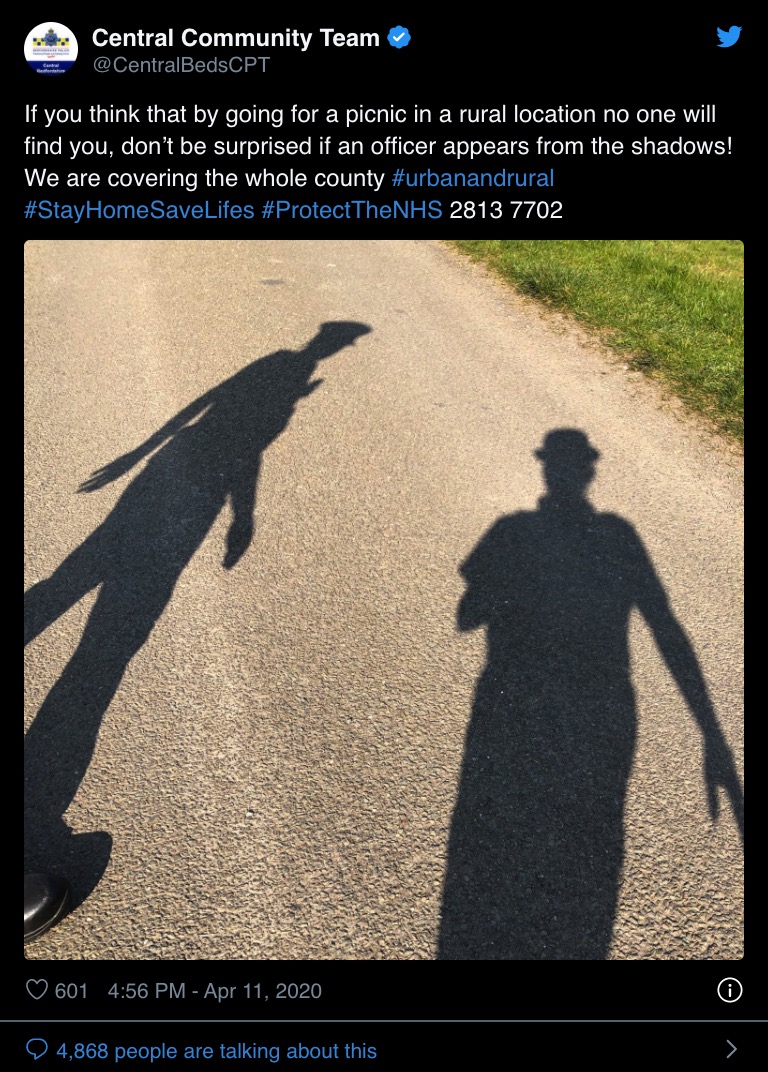 "If you think that by going for a picnic in a rural location no one will find you, don't be surprised if an officer appears from the shadows! We are covering the whole county #urbanandrural #StayHomeSaveLifes #ProtectTheNHS 2812 7702".
What's more, the tweet also featured a creepy image of two police officers' shadows.
Naturally, netizens weren't particularly thrilled by the so-called warning issued by the police force.
Realizing the ominous negative reception and responding to the massive backlash that ensured, the Central Community Team replied to the above tweet again by writing: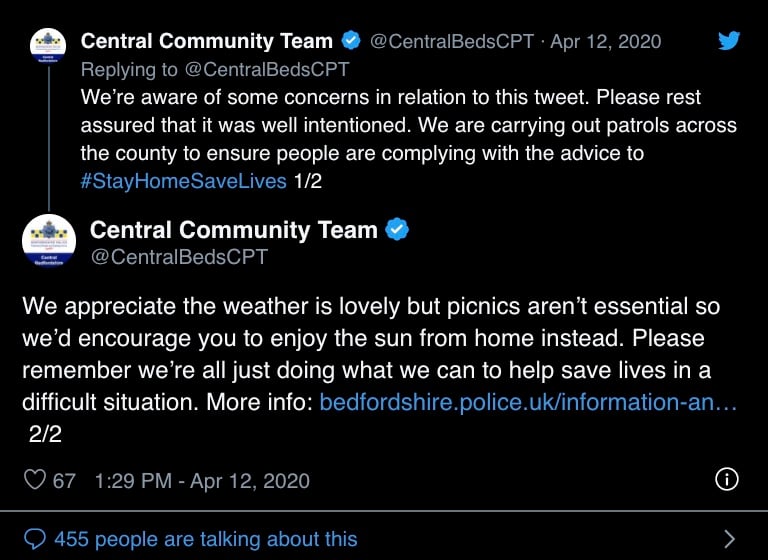 "We're aware of some concerns in relation to this tweet. Please rest assured that it was well intentioned. We are carrying out patrols across the country to ensure people are complying with the advice to #StayHomeSaveLives ½"
"We appreciate the weather is lovely but picnics aren't essential so we'd encourage you to enjoy the sun from home instead. Please remember we're all just doing what we can to help save lives in a difficult situation".
The over-the-top policing threats aren't the only exaggerated actions undertaken by the UK police.
In the previous week alone, the UK government made it clear to the police forces that they weren't supposed to be going through the contents of peoples' grocery carts, as a police force suggested checking baskets for "non-essential" items.
Here's another instance of exaggerated policing being met with social media backlash: a South Yorkshire police woman recently asked a family to not spend time "outdoors" in their own front yard.
It is worth noting that people hanging out in their own front yard is in no way prohibited in the UK.
Harsh policing measures causing distress to the general public is being met with a lot of pushback online, as people are using social media to document the cases.