Some parts of Germany have criminalized the display of the pro-Russian "Z" symbol to show support for Ukraine in the on-going war. Ukraine has called on other countries to do the same.
The letter Z is being used by supporters of the war in and outside Russia. Russian forces have been brandishing it on military vehicles, while civilians have been displaying it on the windows of their cars.
It is not clear what the symbol means; some say it stands for "Za pobedy," the Russian word for "victory." Others believe it means "Zapad" (West).
In a tweet, Ukraine's Minister for Foreign Affairs, Dmytro Kuleba, said: "I call on all states to criminalize the use of the 'Z' symbol as a way to publicly support Russia's war of aggression against Ukraine. 'Z' means Russian war crimes, bombed out cities, thousands of murdered Ukrainians. Public support of this barbarism must be forbidden."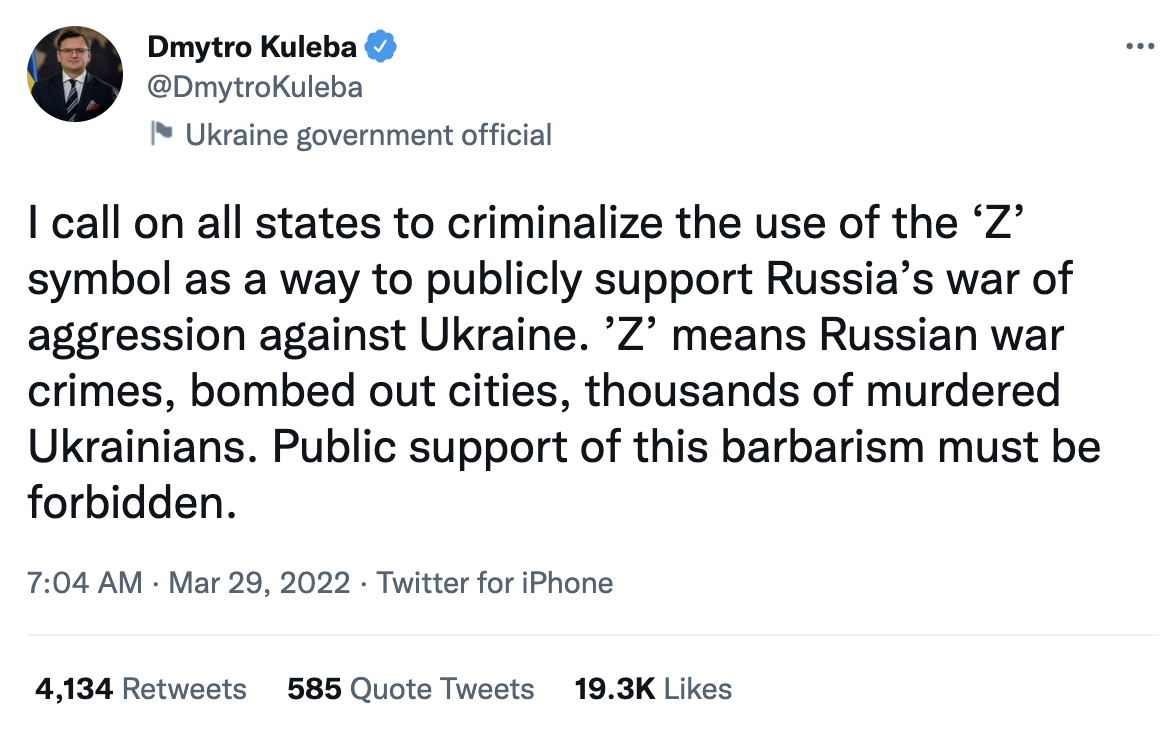 From NPR:
"Two German states have outlawed public displays of the letter "Z," which has become synonymous with support for Russia's war in Ukraine.

Authorities in Bavaria and Lower Saxony said over the weekend that anyone who displays the symbol at public demonstrations or paints it on cars or buildings could face a fine or up to three years in jail, the English-language site The Local reports. And an Interior Ministry spokesperson told reporters on Monday that people throughout Germany who display the letter to endorse Russia's aggression could be liable to prosecution."
Kuleba has yet to offer any commentary about how such a law could restrict free expression or even be used to criminalize incidents where the letter Z is misconstrued as being in support of Russia.
A Russian gymnast is under investigation by the International Gymnastics Federation for displaying the "Z" symbol on his leotard while standing next to a Ukrainian athlete. But there aren't yet any cases where more innocuous uses of the letter Z have been accused of being in support of Russia.
Aside from Germany, Lithuania is also considering criminalizing the public display of the "Z" symbol.