A former professor from UNCW, North Carolina, was forced to retire in late June after complaints about a post he made on Twitter. He was found dead on Thursday at his New Hanover County home.
Mike Adams, who taught sociology and criminology at the college, faced backlash over a tweet where he described Gov. Roy Cooper as "Massa Cooper."
Adams was set to retire on August 1st and would have received a $504,702 settlement for lost salary and lost retirement benefits that came with his forced early retirement.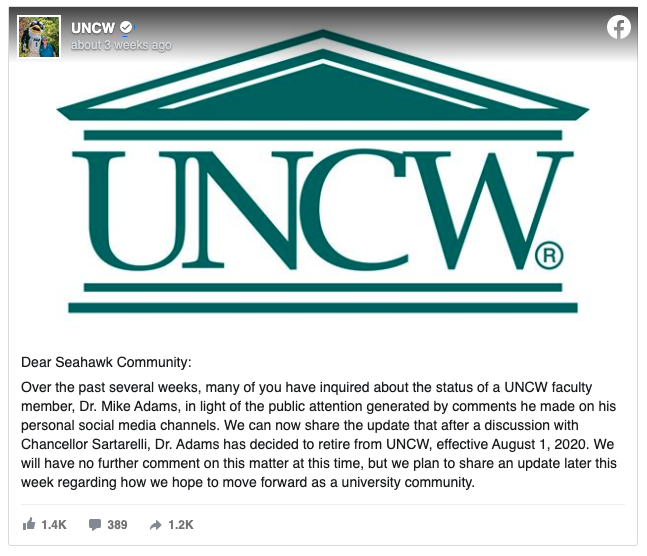 Towards the end of May, Adams tweeted, presumably referencing pushback against enforced lockdowns that, at a dinner with six men at a six-seat table he, "felt like a free man who was not living in the slave state of North Carolina." He then wrote: "Massa Cooper, let my people go!"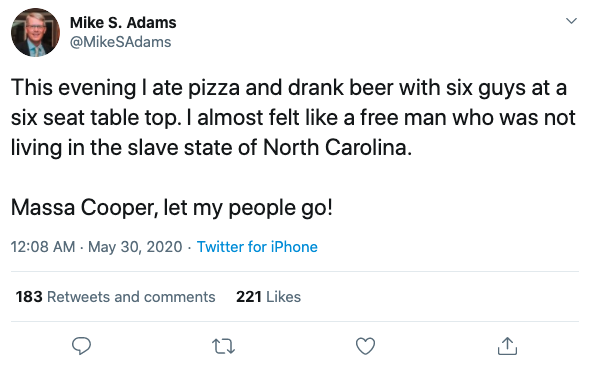 Attacks on social media and a petition to have him fired reached over 60,000 signatures.
Among those calling for Adams to be fired was Sophia Bush, an actress known from The One Tree Hill TV show, who rallied her fans against Adams.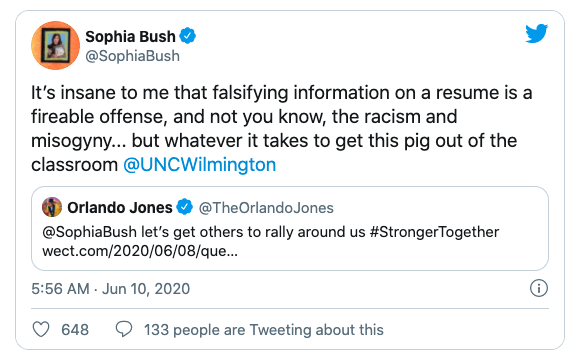 "It's insane to me that falsifying information on a resume is a fireable offense, and not you know, the racism and misogyny… but whatever it takes to get this pig out of the classroom," Bush tweeted.
In early June, UNCW made a statement saying, "Hurtful language aimed at degrading others is contrary to our university values and our commitment to an environment of respect and dignity. Its appearance on any platform, including the personal platforms of anyone affiliated with UNCW, is absolutely reprehensible."
However, the college, that is a public research institution and is therefore constitutionally bound by the First Amendment to support free speech, did acknowledge at the time, "no matter how upsetting and distasteful the comments may be, they are expressions of free speech and protected by the First Amendment."
Today, UNCW Division of Academic Affairs said, "It is with sadness that we share the news that the New Hanover County Sheriff's Office is conducting a death investigation involving Dr. Mike Adams, professor of criminology. Please keep his friends and loved ones in your thoughts."
The New Hanover Sheriff's Office told Reclaim The Net this evening that Adams' death is being investigated and didn't have anything further yet to add.
Adams was also the author of Letters to a Young Progressive, and contributor at Town Hall and The Daily Wire.

Defend free speech and individual liberty online.
Push back against big tech and media gatekeepers…