A law professor at the University of Miami is facing an outrage mob for publicly expressing his support for Donald Trump in the days when the official result of the presidential election is still awaited.
Professor Daniel Ravicher posted his views on Twitter, accusing Democrats of engaging in "dirty tricks" in a number of swing states by deliberately stopping the counting of votes on November 4, to make sure Trump would not be confirmed as a winner and to weaken his position going forward.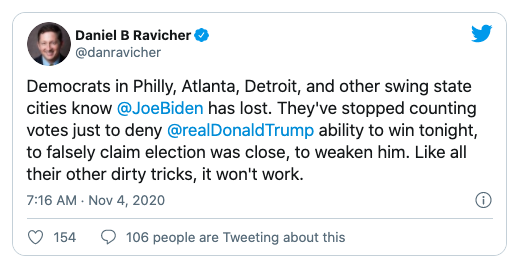 This professor also believes that the US election process is fundamentally flawed and rife with irregularities such as cheating, and that those who exploit it get a chance to win.
Another one of his tweets goes into ethnicity and race and how minorities influence, and fare in US politics. Ravicher said his opinions on this subject stem from his knowledge of population trends and voting patterns of minorities, saying that "Blacks allow themselves to be taken for granted and treated horribly by Democrats."
Finally, the professor seemed to express his support for the Second Amendment (the right to bear arms) in the context of a tweet that said he was off to Walmart "to get what he needs to protect his family" from what he ironically referred to as peaceful protesters.
Even though Ravicher said that he welcomed different opinions, those offended by his posts don't seem interested in a debate, or allowing him the right to express his stance on these issues.
One student, Charis Pitter, said the professor's words were disgusting, leaving her angry and disappointed both in Ravicher but also in the way the university has been behaving around what she says is hate speech. Another black student said the professor "seems extremely racist, radical, and dangerous."
Ravicher defended his posts in a statement to the press, and said he would not resign voluntarily, but expects to soon be out of a job.
When that happens, he tweeted, "I'm going to reach out to the Trump legal team and offer my services pro bono. I've already won one Supreme Court case. Time to add another."