An Italian restaurant in London was vandalized shortly after it hosted a fundraiser organized by JK Rowling. The owner of the restaurant dared defend the Harry Potter writer in a spat with trans activists.
A week ago, JK Rowling and Suzanne Moore, who are both critical of gender ideology, organized a fundraiser at Pino's Italian restaurant. The fundraiser was for a charity that helps Ukrainian children.
The owner of Pino's also owns Il Portico, one of London's oldest Italian family-owned eateries, which was vandalized. The owner, James Chiaviarini, shared the image of the restaurant with broken windows.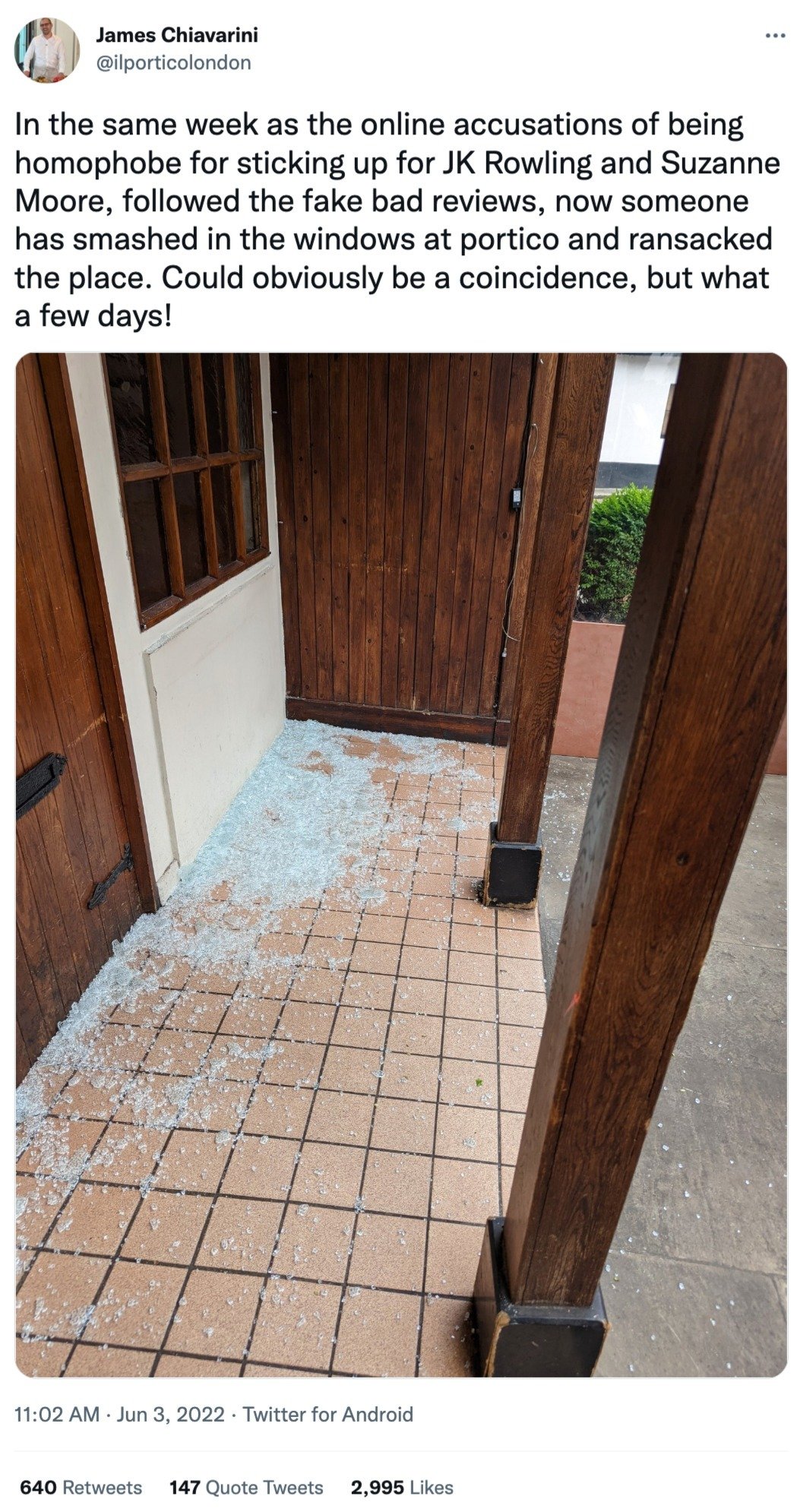 After the fundraiser, Chiaviarini congratulated Rowling and Moore in a tweet. He was immediately trolled by trans activists, who even went as far as posting one-star reviews of his restaurants.
"In the same week as online accusations of being homophobe for sticking up for JK Rowling and Suzanne Moore, followed the fake bad reviews, now someone has smashed in the windows at portico and ransacked the place," he wrote on Twitter, along with an image of the vandalized restaurant.
"Could obviously be a coincidence, but what a few days!"
Chiaviarini added: "The organized pile on from extremist TRAs [trans right activists] is real for everyone to see. They have slandered by business and my character with false accusations in an attempt at vengeance because I (proudly) stand with Suzanne Moore and JK Rowling, both of whom I admire and respect greatly.
"The ransacking of my business happened the same week as the pile on. As things stand, it is impossible to prove that the two are related.
"I suspect that I will never know for sure. For now, there is no hard evidence, only a coincidence."
Many came in support of Chiaviarini, including Piers Morgan and feminist reporter Hadley Freeman.