Vivaldi's wide range of features have made it a compelling alternative to Big Tech browsers such as Google Chrome and Microsoft Edge.
And today, in what it describes as its biggest launch of the year, Vivaldi has integrated four new privacy-focused tools into the fourth version of its browser – email, calendar, Really Simple Syndication (RSS) reader, and translation.
Translation is a full product release while the email, calendar, and RSS reader are being launched as beta versions.
Vivaldi Translate is available on desktop and Android whereas the other three tools are currently desktop only.
As with Vivaldi's other features, privacy is at the forefront with all four of these new tools providing their services in a way that keeps your data safe.
Not only do these new tools make the browser even more useful but they also provide a competitive, privacy-respecting alternative to other Big Tech services such as Gmail, Google Calendar, Google News, Google Translate, and Outlook.
Vivaldi Translate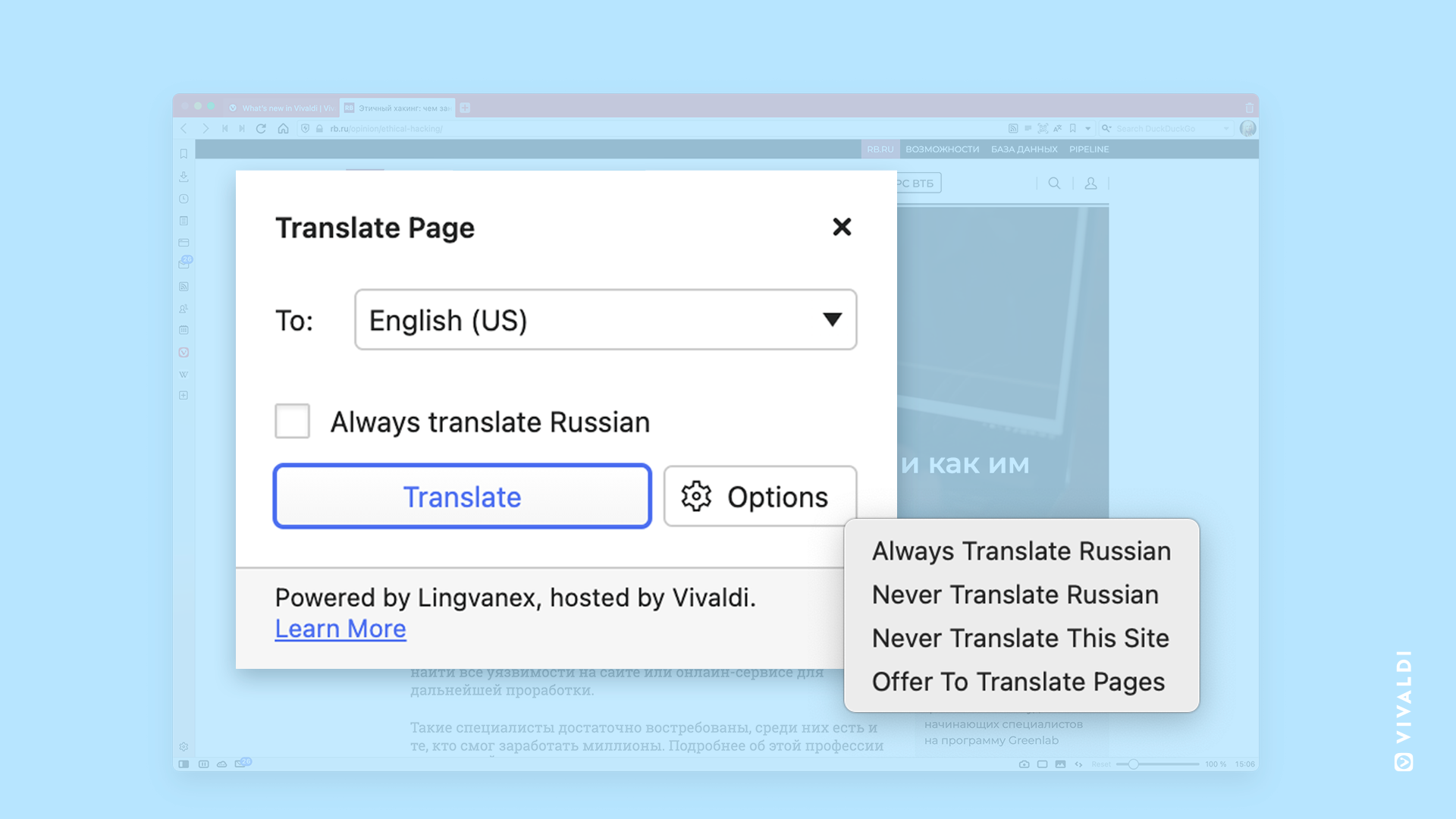 Vivaldi Translate is powered by its partner Lingvanex – an award-winning machine translation service.
To preserve user privacy, Vivaldi hosts the translation engine on its servers in Iceland to ensure that no third-party servers are involved. It promises "your translation activity is for your eyes only."
By default, Vivaldi's translation settings can be accessed via an icon that appears in an easily accessible location in the right corner of the desktop browser and the "Translate" section of the Vivaldi menu on Android.
To use Vivaldi Translate, simply set your default language and then use Vivaldi's translation settings to set the default behavior for any languages and sites that you want to translate. There are four default settings:
Always translate this language
Never translate this language
Never translate this site by deciding whether to always translate
Offer to translate pages
Vivaldi Mail (beta)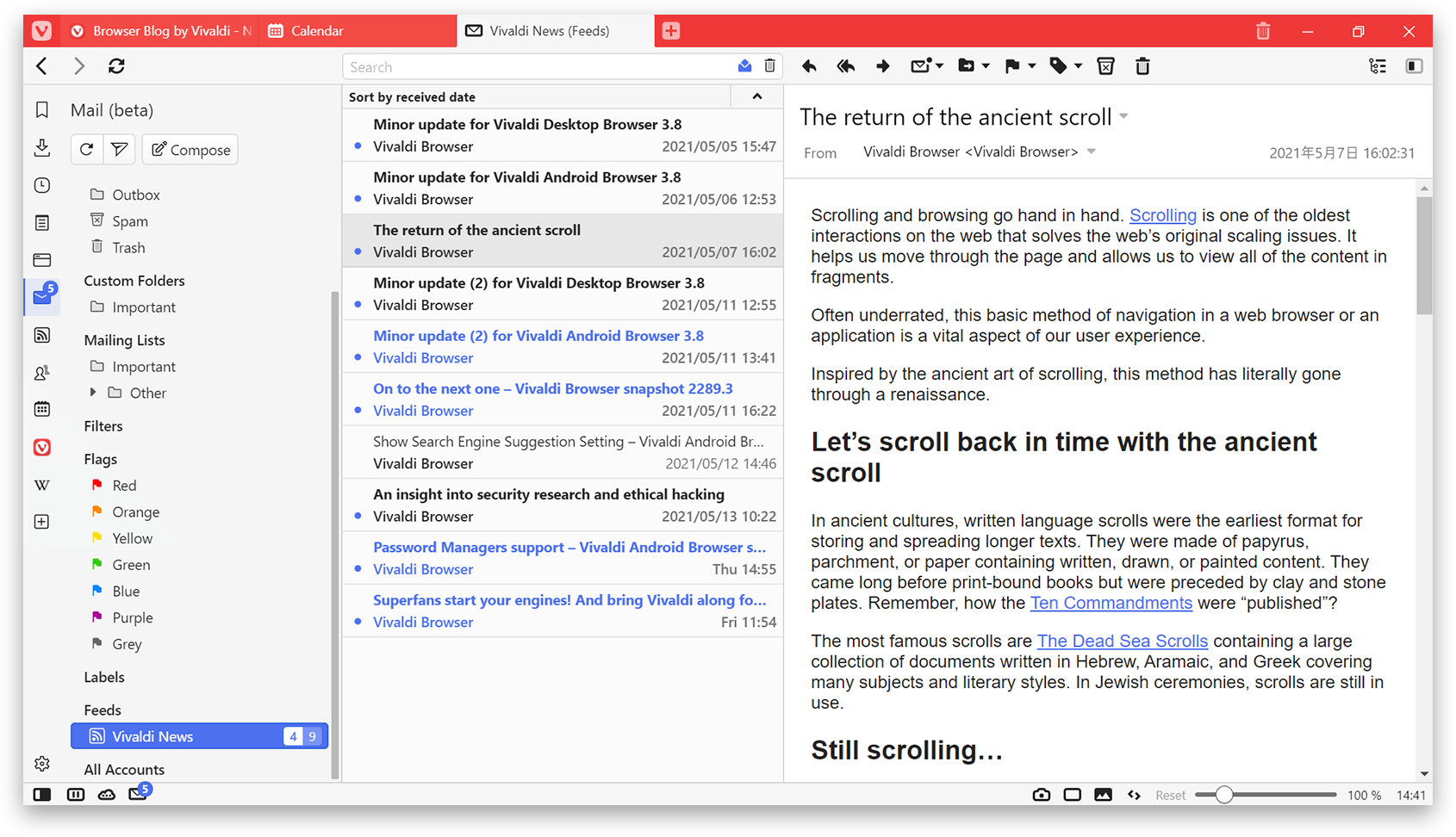 Vivaldi Mail offers a highly customizable, privacy-focused email experience that supports Vivaldi's own webmail and a wide range of other email providers via its IMAP and POP3 integration.
Unlike Big Tech's webmail services, which store your emails on their servers, Vivaldi processes your email on-device to preserve privacy.
It also offers numerous features that make staying on top of your emails a breeze. These features include a tabbed interface that creates a new tab whenever you open a message, saved searches, queued messages, and custom keyboard shortcuts.
Vivaldi Feed Reader (beta)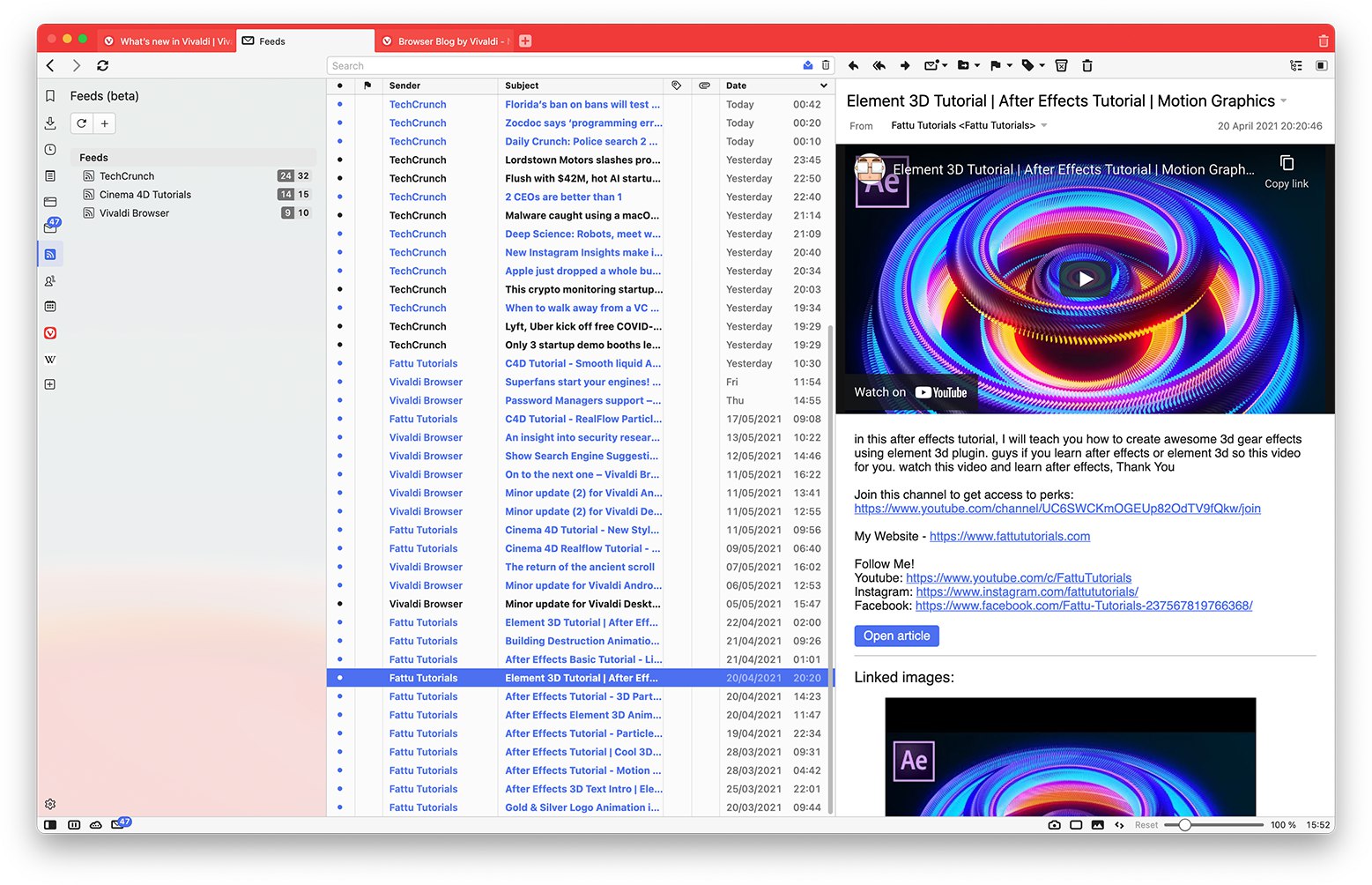 With the Vivaldi Feed Reader, you can stay on top of updates from your favorite sites and creators without your viewing habits being tracked and used to build advertising profiles.
Vivaldi will automatically show a feed icon in the address bar whenever you visit a site where an RSS feed is available. You can then click this icon to add the feed to your Vivaldi Reader.
RSS feeds are displayed in a "Feeds" panel in Vivaldi Mail which means you get the privacy protections provided by the on-device processing.
And since RSS is an open standard, it can be used to stay up to date with a wide range of content from blogs, news sites, podcasts, and many social media sites.
Vivaldi Calendar (beta)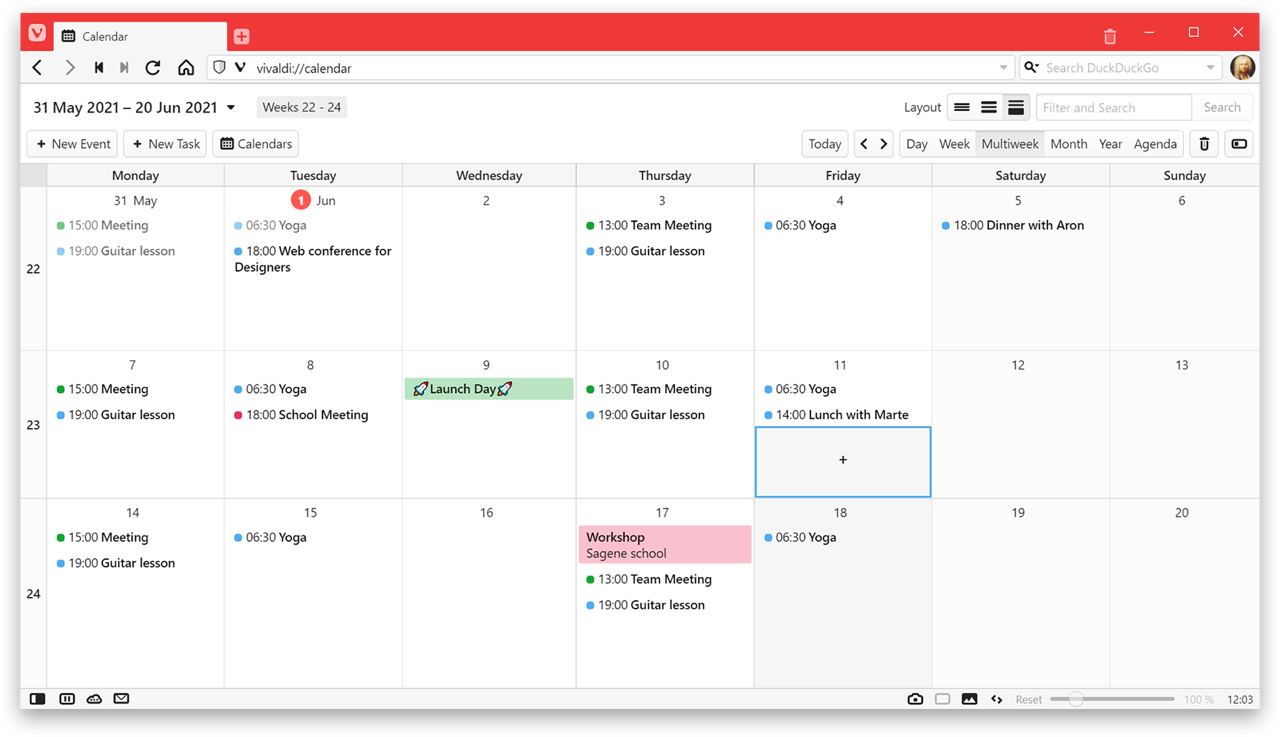 Vivaldi Calendar provides all the features you need to organize upcoming events without subjecting you to the data collection that often comes with other popular Big Tech calendar apps.
For maximum privacy, you can keep all your calendar data on-device or connect Vivaldi Calendar to your own server and ensure that no third parties have access to your calendar data.
Alternatively, you can connect with other third-party calendar services and any calendars that support CalDav.
Some of Vivaldi Calendar's many features include multiple view options, search, the ability to create calendar events while browsing, integrated tasks, and customizable notification styles.
Default layouts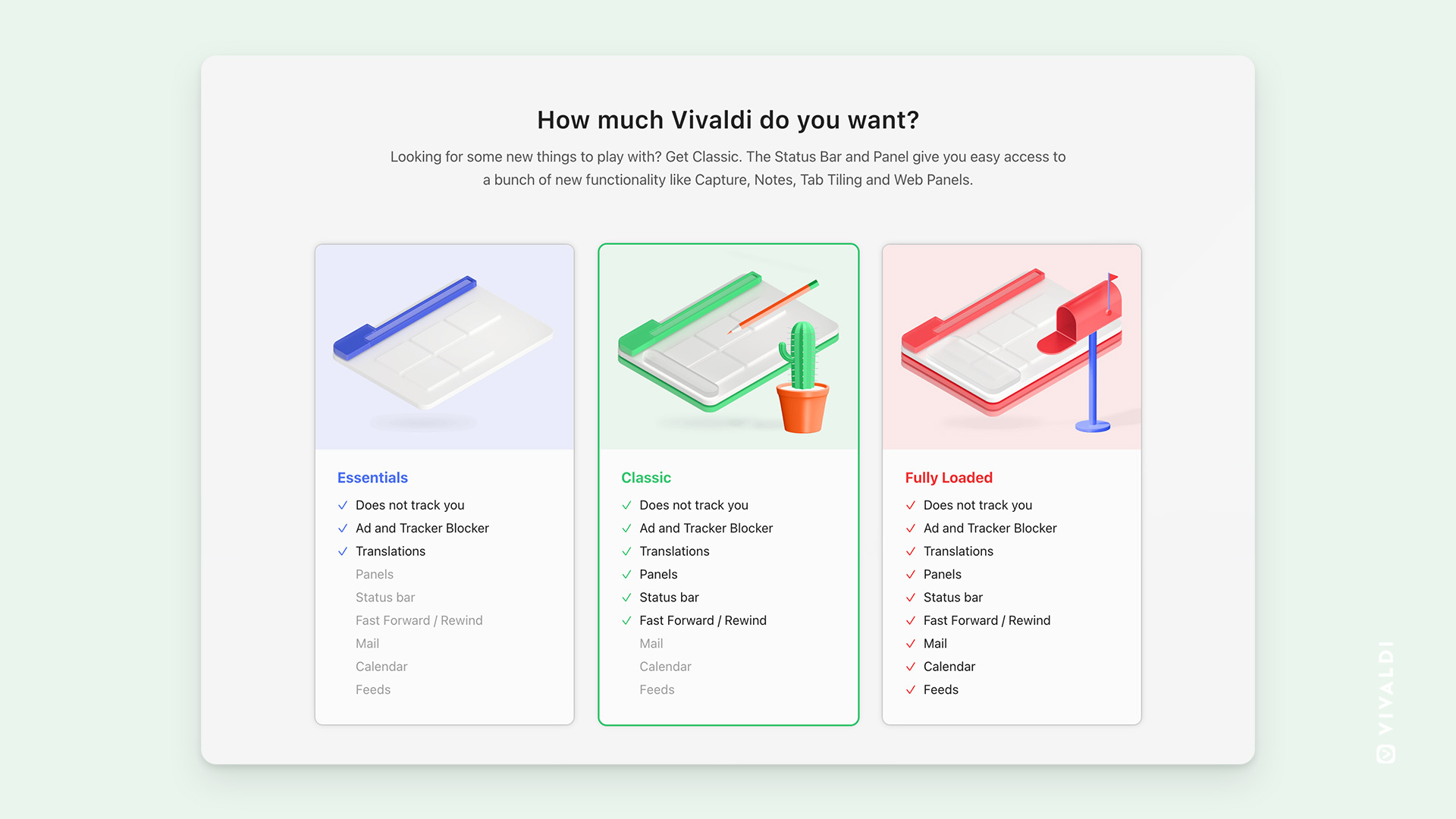 In addition to these new tools, Vivaldi has also launched three new browser layouts that make it easy to customize the default level of functionality in your Vivaldi browser.
If you want to unlock all of Vivaldi's features, including the four new tools that were introduced today, go with "Fully Loaded."
If you want to just focus on browsing, the "Classic" view removes these new tools while giving you access to most of Vivaldi's other advanced features.
And if you prefer minimalism, Vivaldi's "Essentials" layout gives you the browser's main privacy protections with a simplistic, uncluttered view.
A compelling alternative to Big Tech
Vivaldi wrote that its aim with these new integrated tools in Vivaldi 4.0 is to give users "a real alternative to Big Tech."
The new features build upon the innovative and pro-privacy features Vivaldi has added to its browser this year which include its cookie banner blocker, its rejection of Google's FLoC tracking technology, and its two-level tab stacks.