The online censorship situation seems to have become so bad for users of centralized social networks originating in the west, that some are turning to these giants' Russian counterparts.
But as the case of a political party known as Britain First shows, their luck is not much better there either. After getting banned on Facebook, Instagram, Twitter, and China's TikTok, Britain First saw the same fate on VK, one of the Russian platforms where it said it had moved to (the other one cited being Telegram, which is not Russia-based).
The group said they appealed the ban, but later updated the post to say that VK informed them the page had violated their terms of service and would not be unblocked.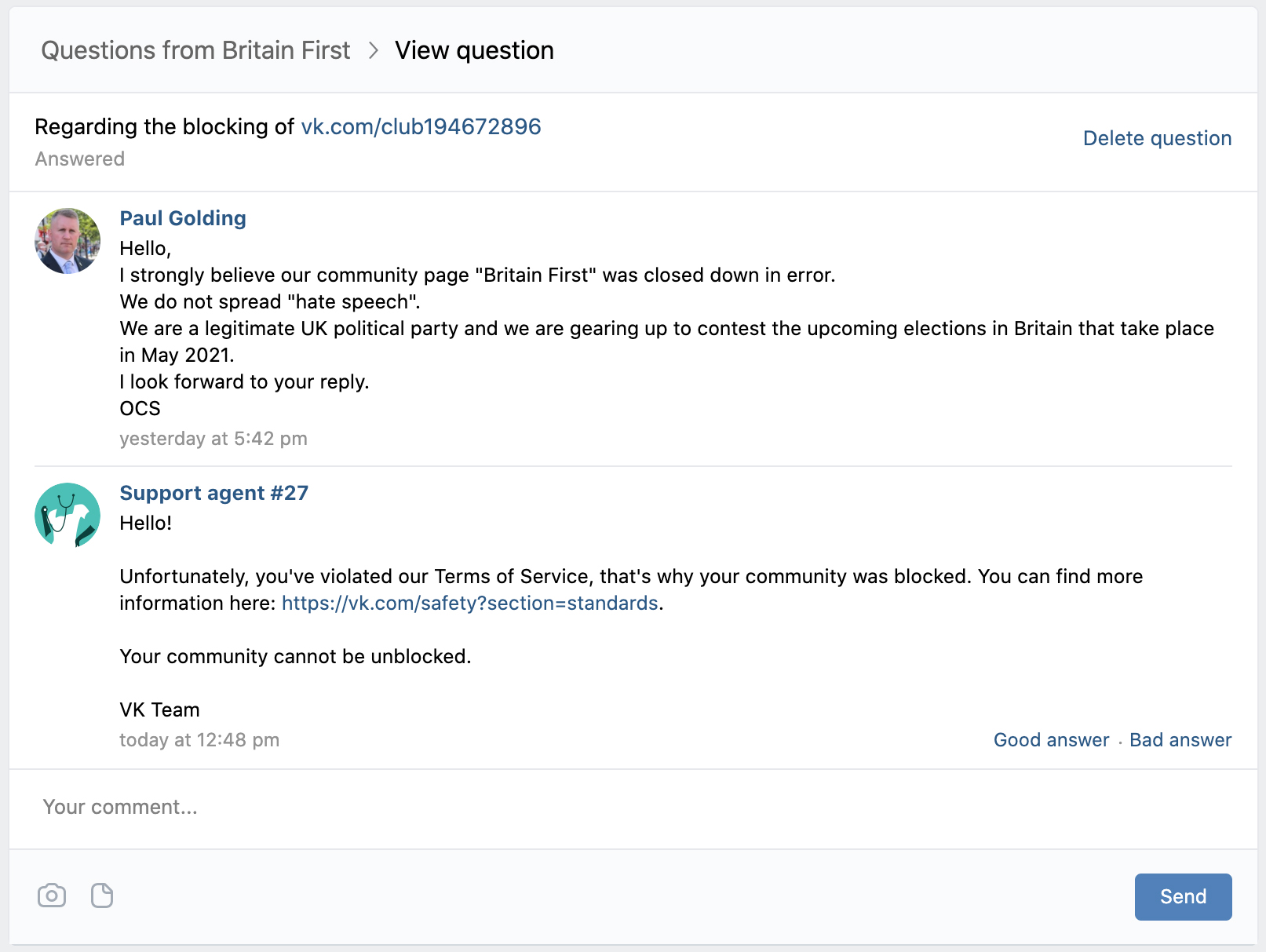 Before internet censorship on major US platforms intensified to unprecedented levels over the past couple of years, western media often carried stories about the same phenomenon happening in Russia – mostly as proof that this kind of thing was irreconcilable with any true democracy.
Thus in 2015, almost foreshadowing what would soon start happening on Facebook and elsewhere, reports detailed how VK gave in to public and political pressure to remove a morbid meme about a recently deceased pop singer posted by MDK, a controversial (as in, politically incorrect) group on the social network, to then also deplatform them because of pressure from advertisers.
All the while, the company maintained that it was not engaging in censorship that would seek to establish propriety of memes and other content, with a spokesperson even referring to such action as "too arbitrary" – but adding that the MDK case was an exception due to the massive public outcry. More examples of Russia's early, "pioneering" efforts to launch a "war on memes" are cited in reports.
In 2014, at the height of the Ukraine crisis, the news was that VK – and Telegram – founder and CEO Pavel Durov and his company were the target of the authorities who wanted some Ukrainian citizens' personal data turned over – resulting in Durov refusing and leaving the country.)