Various parts of the UK continue to struggle to introduce COVID passes in an efficient and straight-forward manner.
There have been reports recently of a chaotic roll-out of this type of proof of vaccination status in Scotland, and now news out of Wales say that the first hurdle – getting legislators, i.e., Senedd (Welsh parliament) to approve COVID passes – has been overcome, albeit amid much controversy and "farcical scenes."
In Wales, ruling Labour managed to push legislation mandating COVID passes for night clubs and mass gatherings, winning by a single vote – 28 to 27. However, ahead of the session, the expectation was that opposition parties, including the Conservatives, would vote against – as they had promised – which would have tied the result, and, in turn, would have killed the proposal, in accordance with Senedd rules.
But one Conservative MP, Gareth Davies, was not physically present and was to vote remotely – but that never happened as he was "unable to get onto Zoom."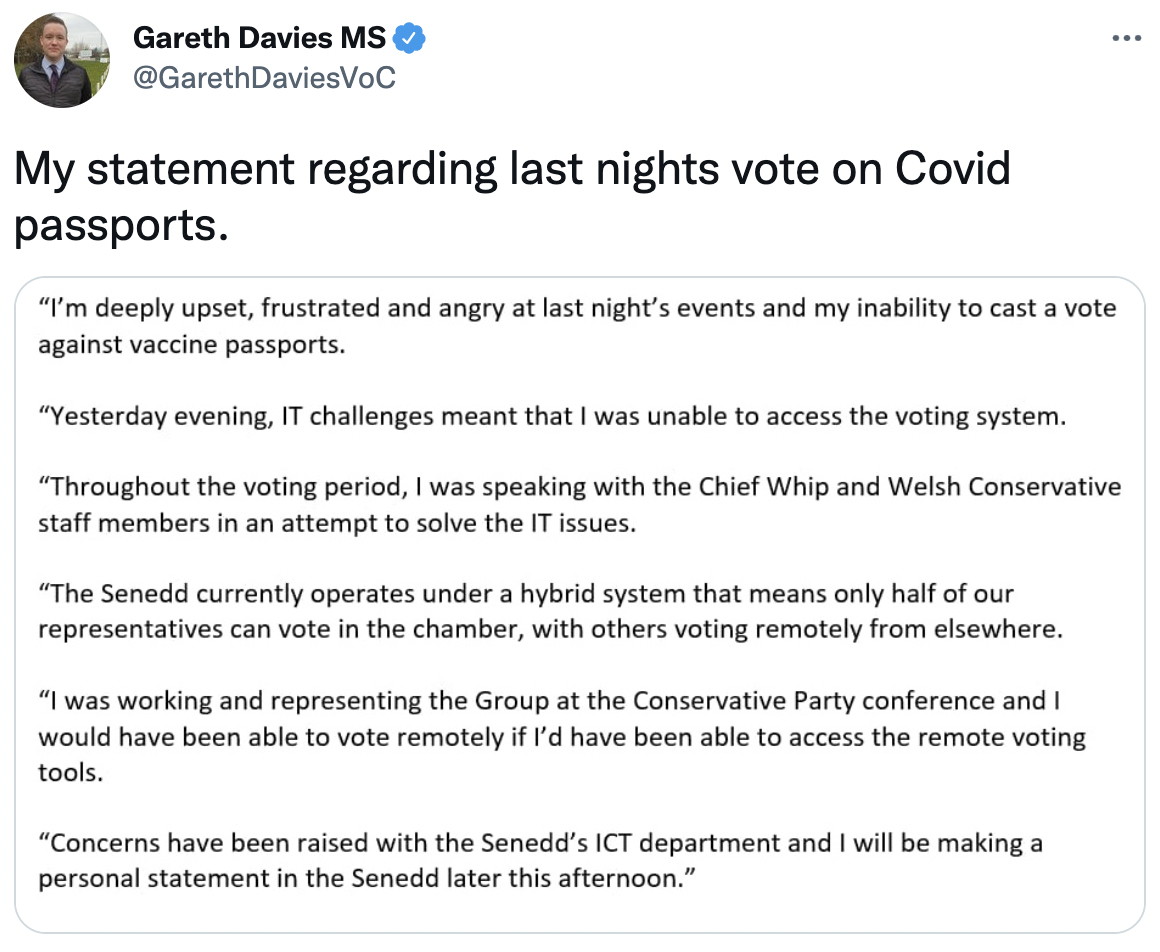 To pass a law of this gravity and carrying with it so much contention thanks to a technical glitch was bound to cause outcry, and not only from politicians.
The Night Time Industries Association Wales (NTIA) said they have campaigned against COVID passes for a long time.
A spokesman reacted to the outcome by urging a revote and saying, "It is a democratic outrage that one MS (member of Senedd) who wanted to vote, and who've voted against the proposals, could not, due to a mere technical error. This shambles will cause even more uncertainty for our businesses."
The parliament's speaker, Elin Jones, who comes from a party that has a partnership agreement with Labour, said that Davies "could not be contacted" and that it was up to him to "secure his Zoom connection in time for voting."
But Davies denied this, saying in a statement that he was deeply frustrated and angry over not being able to vote against vaccine passports.
He also said that he had been speaking with the chief whip and Welsh Conservative staff members "throughout the voting period" in a bid to solve what he said were IT issues.
As for the possibility of a revote, the argument is being made that, "You don't keep on having a vote until you get the answer that you want" – as Eluned Morgan, the Welsh minister of health, put it.