On Monday, Senator Elizabeth Warren, one to never waste an opportunity to call for investigations into Elon Musk, demanded a comprehensive investigation into the idea that Musk personally halted Ukraine's access to the Starlink satellite network during a potential attack on Russian warships near Crimea.
Walter Isaacson, renowned biographer and former head of CNN, has had to retract a major claim from his eagerly awaited biography on Elon Musk just as the book was set to launch. The claim, which suggested that Musk deliberately turned off Starlink coverage to prevent a Ukrainian drone assault on a Russian fleet in Crimea, was revealed to be incorrect after Musk and Isaacson both made clarifying statements.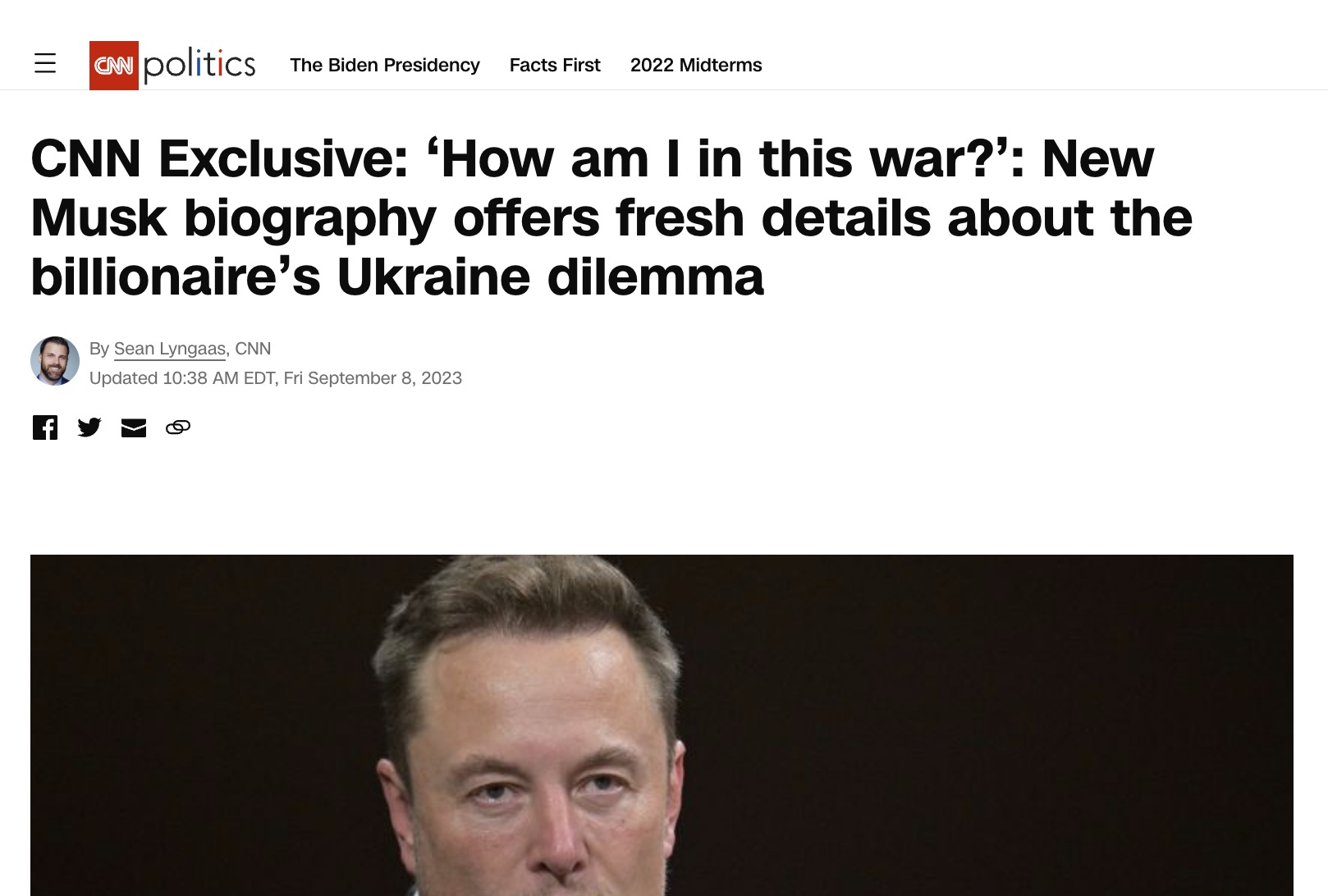 The initial account, which painted Musk as making a game-changing decision at a pivotal moment, indicated that the SpaceX founder had told his engineers to "turn off coverage within 100 kilometers of the Crimean coast." This was out of concern that a surprise attack would escalate into a nuclear confrontation reminiscent of a "mini-Pearl Harbor." The impact was significant, causing Ukrainian drone submarines to lose connectivity and ultimately become ineffective in their intended assault on the Russian fleet at Sevastopol.
These assertions, which first came to light in an early excerpt published by CNN, triggered a whirlwind of speculation and debate about Musk's influence and possible interference in global affairs.
However, in a swift turn of events, Musk responded, clarifying that Starlink had never been operational over Crimea. He further explained that while there was an "emergency request from government authorities" to activate Starlink for the underwater assault, doing so would have embroiled SpaceX in a significant escalation of war.
Isaacson later confirmed Musk's stance. In posts on an unspecified platform, referred to as "X" in the source, Isaacson stated: "the Ukrainians THOUGHT coverage was enabled all the way to Crimea, but it was not." He further added that he had misunderstood the situation based on his discussions with Musk.

Simon & Schuster, the book's publisher, has since announced plans to amend the content in subsequent editions, reflecting the corrected information.
Senator Warren was quick to chime in, even after the correction was issued – calling for Musk to be investigated.
"The Congress needs to investigate what's happened here and whether we have adequate tools to make sure foreign policy is conducted by the government and not by one billionaire," remarked the Democrat at the Capitol.
Musk has expressed unwavering loyalty to the United States, stating, "I am a citizen of the United States and have only that passport. No matter what happens, I will fight for and die in America," the implications of his decision regarding Starlink have evoked concerns among lawmakers.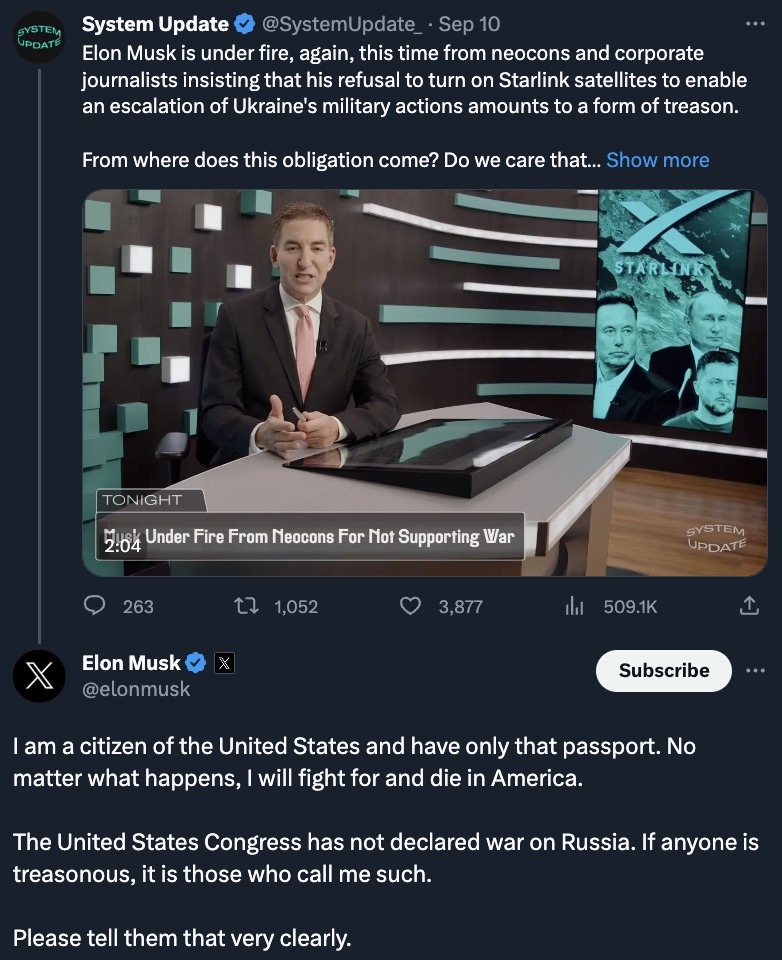 Senator Warren has used every chance she can get to call for investigations into Elon Musk, trying to bring the weight of the government against Musk's business ventures.
Last year, Senator Warren also demanded that the FTC investigate Elon Musk's Twitter (now X) after Musk laid off a large percentage of the bloated company, alleging that it puts users at risk.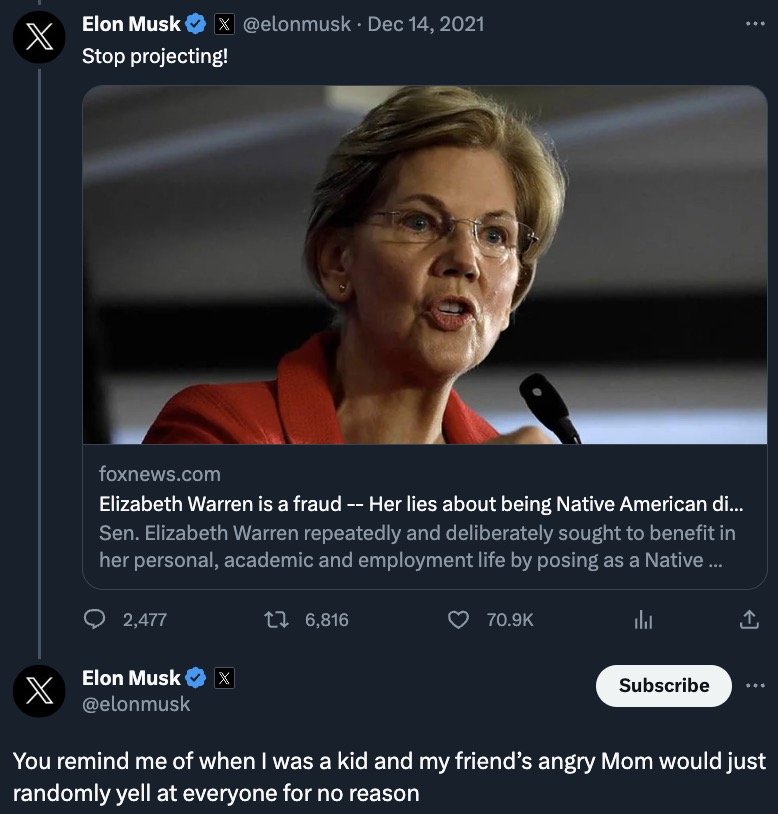 The feud between the two started in 2021, when Warren accused Musk of "freeloading" off the tax payer. Musk responded by brining up Warren's previous lies when she pretended that she was a Native American. Musk also called Warren "Senator Karen" and said "You remind me of when I was a kid and my friend's angry Mom would just randomly yell at everyone for no reason."