The Washington Post reporters aired their dirty laundry on Twitter this week, after one of them, Dave Weigel, retweeted a joke that some employees thought was in bad taste, to then get suspended by the newspaper for a month without pay.
Saying that "all" women are either bipolar or bisexual may not be everyone's brand of humor, but then again, we're talking about comedy here, and the very idea of imposing rules of "wokeness" onto that genre is still alien to many people – because the conclusion of any "war on comedy" is likely to be comedy's destruction.
"Every girl is bi. You just have to figure out if it's polar or sexual," is the joke, originally posted by YouTuber Cam Harless.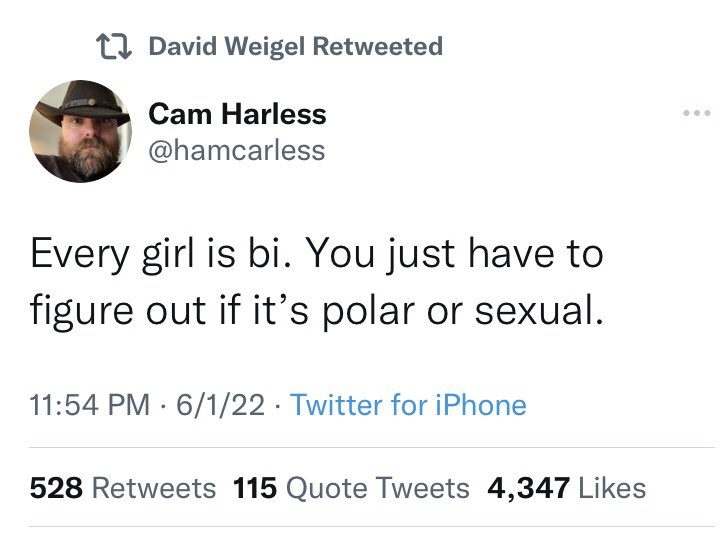 This tickled Weigel's funny bone, but things quickly soured for him because the post caused another episode of Twitter outrage, a number of deleted tweets, inner squabbling between Washington Post reporters, all of which eventually resulted in his suspension by the newspaper.
It didn't help that he deleted the tweet and apologized the same day, saying that the joke was offensive and that he meant no harm – or perhaps it did help after all, since the "canceling" is not permanent but limited to one month.
However, other issues emerged as Weigel deleted the tweet and apologized – yet a number of his colleagues decided it was a good idea to hash the issue out in public, on Twitter, while others objected and went after "cancel culture enthusiasts" within their own ranks.
In the midst of all this public mess revealing the goings-on and mood over in the Washington Post "locker room" – the sketchy, in journalistic terms, past of the reporter who first went after Weigel got put in the spotlight for different reasons.
It's Weigel's colleague Felicia Sonmez, who "cast the first stone" and quickly called him out for retweeting the joke. But her own history in covering sexual assault and abuse cases, and her own claims about this have since emerged – including that Sonmez herself faced suspension in the past.
Sonmez made sure to screenshot the tweet, posted it, and added, "Fantastic to work at a news outlet where retweets like this are allowed!"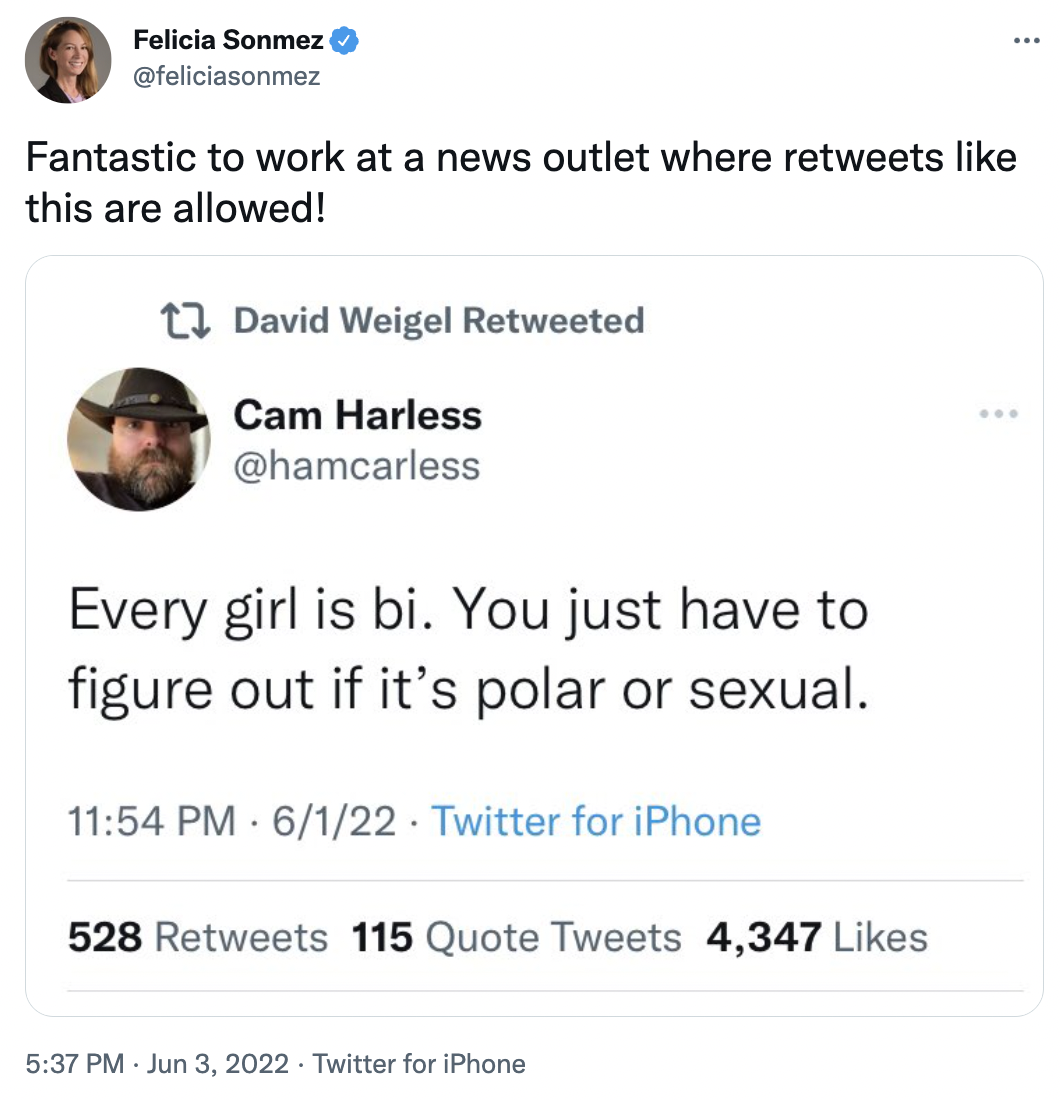 But not everybody at the media giant owned by Jeff Bezos was pulling in the same direction. Another journalist, Jose Del Real, didn't like that Sonmez thought publicly shaming a colleague was the right thing to do. Then the two of them got into it.
In fact, the Washington Post prohibited Sonmez from covering these topics out of fear there may have accumulated a conflict of interest. She even sued the newspaper for this alleged discrimination, but the case got dismissed in March.
Del Real agreed that the tweet was unacceptable, but took issue with the way Sonmez decided to address it. In one tweet that he has since deleted, he accused Sonmez of "regularly unleashing cruelty against colleagues" and advised her to reconsider this behavior.
Sonmez was also accused of essentially magnifying minor transgressions and repeatedly publicly harassing colleagues, and of using inclusivity sensitivities to bully and clout-chase.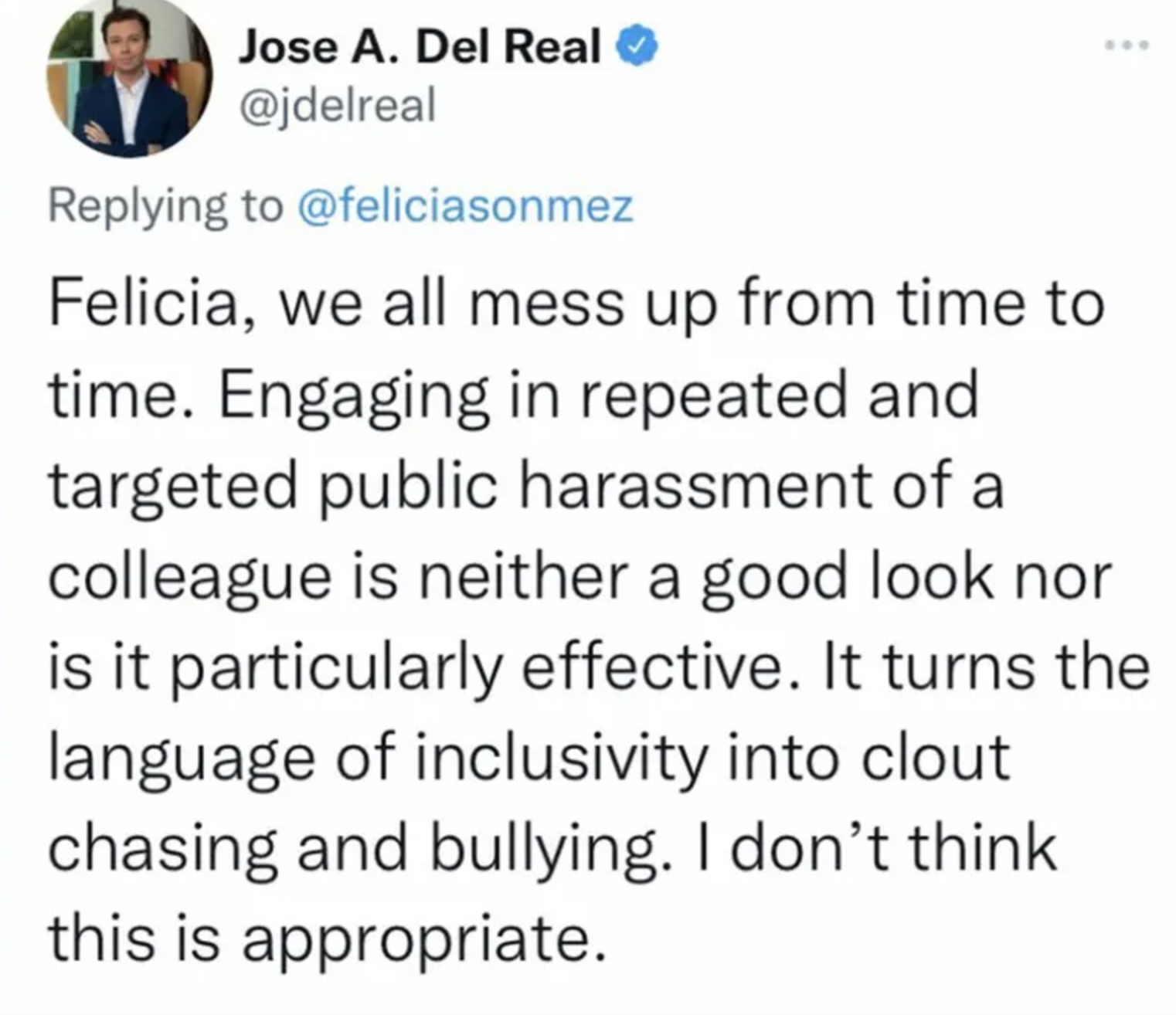 Del Real suggested to his colleague that this was "not a good look," "not particularly effective," and, not appropriate.
Sonmez rejected all these accusations to say that her reaction to the tweet was merely an objection to sexism and had nothing to do with harassing others or clout chasing. Sonmez stuck to her guns while Del Real in the end decided to temporarily delete his account, but not before saying that,  "the one-sided attacks continued even after I stopped engaging."
In January 2020, the newspaper suspended her for a short period of time when she brought up rape allegations following NBA star Kobe Bryant's tragic death in a helicopter crash.
And while at the Wall Street Journal, Sonmez accused a Los Angeles Times reporter, Jonathan Kaiman of sexually assaulting her in China.
Saagar Enjeti, co-host on the Breaking Points podcast, summed up the whole situation from his point of view in this way:
"Taylor Lorenz can literally lie and violate basic standards and gets no punishment. Felicia can leak her bosses emails… violate company policy and harass her coworkers and is good to go. Dave Weigel shitposts and he's suspended without pay for a month."