On Monday, the White House dismissed Elon Musk's release of internal documents detailing Twitter's suppression of the Hunter Biden laptop story as a "distraction that is full of old news" and an attempt to distract people from the alleged rise of "hate speech" on the platform since the Tesla owner took over – something Musk disputes.
"We see this as an interesting coincidence … that Twitter would so haphazardly push this distraction that is full of old news, if you think about it," said White House Press Secretary Karine Jean-Pierre. "And at the same time, Twitter is facing very real and very serious questions about the rising volume of anger, hate and anti-Semitism on their platform, and how they're letting it happen."
The internal Twitter documents, dubbed "Twitter Files," which Musk promised to release to restore public trust, have not only revealed the lengths Twitter went to suppress the Hunter Biden laptop story but also collusion between political campaigns and the social media to censor accounts and content.
"By 2020, requests from connected actors to delete tweets were routine," wrote independent journalist Matt Taibbi, who is publishing the "Twitter Files."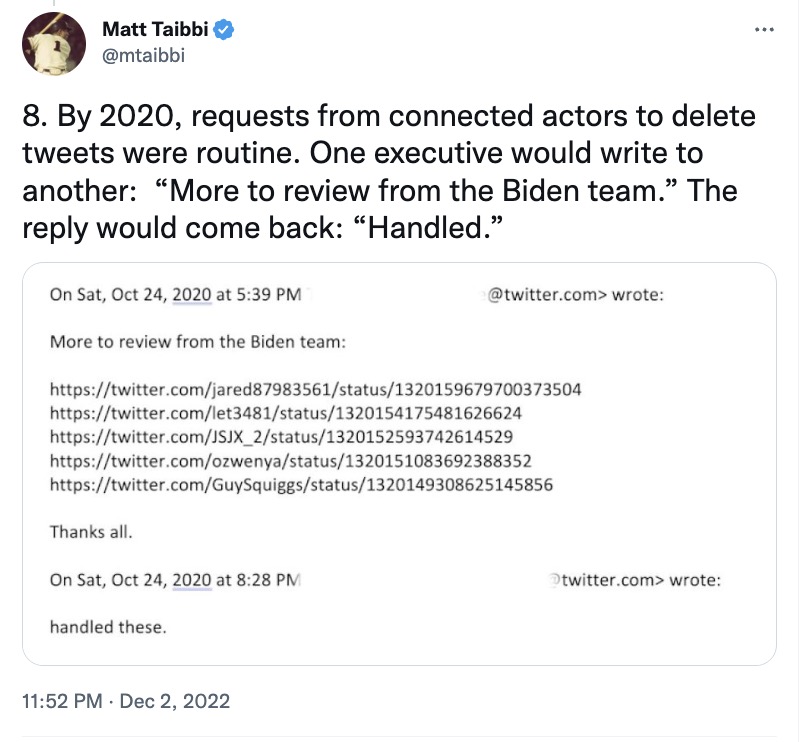 "One executive would write to another: 'More to review from the Biden team.' The reply would come back: 'Handled,'" Taibbi added.
The internal documents have rekindled allegations by conservatives that social media platforms suppress conservative views on behalf of the government.
"Now we need to start looking at Facebook, at Google. These now have become arms of the Democratic Party, arms of the Biden administration," said House Minority Leader Kevin McCarthy in an interview on Fox News on Sunday.