The World Health Organization has said that it has faced an "onslaught" of "cyberattacks" with several keywords mentioning "Taiwan."
"During the World Health Assembly, WHO faces an onslaught of cyberattacks by online activists on a number of controversial issues, using keywords such as Taiwan and China," said WHO.
It's worth pointing out that since many people all over the word heard about WHO's censorship, they tried to test the WHO's platforms to see if they could post the term "Taiwan," and this surge of testing could be what the WHO is calling a "cyberattack."
The WHO has this week censored several posts by Taiwanese users on its Facebook page.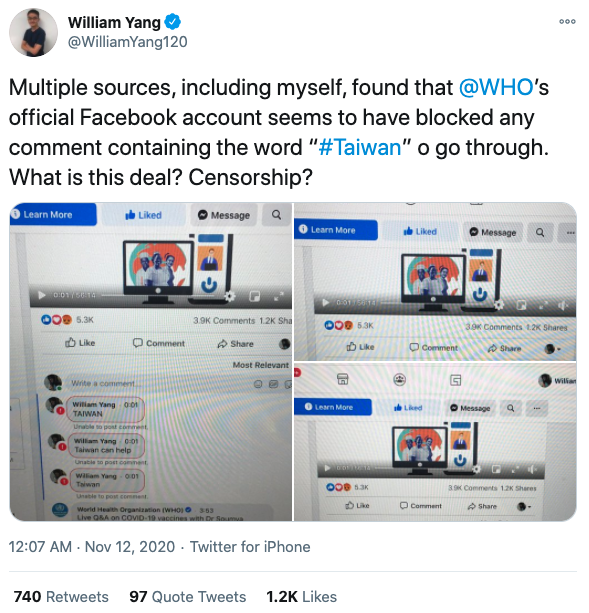 Several objections and obligations put forth by China have prevented Taiwan from gaining access to the WHO during the COVID-19 saga. Naturally, this did not sit well with Taiwanese people.
Taiwan could also not enter the World Health Assembly that was held this week. What's more, the Taiwanese government also said that the posts that were made in support of the country on WHO's Facebook page were being censored by the organization.
"The Foreign Ministry expresses its strong regret and dissatisfaction," said the Taiwanese government.
The Taiwanese government condemned the censorship by WHO and said that it does not coincide with the neutrality that WHO is supposed to uphold. WHO defended itself and said that the censorship was a result of the content filters placed by its social media team.
"This is a practical measure that does not reflect a value judgement or any policy of the World Health Organization. The aim is to enable our users to avoid being spammed through cyberattacks, including from bots, and to find a balanced way to keep information and conversation flowing."
The WHO apparently has now removed the filters that prevented users from posting content that contained the keywords "China" and "Taiwan."
For a long time now, Taiwan has been accusing China for brewing enmity against WHO by using fake profiles that are deceptively made to appear as they're run by Taiwanese netizens. The country's spokesperson said that what WHO alleges to be cyberattacks were nothing but its citizens extending their support to the nation. "They are just people leaving messages to support Taiwan, including our allies."
As yet, China has never denied or acknowledged the allegations against it with regard to running a disinformation campaign for painting Taiwan as a bad actor.