Winston Marshall, the banjoist and lead guitarist of music band Mumford & Sons, is taking a break from the band for the crime of letting people on Twitter know he enjoyed a book from Andy Ngo, a critic of Antifa, a decentralized, sometimes-violent, left-wing activist group.
Marshall tweeted in support of Andy Ngo's new book, "Unmasked: Inside Antifa's Radical Plan to Destroy Democracy." He wrote:
"Finally had the time to read your important book. You're a brave man."
His tweet drew criticism from some on Twitter, with activists accusing him of "endorsing fascism."
The other members of the band, Marcus Mumford, Ted Dwane, and Ben Lovett, plus the management, held a meeting and decided the best cause of action was for Marshall to leave the band, The Sun reported.
"Winston's staunchly right wing political views have been causing tension for some time now within the band.
"There has been a rift forming for the past four years with some people even going as far to say he has been 'radicalized'.
"Marcus would always be an advocate for his right to free speech and for him to believe what he wants.
"But his tweet on Sunday was the final straw and they said they couldn't put up with it any longer because it massively impacts the band's image.
"It has been hugely difficult but that was the decision they had to make," a source close to the band told The Sun.
Ngo is a journalist and writer who documents far-left groups, particularly those that are known to be violent. In the new book, he describes how he was attacked by Antifa militants in 2019. At the time, video footage showed Antifa members physically assaulting him and pouring milkshake on him, leaving him with a bleed on the brain.
The book mostly covers the history and tactics of Antifa.
As is increasingly common in today's world, Marshall backed down and apologized to the growing angered crowd, deleting all of his past tweets.
"For now, please know that I realise how my endorsements have the potential to be viewed as approvals of hatred, divisive behavior. I apologize, as this was not at all my intention," he added.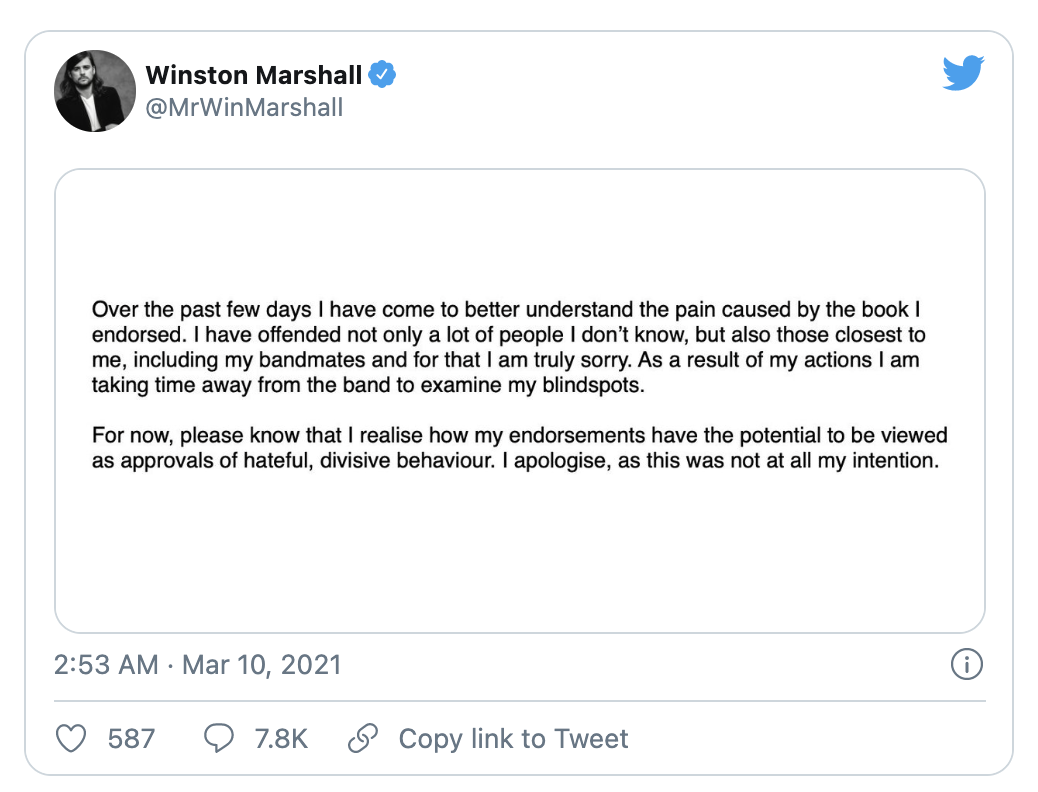 "I grieve for those who are made to suffer because they dare to read my work, or talk to me," Ngo responded, not addressing the musician by name. "The danger of Antifa & their allies is not only their willingness to carry out or support maiming, killing & terrorism—but also how they close curious minds from independent thought."