Winston Marshall has received praise from his father and much of the public for officially quitting rock band Mumford and Sons, a few months after becoming a victim of "cancel culture" for praising a conservative journalist. Marshall announced quitting the band in a 1,263 word essay posted on Medium.
"Very proud of my son!" Sir Paul Marshall wrote in a tweet where he shared a link to his son's Medium article.
The controversy sparked in March, after Marshall, the lead banjoist for his band, praised conservative journalist and writer Andy Ngo for his book on the history and his experience with far-left movement Antifa. At the time, Marshall wrote: "Finally had the time to read your important book. You're a brave man."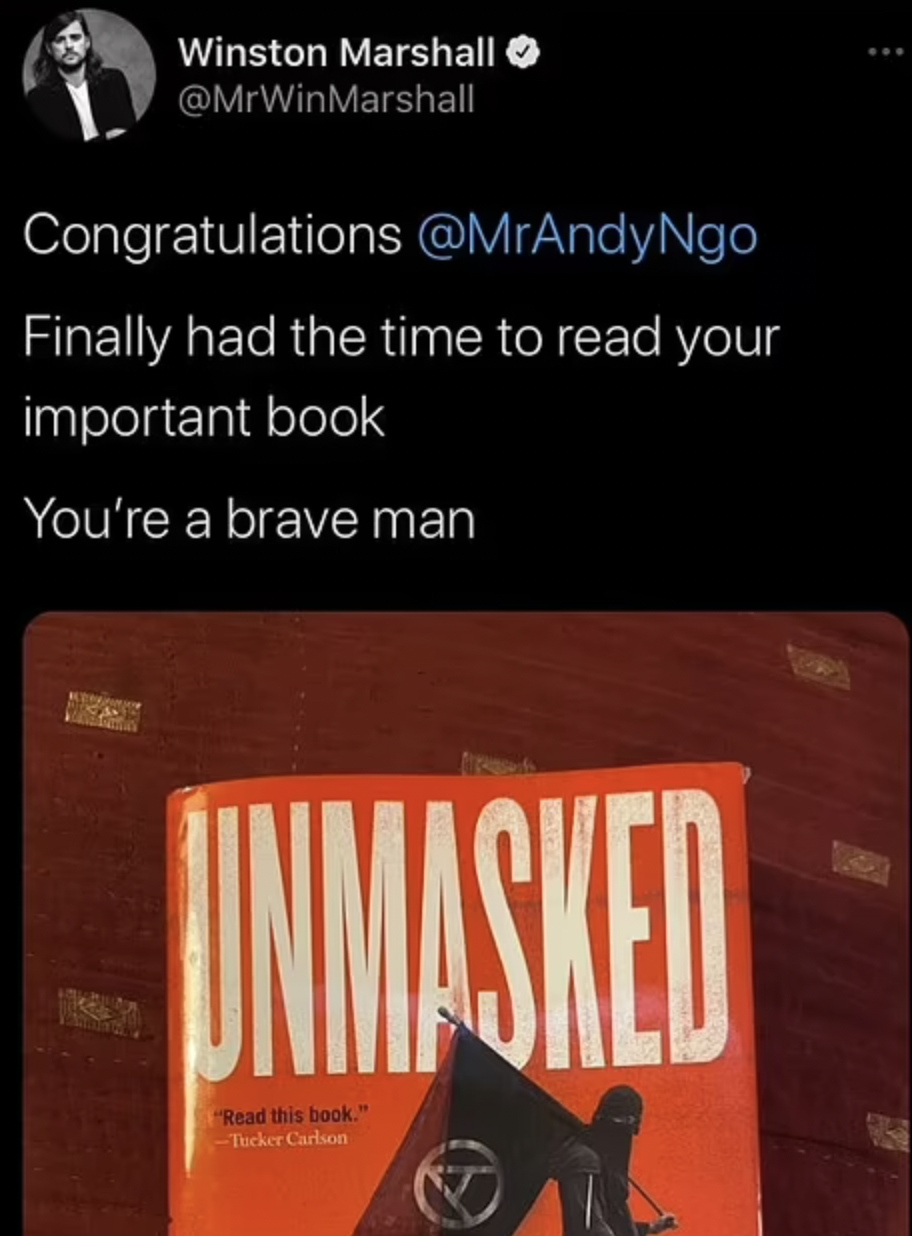 In the book, Unmasked: Inside Antifa's Radical Plan To Destroy Democracy, Ngo describes some of his violent encounters with Antifa protesters and also gives the history of the movement.
In the essay, Marshall explains how his "innocuous" praise of Ngo's book resulted in "tens of thousands of angry retweets and comments." He further claims that he did not think that praising the book "could be interpreted as approval of the equally abhorrent Far-Right."
The article explains that he has quit the group for good to avoid bringing his band members more trouble. He said, "as long as I am a member of the band, speaking my mind on the evils of political extremism could bring them trouble."
He wrote:
"At the beginning of March I tweeted to American journalist Andy Ngo, author of the New York Times Bestseller, Unmasked. "Congratulations @MrAndyNgo. Finally had the time to read your important book. You're a brave man". Posting about books had been a theme of my social-media throughout the pandemic. I believed this tweet to be as innocuous as the others. How wrong I turned out to be.

Over the course of 24 hours it was trending with tens of thousands of angry retweets and comments. I failed to foresee that my commenting on a book critical of the Far-Left could be interpreted as approval of the equally abhorrent Far-Right.

Nothing could be further from the truth. Thirteen members of my family were murdered in the concentration camps of the Holocaust. My Grandma, unlike her cousins, aunts and uncles, survived. She and I were close. My family knows the evils of fascism painfully well. To say the least. To call me "fascist" was ludicrous beyond belief.

I've had plenty of abuse over the years. I'm a banjo player after all. But this was another level. And, owing to our association, my friends, my bandmates, were getting it too. It took me more than a moment to understand how distressing this was for them.

Despite being four individuals we were, in the eyes of the public, a unity. Furthermore it's our singer's name on the tin. That name was being dragged through some pretty ugly accusations, as a result of my tweet. The distress brought to them and their families that weekend I regret very much. I remain sincerely sorry for that. Unintentionally, I had pulled them into a divisive and totemic issue."
At the height of the controversy, it was reported that fellow band members and manager asked him to leave the group. However, the band members expressed support after he posted the Medium article, saying: "We wish you all the best for the future, Win, and we love you man. M. B & T."
Marshall said that his plans are to take on new creative projects and continue "speaking his mind and writing on a variety of issues."