On Wednesday, Clara Sia of Sandbox Strategies PR and influencer agency, decided that "the one right thing" she was going to do that day, was to call out the creator behind the Worth A Buy YouTube channel as sexist and "possibly racist."
The apparent reason was a review of Second Extinction, published on the channel. Sia announced on Twitter with eery ease, that she was making public her harsh assessment of the character of the creator (referred also to as "mother*er" and "piece of shit" in her various tweets) – apparently encouraged by the game's publisher (Systemic Reaction).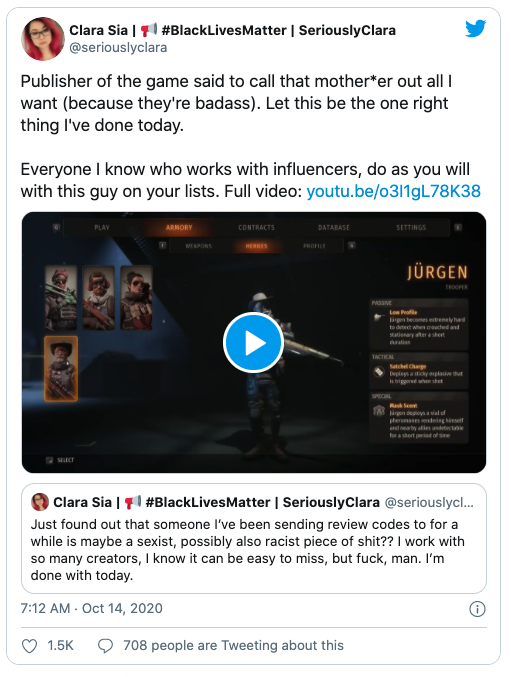 Sia, who also heads a Twitch community of gamers and developers in Vancouver, Canada, said she was in the past sending review codes to this YouTuber, but that his take on the particular game made her feel like pillorying him online was now the right way to go.
Banking on whatever clout she had with others of her ilk – Sia added – "Everyone I know who works with influencers, do as you will with this guy on your lists."
What apparently prompted this vitriol was the YouTube creator saying he "didn't want to play 'a Ugandan woman when using the minigun (…) the only person I want to look like when I'm shooting a minigun is Jesse Ventura'."
That's all it took – that comment was his actual undoing in Sia's world.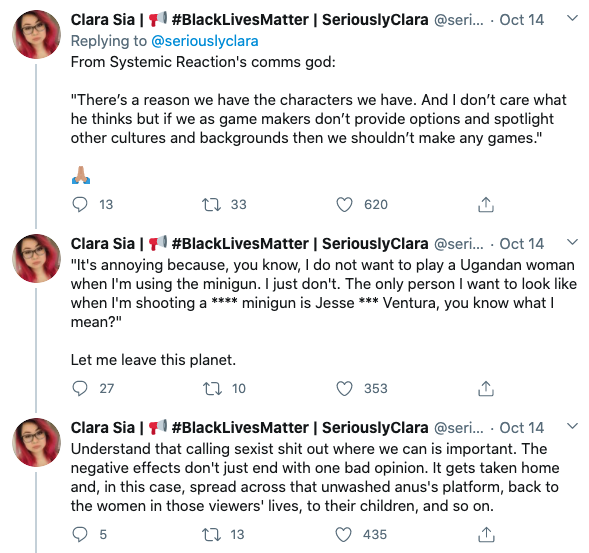 The YouTuber behind Worth A Buy reacted to all this by accusing Sia of slander and an attempt to get his channel blacklisted, announcing at the same time he would consult a lawyer and handle the issue through legal options available to him.
In a video posted in response to the accusations of sexism and "possibly racism," the creator argues his case of game developers needing to take decisions that make common sense in a given, believable scenario involving characters and their actions.
https://www.youtube.com/watch?v=Ub4g1hnO_Dw
As an example, he simply mentions that a woman character in a game sporting a sniper rifle would be believable – but one handling a heavy machine gun – perhaps less so? A valid criticism of realism, whether one agrees with it or not.
The controversy seems to come down to what is expected of games these days: to represent social and ideological issues at any cost, all the time – or afford gamers an experience representing human experiences near enough to what they know, to enjoy and build on the gameplay.
In the end, gamers will vote with their wallets; in the meantime – this YouTuber is seeking legal counsel to protect himself and his career after being publicly blasted by the PR agency's rep.