Created Equal, a non-profit organization had uploaded a video on YouTube and Vimeo where newly born twins were allegedly denied treatment in a hospital, resulting in their death. Both of the video-sharing platforms ended up taking the video down, with Vimeo even suspending Created Equal's account.
YouTube said that the video had violated its community standards, whereas Vimeo stated that it had violated its guidelines. Oddly, Vimeo's given reason for the ban was, "You cannot upload videos that are hateful, defamatory, or discriminatory."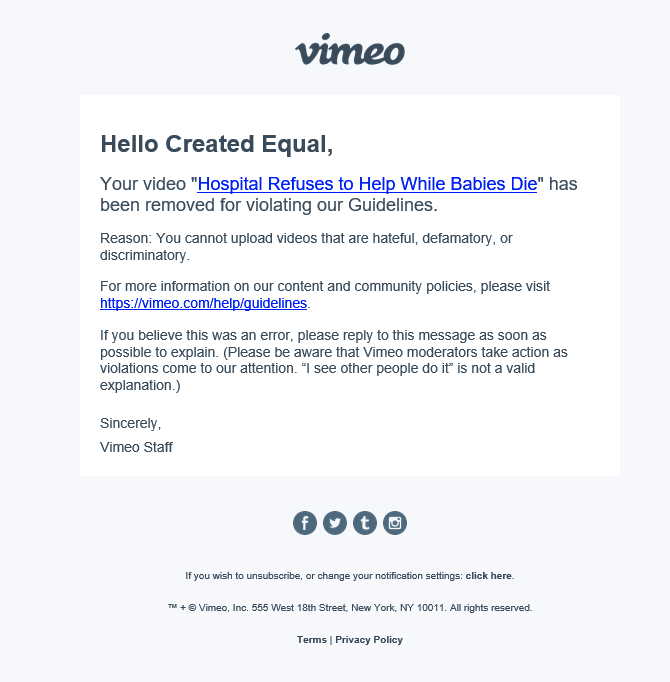 The incident in the video took place at the Riverside Methodist Hospital in Columbus, Ohio in 2017, where two infants allegedly received no medical attention and passed away as a result. Based on what the twin children's mother said, it was revealed that the hospital's neonatologists refused to save the babies as it was "inhumane to try," The Federalist reported.
The US Department of Health and Human Services said that the hospital had "failed in 2017 to ensure medical screening examinations required by EMTALA were performed for twins born prematurely (at 22 weeks gestation) who were not sent to the hospital's neonatal intensive care unit and died within several hours after delivery."
Amanda Finnefrock, the mother of the deceased twins, is under the suspicion that the hospital is on a hunt to take the video down from all social media platforms and is reporting the videos.
The video remains on Parler.