Is YouTube trying to check what's true by using lies – that is the question posed by some users who have noticed that YouTube is now slapping a "fact check" label on all "Joe Biden and Ukraine" searches.
This screenshot shows what this looks like in practice: the subject of the fact-check is the explosive story that said Biden used the carrot of $1 billion that Congress had already allocated to Ukraine as a stick to protect his son's financial interests in that country.
USA Today decided that this is a false claim, and that in reality, Biden "leveraged" this money to oust a corrupt prosecutor. For some reason, USA Today – that some Twitter users are saying is hardly qualified to fact-check anything as its reporting is politically biased – thinks it is less damning to stage sackings of prosecutors in foreign countries than to engage in nepotism – so that version of events now wins on YouTube.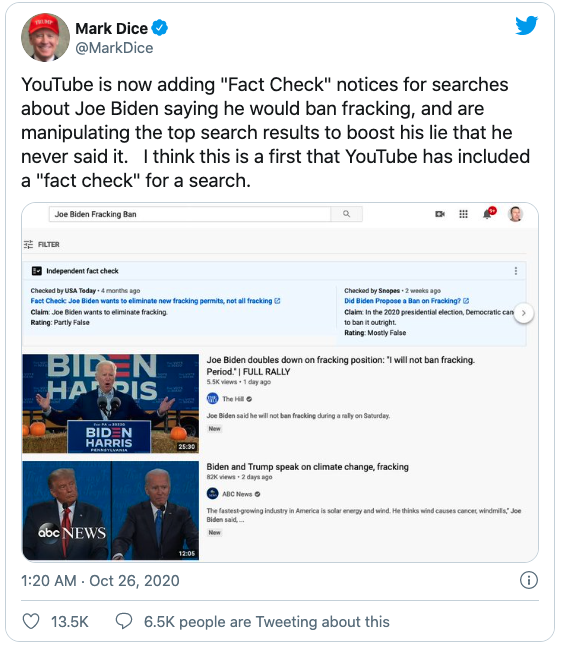 YouTube then puts this on top of the search page, that features results including videos from the Council on Foreign Relations, which one commenter observed actually proves Biden is "guilty as charged" in the scandal.
Independent commentators that have been covering the story extensively have been suppressed on YouTube, with mainstream outlets that have refused to cover the story have been pushed to the top of the search results.
YouTube calls this boosting "authoritative sources."
The New York Post originally reported, citing emails it had obtained, that Joe Biden pressured Ukrainian government into firing a prosecutor who was investigating a top executive in Ukraine's Burisma energy company. The emails reveal that Hunter Biden, who sat on the board of Burisma, later arranged a meeting to introduce his father to the executive.
Joe Biden previously publicly claimed that he never discussed his son's overseas business activities with him.
Joe Biden now insists that the report about his son's dealings in Ukraine and his own involvement in the case amounts to a smear campaign. With this latest move, YouTube seems to agree, and is willing to "editorialize" content on its platform to reflect that position.
Needless to say this is viewed by many as a very controversial decision, given the proximity of US presidential elections and the way powerful platforms like YouTube can influence voters – this time, by casting doubt on information that is detrimental to Biden.