Californians for Good Governance, a nonpartisan group that says it's dedicated to civil liberties, constitutional separation of powers and strengthening of democratic norms, has had one of its videos showing footage from a Senate committee hearing removed by YouTube.
The video contained testimony of a witness speaking in support of California's AB 2098, otherwise known as "the medical censorship bill." The bill takes aim at doctors who are seen as contradicting the state narrative on medical topics and seeks to strip them of their license in case they are found "guilty."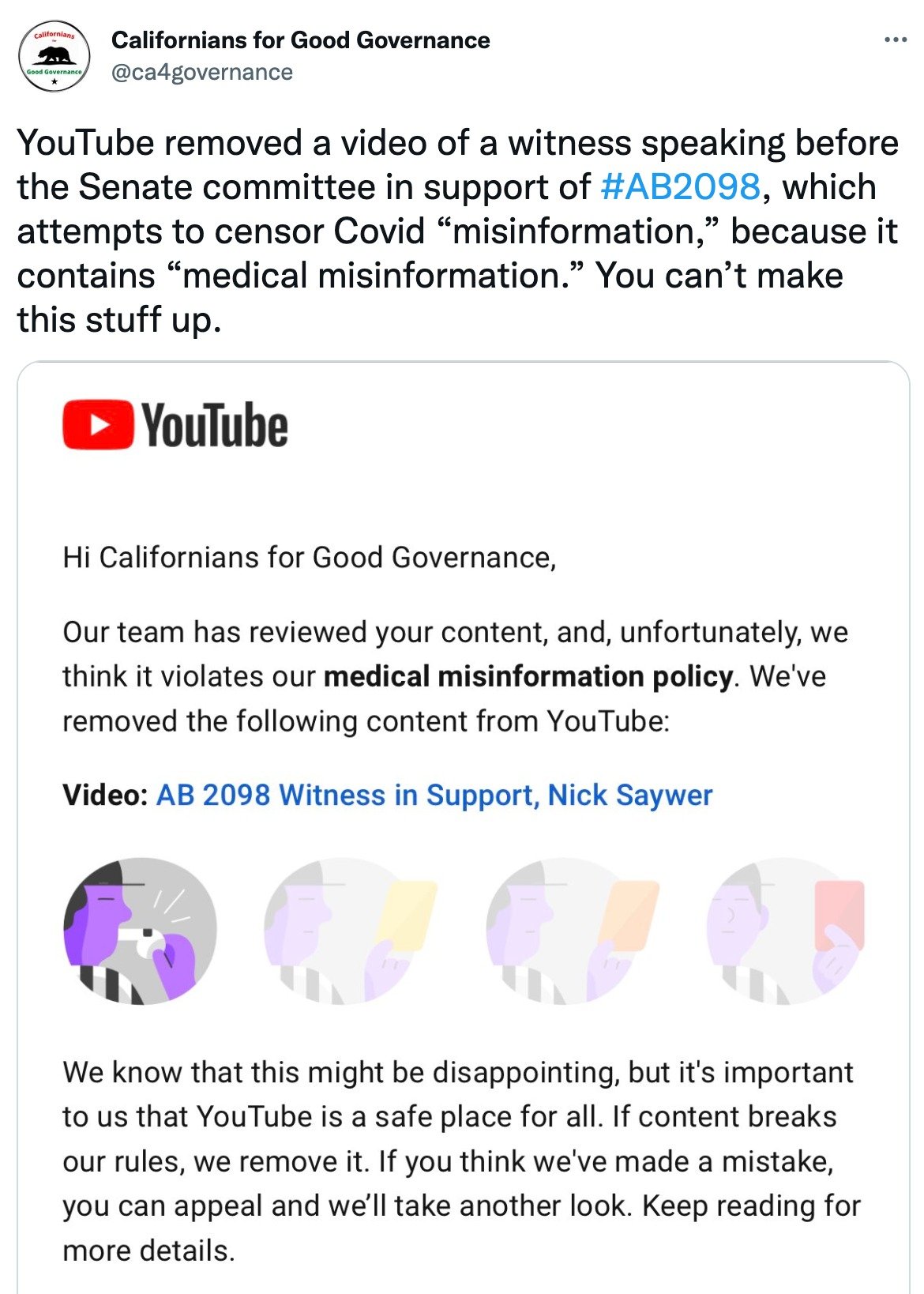 The bill has many opponents who denounce it as "chilling" and even "medical tyranny" – but the video that YouTune's sub-par censorship apparatus managed to flag and then remove for containing "medical misinformation" showed one witness appearing before the Senate Business, Professions and Economic Development Committee actually speak in support of AB 2098.
Perhaps that is why, on appeal, it was eventually reinstated. But the case once again raises questions about the way YouTube goes about suppressing information, and sheds light on this piece of controversial legislation proposed in California.
The Californians for Good Governance channel first received a note saying that their content, i.e., the video – that pretty much spelled out what it was about was in the title, "AB 2098 Witness in Support, Nick Sawer" – violated the platform's "medical misinformation policy."
But anyone who thought that YouTube had experienced an epiphany and was now labeling those supporting censorship as violators of its guidelines was quickly dissuaded of this. The same email said that the "violation" happened because only claims that support "expert consensus" from the likes of the WHO are allowed on YouTube.
Sure enough, on appeal, Google's video giant found that the video was fine after all and in full compliance, and was therefore reinstated.
As Californians for Good Governance commented, "YouTube apologizes for mistakenly censoring this video, but of course you have to break a few eggs when creating a safe space free of ideas that might encourage independent thinking."
The group raised another issue, though: YouTube's claim that its policy's goal was to create "a safe space." But since videos are a form of speech and YouTube's purpose is to host them, videos should not be censored for causing harm, because free speech does not do that. "The contrary idea leads to authoritarianism," they said on Twitter.
Meanwhile those opposed to AB 2098 warned the committee that imposing gag orders on doctors undermines their credibility as professionals, and cannot be implemented "without violating the Constitution."
"Top doctors in their field from UCSF, Stanford, and other well respected institutions are speaking out about their lack of support for COVID-19 vaccines for children. Would these respected doctors be disciplined if AB 2098 were to pass?," asked California Health Coalition Advocacy.