While the rest of the world might be struggling in the darkness of a global health saga, with livelihoods and even lives under threat – this is turning into Big Tech's moment to "shine."
After years of media and political elites trying to whip these powerful tools of data collection and mass surveillance into just the "right" shape – the coronavirus pandemic has given tech giants a guise under which to do their thing unchecked by anyone except some independent media outlets and blogs, and incredulous social media users.
One such incident involves Aytu BioScience, which on Aril 20 announced it had entered an exclusive worldwide partnership with Cedars-Sinai to develop the Healight Platform Technology.
Dr. Ruchi Mathur of Ceders-Sinai announced this in a tweet the same day, saying, "We've already shown that the Healight kills bacteria. Now we show that it can also kill coronavirus."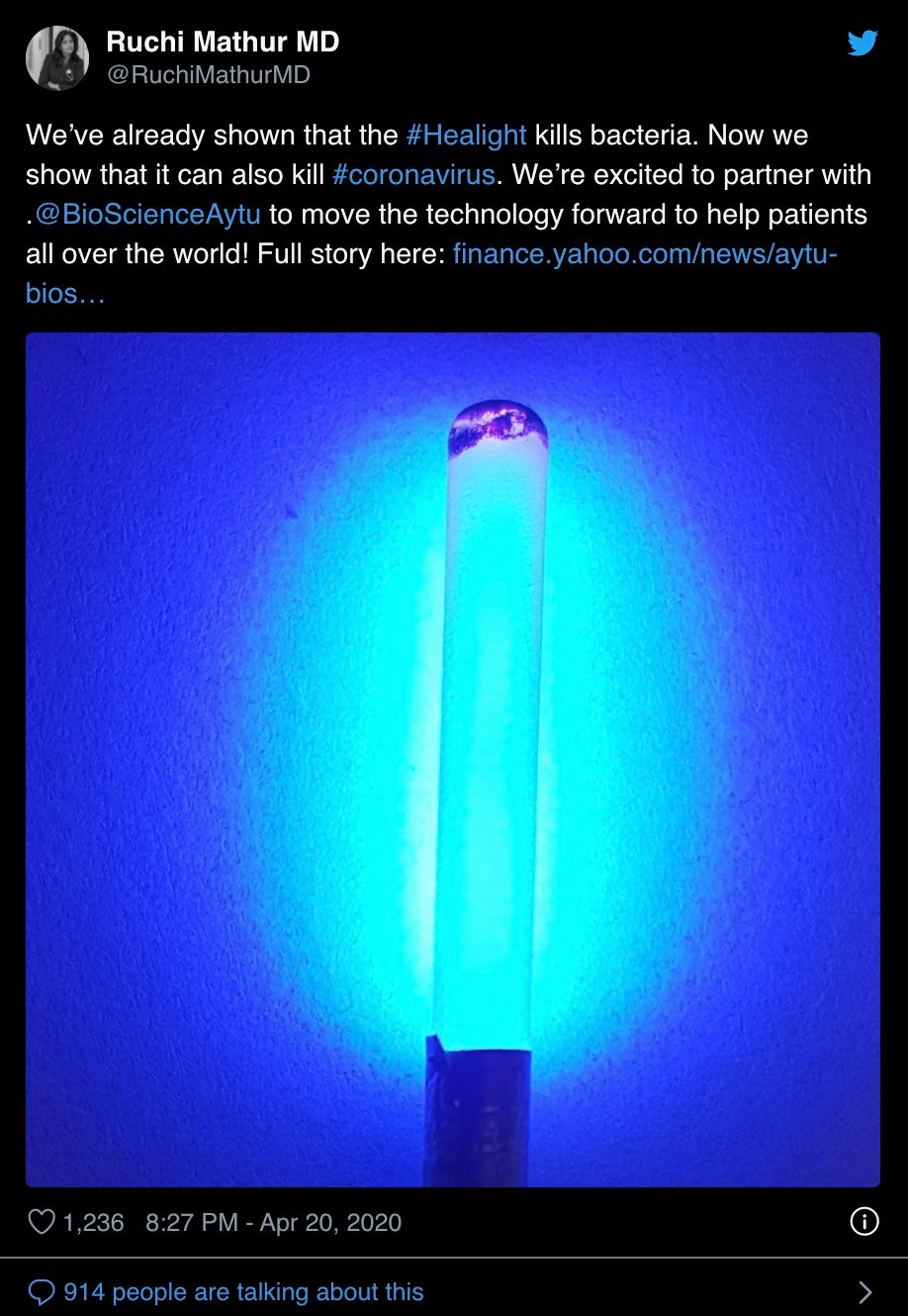 Mathur also provided a link to a Yahoo News article announcing the deal.
But as of this writing, Aytu BioScience's video on YouTube has been banned, while its Twitter account was also temporarily suspended.
As it turned out, all it took to deplatform a company that just partnered with a renowned medical and academic center like Ceders-Sinai in order to try bring potentially life-saving treatment to the world was a (politically) disgruntled New York Times reporter.
The reporter, Davey Alba, said on Twitter on April 25 that she reported a video promoting Heatlight to YouTube because it was proving to be very popular and shared on social networks "by people asserting that it backs up Trump's idea throwing it out there that UV rays kill coronavirus." The research and video was posted before Trump's comments.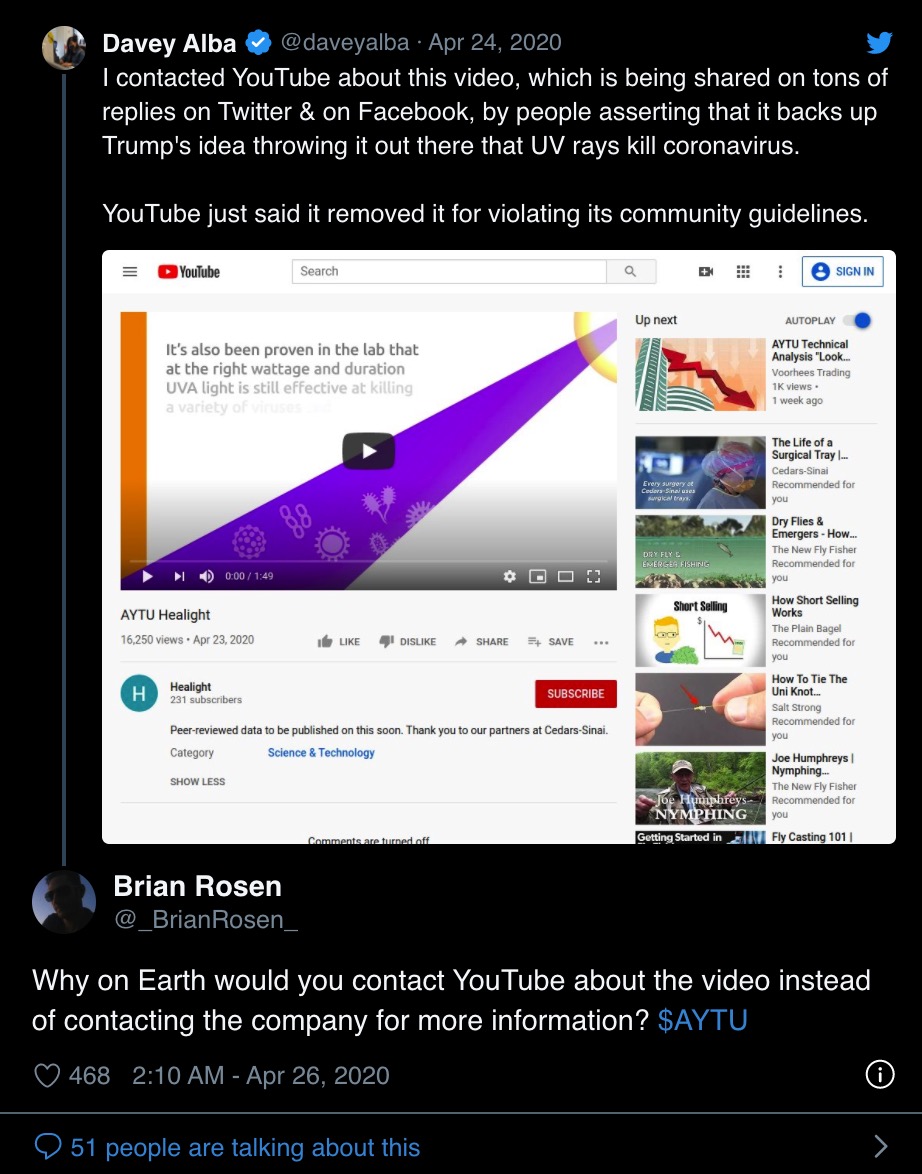 YouTube quickly obliged and removed the video, according to Alba's tweet. It was in the meantime confirmed that the video has been deleted, with a shocking message replacing it saying the content violates YouTube's guidelines.
On April 26, Twitter user @ShoreProgress shared the news of this case in a tweet – adding that Twitter had also decided to suspend Aytu BioScience's account, apparently for no other reason than to "spite" US President Donald Trump.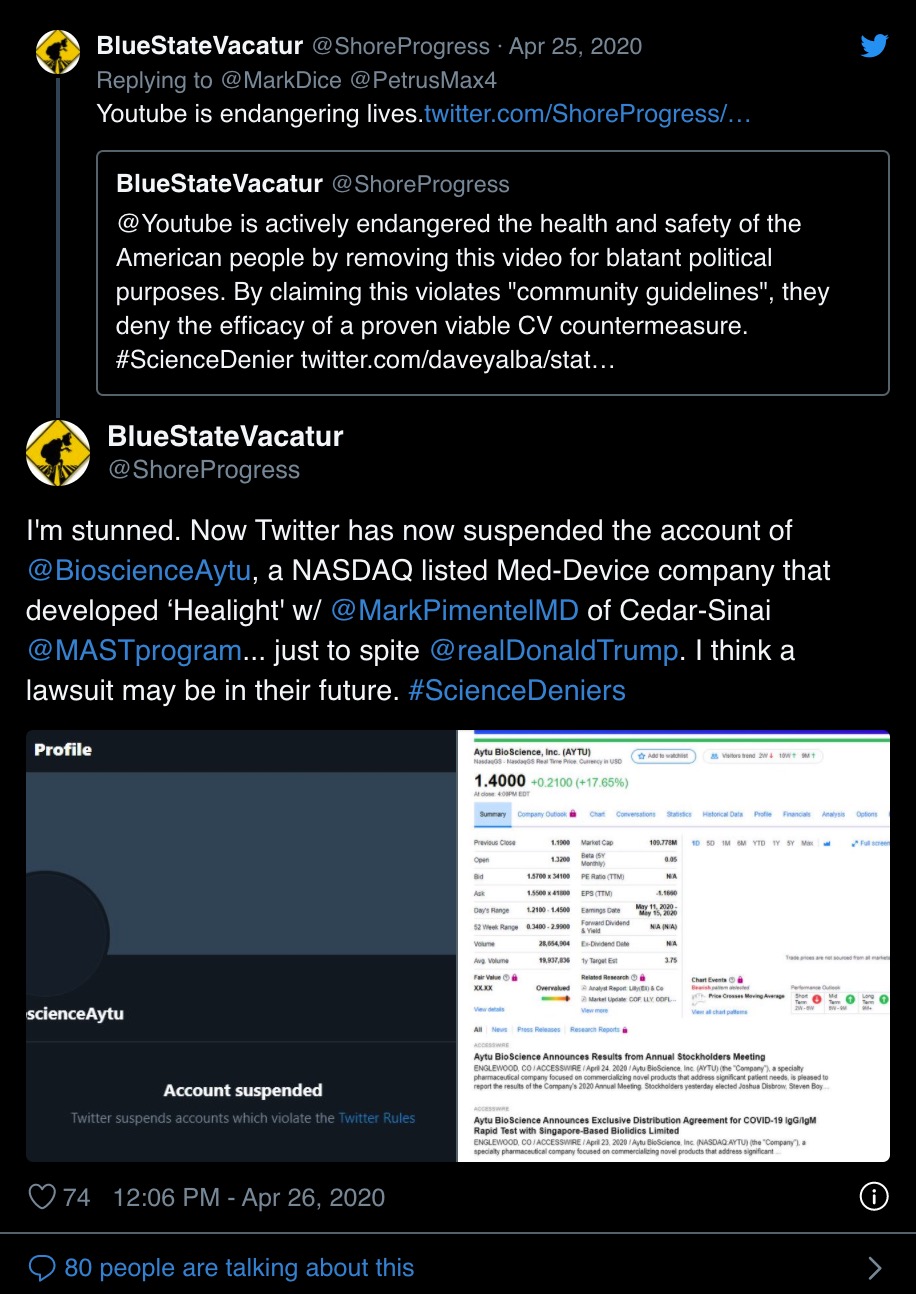 (The user backed the claim of the Twitter account suspension with a screenshot – but it seems that the social giant has changed its mind and that the account is back online, at least for now.)