After years of Big Tech's public-facing extremely defensive posture and retreat (though not because of consistently trampling their users' rights, or because of the accusations of stifling competition and antitrust issues) – now these giants appear to have gained the upper hand once again with the pandemic and lockdowns. And the may never relinquish that new power.
Beyond what's just the fear and loathing that the average, normal person might feel about any of these developments – here's what seems to be going on.
Governments are now franticly trying to impose new overreaching measures. And who better – (and who else?) to help them than Big Tech to make the mass censorship and surveillance, "pandemic edition," happen?
After all, Big Tech have been collecting personal data of users and selling/sharing it for more than a decade.
So – is Google now a country in its own right? And do elected US representatives now address it in a tone worthy of that status?
Take Adam Schiff, a California Congressman from the ranks of the Democrats, who penned a letter to CEOs of Google and its video giant, YouTube.
YouTube CEO Susan Wojcicki didn't feel it was beneath her to respond, but she was nowhere nearly as verbose in her reply: it wasn't even a letter, it was just a short tweet (and we don't know if Google CEO Pichai even bothered with any kind of reply.)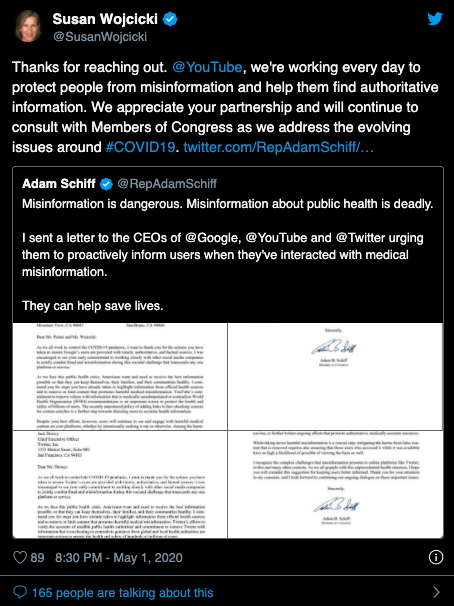 "Thanks for reaching out. At YouTube we're working every day to protect people from misinformation and help them find authoritative information. We appreciate your partnership and will continue to consult with Members of Congress as we address the evolving issues around #COVID19."
By the way: Any mention of "authoritative information/news sources" should be used with quotation marks by any fair-minded individual – these terms have no intrinsic value of their own these days, other than by people who for some reason agree that this label has any value.
The pandemic has caused such economic and political upset that the future attempts to clean up the mess and bring the balance of trade and power to where it once was will only bring more surveillance and censorship into all of our lives.