Doctor Mary Bowden, an Ear, Nose, and Throat specialist, has had a video censored by YouTube. The video was her announcement of her lawsuit against Houston's Methodist Hospital, from which she had privileges suspended last year – soon after she took to social media promoting Ivermectin as a treatment for Covid.
Dr. Bowden studied medicine at both the University of Texas and Stanford University and has used social media to push back against vaccine mandates. In one social media post, Dr. Bowden said that she was focussing her attention on treating the unvaccinated.
In November, Houston Methodist Hospital suspended Dr. Bowden and made a statement saying she was spreading "dangerous misinformation" about Covid.
Dr. Bowden now says she is fighting back against what she says is the hospital's "secrecy."
"Medical freedom has been hijacked by hospitals, big pharma, insurance companies, and the federal agencies," said Bowden during a press conference.
Dr. Bowden's complaint argues that state law requires non-profit corporations to provide financial transparency.
Along with an investigative reporter, Wayne Dolcefino, Dr. Bowden made a formal request for financial data from Methodist at the end of last year. They say they got no response and are now suing for the data.
Dr. Bowden's lawsuit is requesting public disclosure of the revenue the hospital has generated during the Covid vaccination program, as well as reimbursements of payments received from insurance companies, patients, and even the government. The lawsuit also requests transactions between the hospital and pharmaceutical companies.
This week, YouTube deleted Dr. Bowden's video of the press conference launch for "misinformation."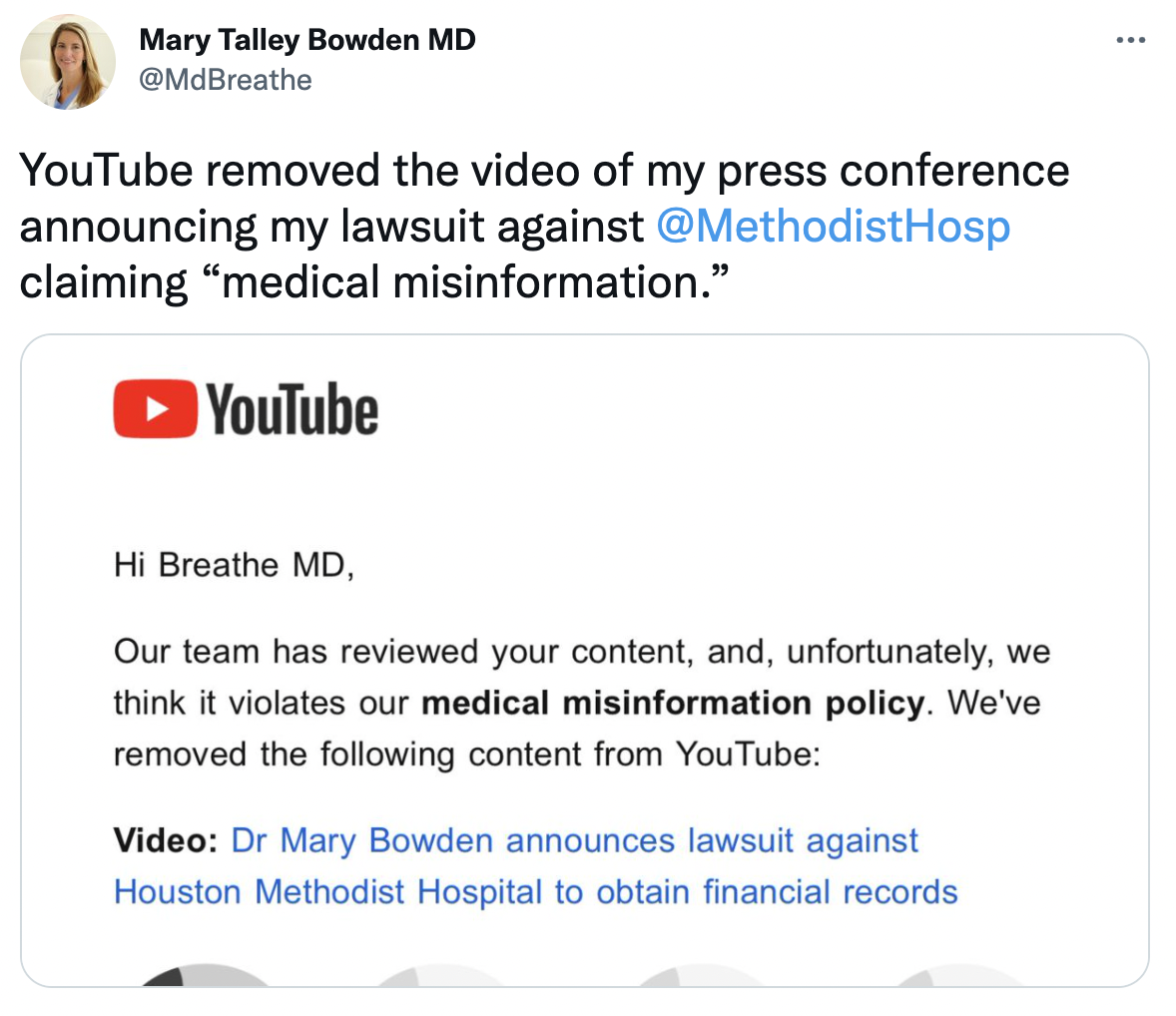 "YouTube removed the video of my press conference announcing my lawsuit against @MethodistHosp claiming "medical misinformation," Dr. Bowden announced on Twitter, sharing the message she received from the Big Tech giant.
The video is still available on Odysee and Rumble.