After YouTube introduced its controversial new harassment policy which hits creators with harsh punishments for going "too far" with insults, mockery, and jokes last December, numerous creators received channel strikes and had their income wiped out.
Now another popular YouTube commentary channel, Tipster, has been demonetized under these rules.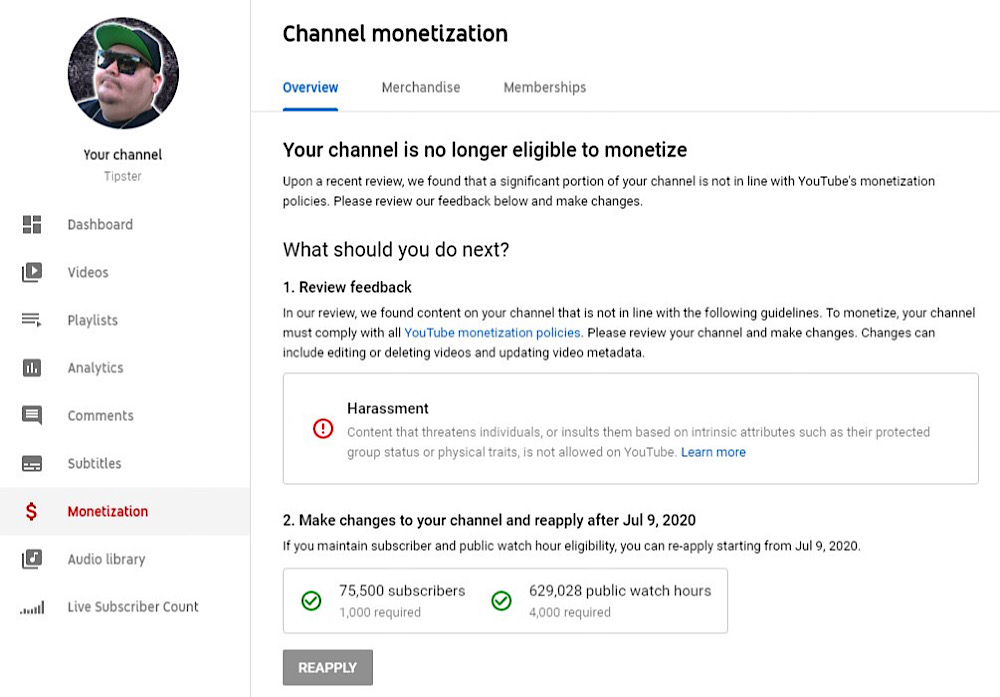 Tipster slammed the demonetization of his channel and described it as "absolutely ridiculous."
He added: "Commentary is dead on YouTube now. If you're a commentary YouTuber, you better start looking at something else to do for a living because honestly your days are numbered on this platform."
As a result of the demonetization, Tipster can no longer earn ad revenue, receive one-time donations during live streams via Super Chat, or receive monthly donations via YouTube channel memberships.
While he can reapply for monetization on July 9, Tipster believes that YouTube will deny him because of his commentary content.
The demonetization of Tipster follows several other commentary channels including AugieRFC and Carl Benjamin's Akkad Daily also being demonetized under these rules in recent months.
Several commentary videos, including one of Tipster's past videos, have also been removed under these harassment rules.
Tipster noted that while YouTube is increasingly cracking down on independent creators who provide commentary or criticism under these rules, it allows mainstream media to comment on or criticize public figures without being punished.
Related: ? How Youtube's crackdown on controversial content is slowly killing comedy, commentary, criticism, and more
As YouTube continues to sanction commentary channels under these harassment rules, YouTube's CEO Susan Wojcicki has made several recent comments highlighting just how much preferential treatment the platform is giving to these mainstream media sources.
At the start of May, she admitted that YouTube changed its recommendation algorithm in response to the media's radicalization theory.
During the same month, Wojcicki confirmed that YouTube's users don't want to watch content from "authoritative" mainstream media sources but YouTube boosts them anyway.
And at the end of May, Wojcicki even admitted that media coverage influences which censored videos get reinstated.
The impact of this preferential treatment is significant with these mainstream media sources seeing a 75% increase in viewership since the start of 2020.