JosiahRises, a YouTube channel with some 170K subscribers that is dedicated to bringing culture and entertainment commentary to its audience, just got demonetized, its owner has announced.
https://www.youtube.com/watch?v=gO9HlRxVSiQ
According to the video, the demonetization is complete, affecting the entire channel, and came out of the blue, with no previous strikes against it.
The reason given is "harmful content," the YouTuber announced on Twitter, asking his followers to retweet this news in the hope of raising its profile on social media – one way that creators have so far managed to get YouTube to reverse course on some of the extremely harmful to their livelihoods bans and restrictions, not least of all demonetizations.
But what YouTube deemed "harmful" JosiahRises subscribers immediately saw as just a different opinion and truth being expressed by the creator, and then suppressed by the video giant.
"They're scared of the truth. Anyone with a different opinion is an enemy to them," one comment said.
The conservative YouTuber seems to agree, stating that those straying from "groupthink" have been increasingly censored on this and other Big Tech platforms.
What happened with his channel is that YouTube found it no longer eligible to monetize for not adhering to all the monetization policies.
Reviewers supposedly found "content harmful to viewers" – i.e., that with focus on "controversial" issues, which the creator said was simply his conservative point of view that never involved any calls for harm to be perpetrated against anyone, nor has he ever been prone to such behavior.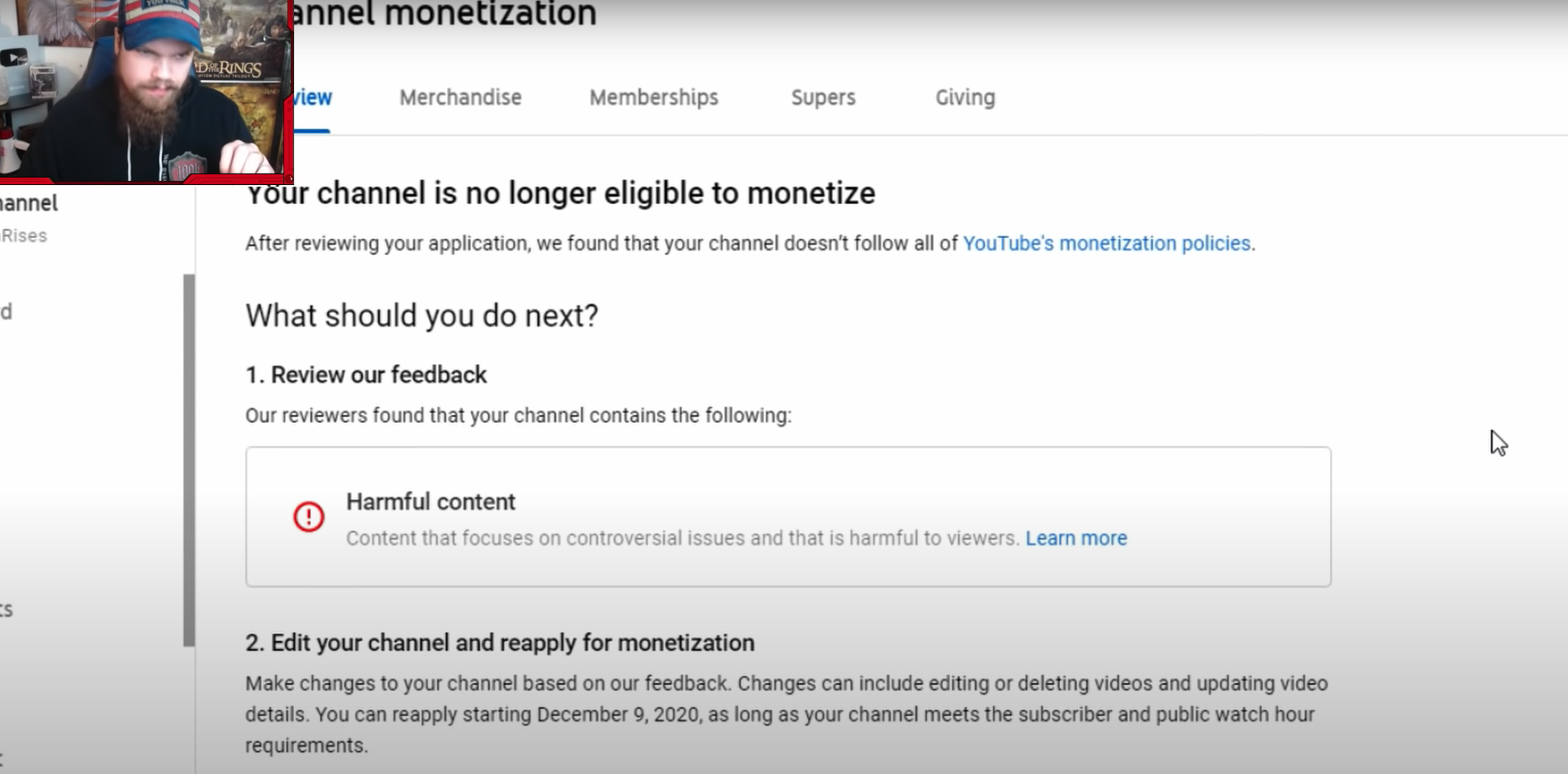 (As an aside – if holding particular political opinions and expressing them is now a valid cause to deplatform, can we expect the same to happen to every major and minor news outlet on YouTube? Or could this form of effective punishment be reserved only for creators YouTube doesn't like?)
The channel's owner picked up on this by saying that he is accused of providing content that "focuses on controversial issues."
"Apparently, it's OK to focus on controversial issues unless you're focusing on it with the wrong viewpoint," he said.
Not "liking" (or, clearly, allowing) different opinion also led him to think YouTube and Twitter might be becoming "more fascist by the day."
The YouTuber reiterated his own belief that everyone should be allowed to express their opinion, and called on supporters to help him out on Patreon and elsewhere.