Matt Walsh of The Daily Wire revealed that YouTube has demonetized his channel for criticizing transgender activist Dylan Mulvaney.
Walsh talked about the demonetization while at the University of Iowa to discuss the topic of transgenderism. He said that his show would now air for free on DailyWire+, Twitter, and Rumble.
"If I simply respect the preferred pronouns and stop accurately gendering people, then I can likely continue to do my show on the platform, get it remonetized after a short probationary period, and continue making over $100,000 a month on YouTube ads," Walsh said.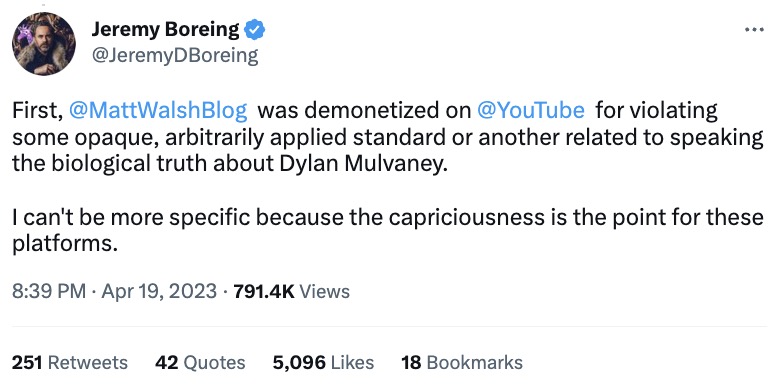 "In other words, all I have to do to keep the money and the platform is give up my integrity and my soul," he added. "And to that I say: hell no. No way."
Walsh will still post select content to his 2.3 million subscribers on YouTube. However, the full show will only be published on platforms that allow him to speak freely. He added that the decision to remove his show from YouTube was easy.
"I will not give my show to YouTube if it means I have to cooperate with and affirm the very ideology that I've been battling all this time," he added.
The Daily Wire's co-CEO Jeremy Boreing said that there was a rise in cancellation campaigns targeted at Walsh and his fellow hosts Michael Knowles and Brett Cooper. Earlier this week, Knowles had to be evacuated from the University of Pittsburgh after violent protesters interrupted his speech. TikTok permanently banned Cooper.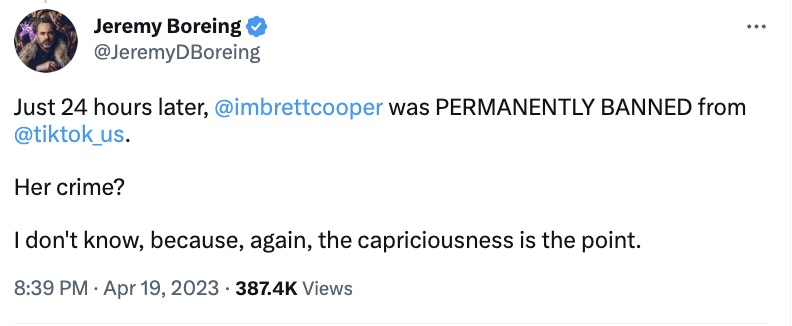 Boreing blasted Big Tech platforms for "capricious" fact-checks, bans, and demonetization against hosts at The Daily Wire. He also said that software companies JW Player and HubSpot severed ties with the media outlet.
Like Walsh, Boreing said he will not give in.
"YouTube wants to keep Matt Walsh from being able to monetize because they know it will drastically stunt his growth and make his content far less viral. They expect us to throw a fit and play right into their hands. We won't," he said.