YouTube has demonetized another comedy channel by removing it from the Partner Program. This time the target was the News Be Funny bloopers channel.
The creators behind the channel that has over 700K subscribers and has been up since 2012 announced this in a statement, noting that the News Be Funny was on January 18 demonetized for the 5th time in 12 months.
The statement details all the previous demonetization instances, and provides dates of remonetization, that mostly took place within a week or even within days.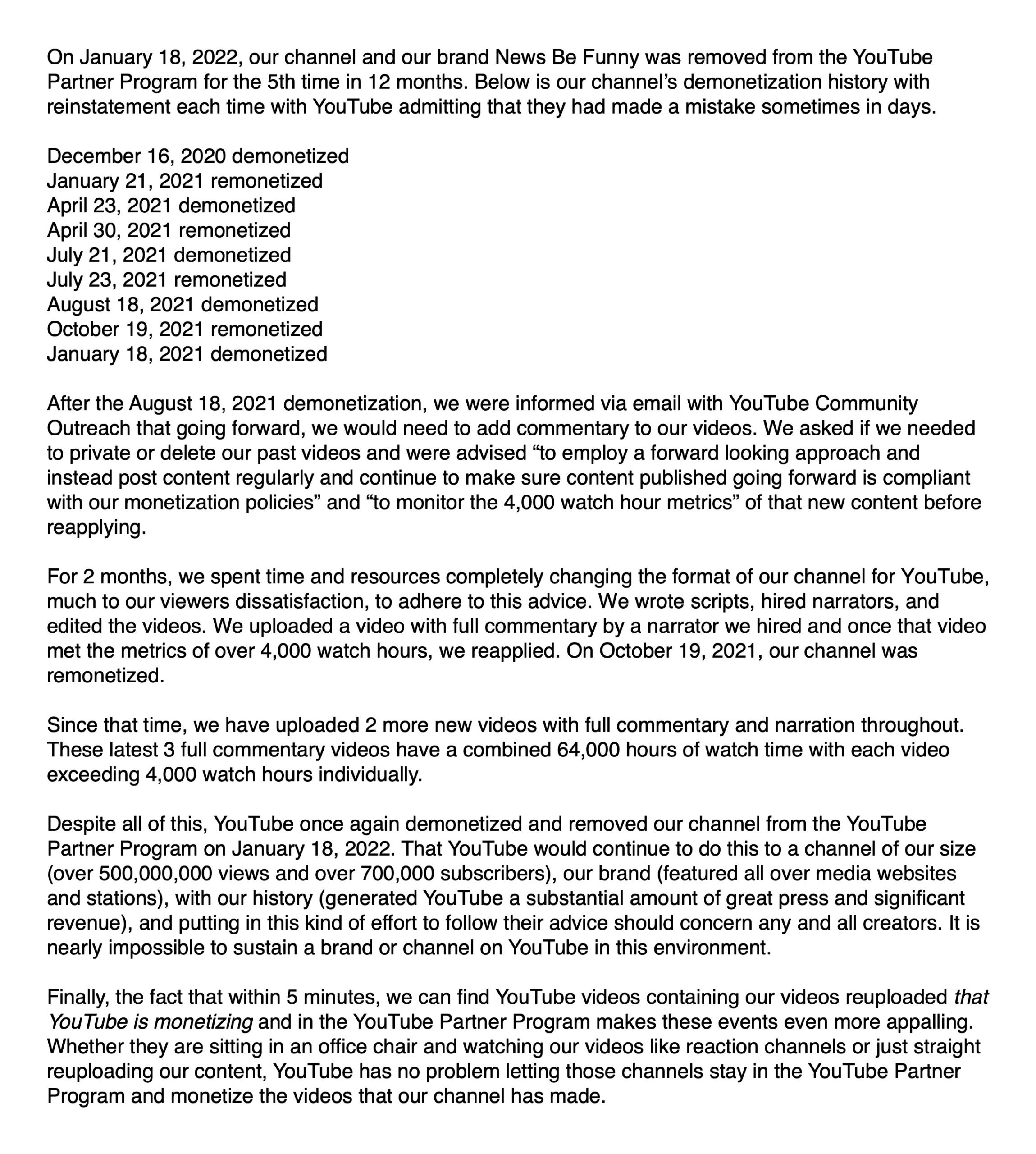 This was happening because YouTube would realize that they had made a mistake, News Be Funny said. The channel describes itself as continuing the tradition of the news blooper reel, while providing original commentary.
The need to include commentary in the videos was one of the points YouTube made when the channel was demonetized the previous time, on August 18 of last year. The channel's statement posted on Twitter said that those behind it proceeded to implement the changes YouTube required, even though they turned out to be unpopular with viewers.
News Be Funny spent the following two months implementing a new format for YouTube shows, including scripting them and hiring narrators, which the channel said took time and money. At the time, when asked if past videos needed to be removed or made private in order to reinstate the channel to the Partner Program, YouTube's response was to "employ a forward looking approach and instead post content regularly and continue to make sure content published going forward is compliant with our monetization policies."
Another requirement was to reach the 4,000 watch hour metric before reapplying, which the channel did, and got remonetized on October 19. The statement does not clarify if, and what explanation they received from YouTube for this latest demonetization.
But News Be Funny is hoping that bringing attention to this case on social media might help, as they are urging subscribers to rally around the channel and put pressure on YouTube.
The bigger picture addressed here is the precarious status and poor treatment of native YouTube creators, even those with a large following – and this point has been brought up again and again over the past years, with many pointing out to Google's giant video platform shifting towards catering to big corporations first.
"That YouTube would continue to do this to a channel of our size (over 500,000,000 views and over 700,000 subscribers), our brand (featured all over media websites and stations), with our history (generated YouTube a substantial amount of great press and significant revenue), and putting in this kind of effort to follow their advice should concern any and all creators," News Be Funny said on Twitter and concluded, "It is nearly impossible to sustain a brand or channel on YouTube in this environment."