Facebook and YouTube both announced that they ramped up their tracking of "Trump-coronavirus conspiracy theories" within minutes of President Trump announcing that he had tested positive for the coronavirus.
In a statement to Motherboard, Facebook said that it began tracking conspiracy theories "immediately" and that it will be working with its third-party fact-checkers to label and remove posts they decide are disinformation.
YouTube spokesperson Alex Joseph told Motherboard that: "Within minutes of their diagnosis being made public, our systems began surfacing authoritative news sources on our homepage, as well as in search results and watch next panels regarding the President and COVID-19."
YouTube added that it will also be reducing the spread of content that comes "close to breaking—but does not break—its official community guidelines."
Neither Facebook or YouTube specified what would constitute a conspiracy theory or disinformation in this instance but their previous determinations have generally focused on anything that goes against mainstream media talking points.
Yet, as the President has been moved to Walter Reed Medical Hospital for "precautions," even those who represent mainstream media outlets have been promoting what could be described as "conspiracy theories." MSNBC's Joy Reid has raised doubts over the President's diagnosis by amplifying the idea that the President is pretending to have the virus just to get out of the debates.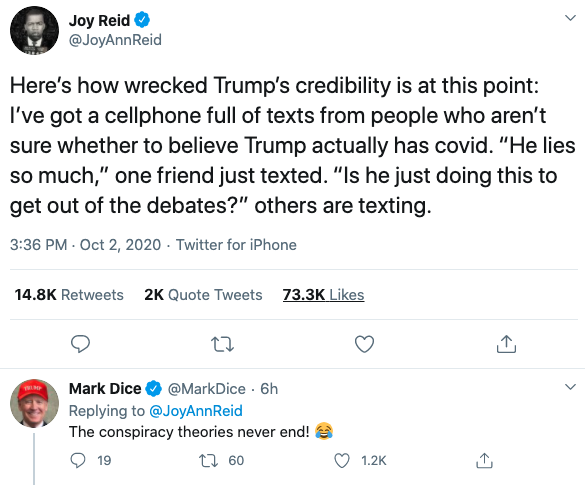 MSNBC is likely considered an "authoritative source" to a Big Tech company.
The New York times was quick to push speculation that President Trump will have to suspend campaigning and was already raising questions about whether he should even be on the ballot:
"Even if Mr. Trump, 74, remains asymptomatic, he will have to withdraw from the campaign trail and stay isolated in the White House for an unknown period of time. If he becomes sick, it could raise questions about whether he should remain on the ballot at all."
The New York Times is likely considered an "authoritative source" to a Big Tech company.
To social platforms, independent voices have always taken a backseat to chosen "credible" sources.
For example, YouTube classes anything that goes against the World Health Organization (WHO) as coronavirus misinformation while Facebook's fact-checkers flag videos featuring coronavirus whistleblowers discussing the origins of the virus as "baseless conspiracy theories."
YouTube's previous efforts to stamp out conspiracy theories and boost authoritative sources have created an environment where it's almost impossible for independent creators and news outlets to compete with mainstream media outlets when covering newsworthy topics.
Research on YouTube's anti-conspiracy algorithm, which was introduced in January 2019, showed that it resulted in recommendations to many independent creators dropping by more than 50% while impressions for mainstream media outlets increased by 46%.
This year, YouTube has also reported that independent creators are 20x less likely to top coronavirus search results than "high authority channels."
YouTube CEO Susan Wojcicki has admitted that users don't like these "authoritative" mainstream media channels but the platform still boosts them anyway.