Google's YouTube has been forced to pay a €100,000 fine for censoring a video from a protest against Covid lockdowns.
The Dresden Higher Regional Court ruled that YouTube was wrong to delete the video, filmed in Switzerland.
The court first, in late April 2020, issued an injunction ordering the behemoth to restore the video immediately – but YouTube ignored the ruling for almost an entire month before complying on May 14, 2020. The German court found this behavior to be a "deliberate and serious violation" and fined the giant.
Regardless of the amount in question, which appears to be the highest on record in Germany but is insignificant to Google's trillion-dollar business – the lawyer for the operator of the channel that was subjected to censorship, Joachim Steinhofel, put the stress in his comments on the legal precedent here, calling the ruling "historic" – because YouTube has to comply with court decisions regardless of whether or not it thinks its own "community guidelines" had been violated.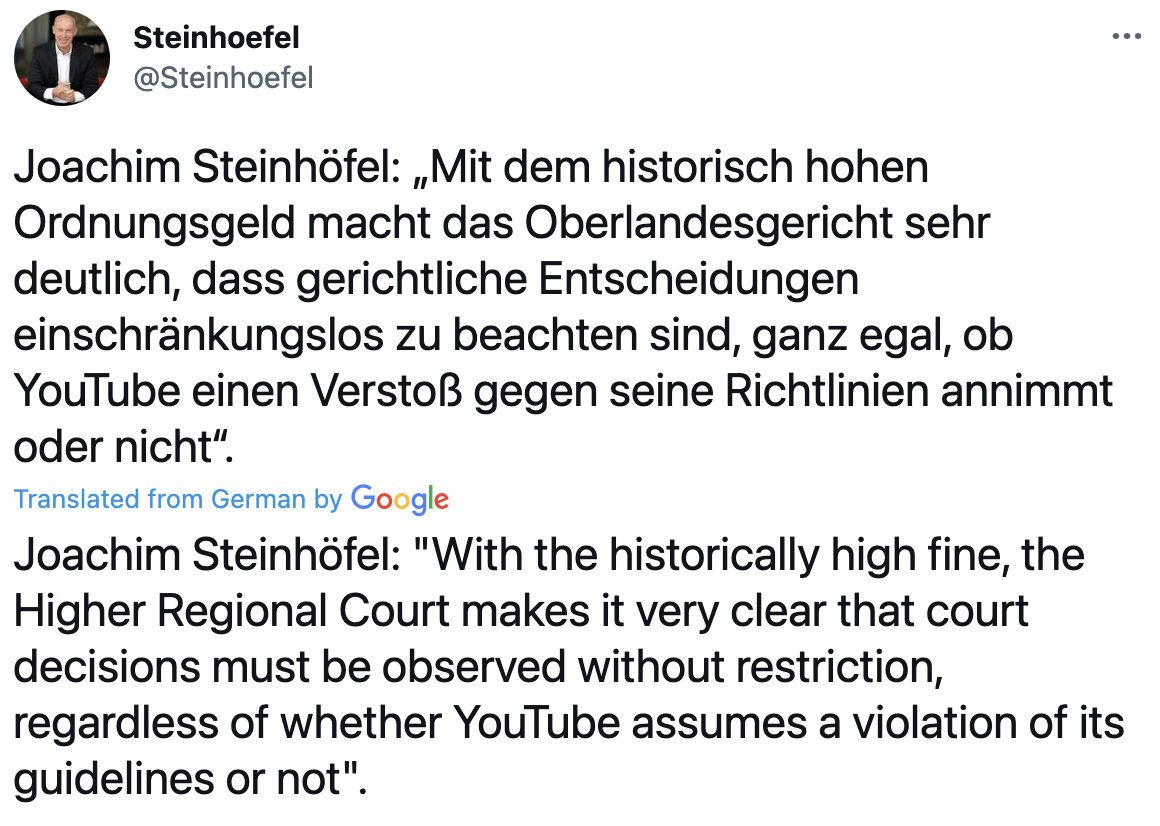 Unlike in the US, where Big Tech's right to censor speech is granted to them as private internet operators, it seems that Europeans are ready to stop playing by those rules and start imposing their own laws.
The Dresden court did not accept YouTube's explanation that the Covid protest video had to be removed based on the company's "medical misinformation policy." This new policy, introduced at the start of wide-spread coronavirus (mis)information suppression on major social networks, at the time wasn't even properly incorporated into YouTube's own rules that form a "contract" with channel owners.
YouTube, however, seems to be continuing to try to position itself above a country's authorities when it assumes the role of an entity that has "a responsibility to connect users with trustworthy information and to combat misinformation during Covid-19."
Asked to comment on the court's decision, a spokesperson for the company says it considers it a "case-by-case basis" decision they will "respect and review accordingly."