When YouTube rolled out its controversial new "hate speech" rules, we reported that these rules were resulting in historical videos being deleted or demonetized and preventing people from properly documenting historical events.
Now British model maker Phil Page says that these "hate speech" rules are also detrimentally impacting people in the model making and tabletop games communities who create model vehicles for use in games that are based on alternate history.
Page has been interested in model making and tabletop games for over 40 years and says "the web has been an absolute godsend for the hobby." He works as a model maker and caster and has created various independent modeling projects via Kickstarter. He often creates models of vehicles or structures that can be used in games.
In June, shortly after YouTube rolled out its updated "hate speech" rules, one of Page's eight-year-old videos from 2011 was removed by YouTube for supposed "hate speech."
The video was about a model Page had created for use in the game "A Very British Civil War" which focuses on an alternate history where Edward VIII refuses to abdicate in 1938 and then drags Britain into a civil war. The game features several factions including:
Anglican League
British Union of Fascists (BUF)
People's Republic of South Yorkshire
Royalists
The model vehicle featured in the now-removed video was a BUF Propaganda Truck which played MP3 recordings of speeches from the BUF leader Oswald Moseley through a concealed speaker.
The video was embedded in a 2011 blog post from Page which showcases the model. Now anyone who attempts to watch the video is presented with the message: "This video has been removed for violating YouTube's policy on hate speech."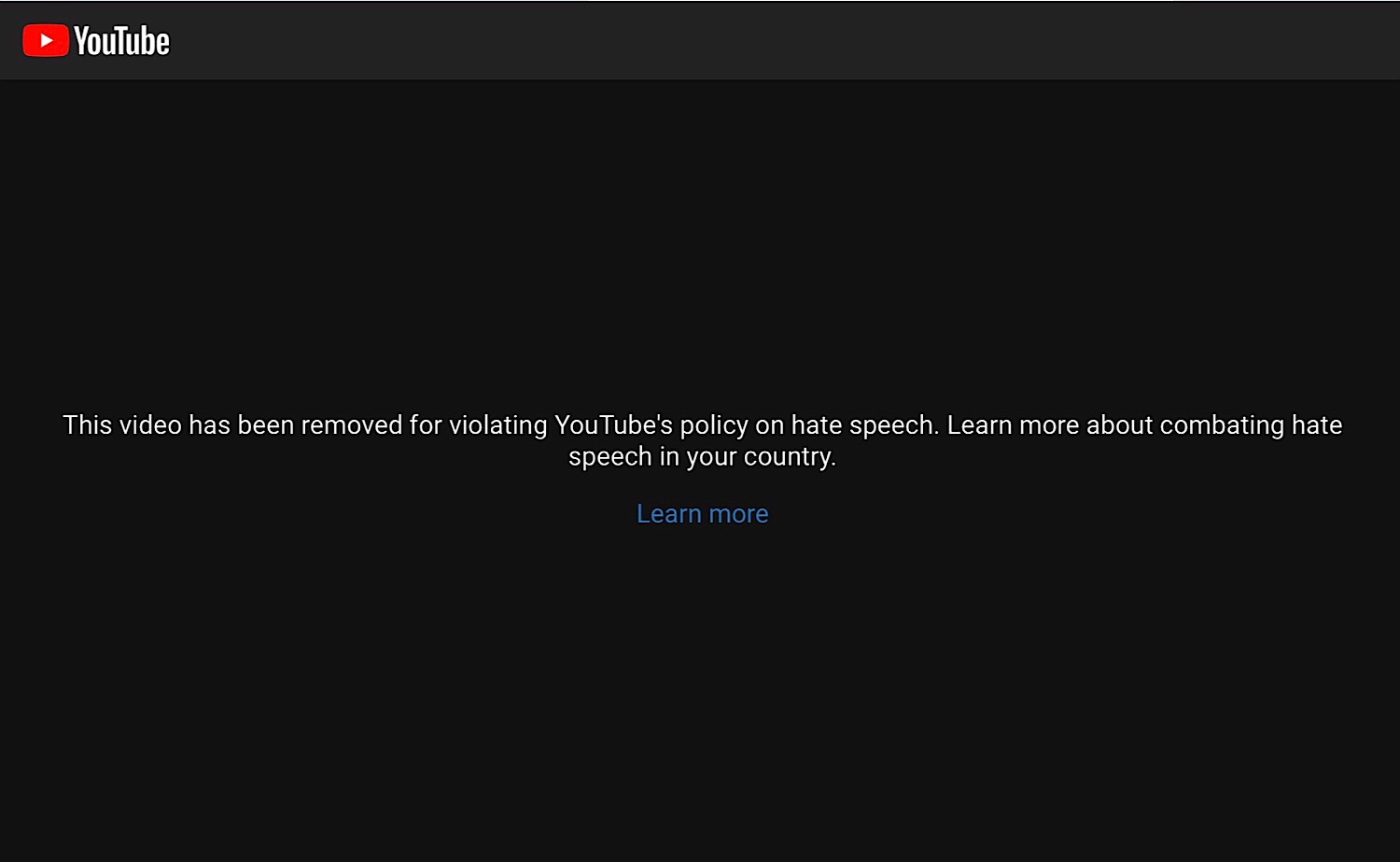 Page told Reclaim The Net he's concerned that YouTube's supposed "hate speech" purge may have resulted in the removal of many other harmless modeling videos and adds that the decision is especially insulting when YouTube appears to allow other videos that support the politics of the BUF:
"Just as in any other tabletop game there's no inherent support for the politics of a faction folk choose to play.

The suggestion that in making this model I support the politics is insult enough, especially as some of those remaining videos do appear to do so. Worst still is how YT [YouTube] is claiming a big clean up when there must be a great number of videos which have been deleted more as a convenience to their anti-hate drive than because they were genuinely hateful."
Page said he appealed the decision at the time but YouTube rejected the appeal almost instantly.
Many videos about "A Very British Civil War," the BUF, and even the speeches from Moseley which the model vehicle plays are still available on YouTube.
Based on YouTube's previous decisions around historical content, it appears that simply mentioning historical events or groups is now increasingly likely to be seen as "hateful" by YouTube and put videos at risk of removal.
Last week, YouTube released a report saying that it removed 5x more videos for "hate speech" in Q2 2019. This story combined with the previous questionable removals under these rules again raises the question of how many innocuous videos are being deleted as part of this ramp-up in the removals of videos for supposed "hate speech."