Searching for "Meghan Markle" on YouTube now only brings up results from news outlets and verified accounts. Content critical of Meghan Markle has been deranked from both search results and recommendations on the sidebar.
According to BuzzFeed, about a week ago, the first 10 results of a search for "Meghan Markle" brought up content critical of the Duchess of Sussex. The sidebar on these videos would feature more of such recommendations.
However, that is no longer the case, despite the fact that accounts featuring anti-Meghan Markle content have millions of views and tens of thousands of subscribers.
YouTube appears to have addressed what BuzzFeed calls the "harassment" and spread of "misinformation" about Markle. It has deranked the videos and accounts posting such content.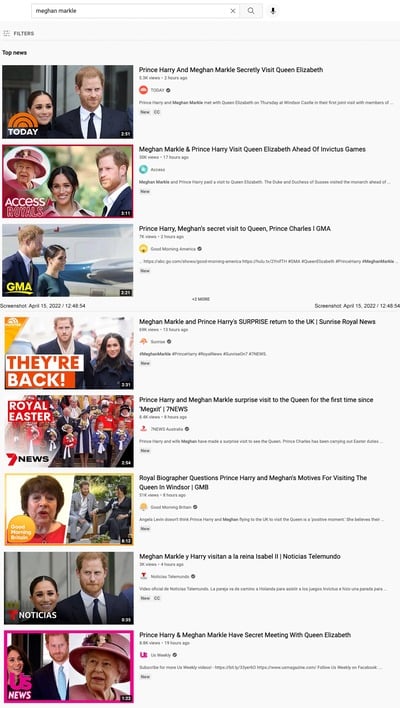 In a statement to BuzzFeed, however, YouTube did not admit to making the changes.
"For news and certain topics prone to misinformation, we've trained our systems over the years to elevate content from authoritative sources in search results and recommendations," a YouTube spokesperson said. "Millions of search queries get this treatment today, including certain queries related to Meghan Markle. As with all queries, search results on YouTube are algorithmically ranked and constantly changing as new content is uploaded over time."
The change only applies to searches for "Meghan Markle," it does not apply to more specific searches like "Meghan Markle Harry" and "Meghan Markle Pregnancy."
The algorithmic changes to searches for Meghan Markle may reduce the chances of casual viewers landing on criticism of her.