YouTube appears to be planning a shift in focus of its massive censorship effort that has in the past year and a half grown exponentially around COVID and political issues, with mass removal of content considered to be misinformation being a prominent tool.
Related: Traditional TV broadcasts are boosted on YouTube while independent creators suffer in recommendations
But now, that tool is deemed to be "too blunt" and YouTube plans to boost its already heavy, essentially editorial hand, to make sure that content that current censorship algorithms miss is also deranked, as even more prominence is given artificially to media ("news") sources that YouTube deems to be "trusted" and providing "information quality."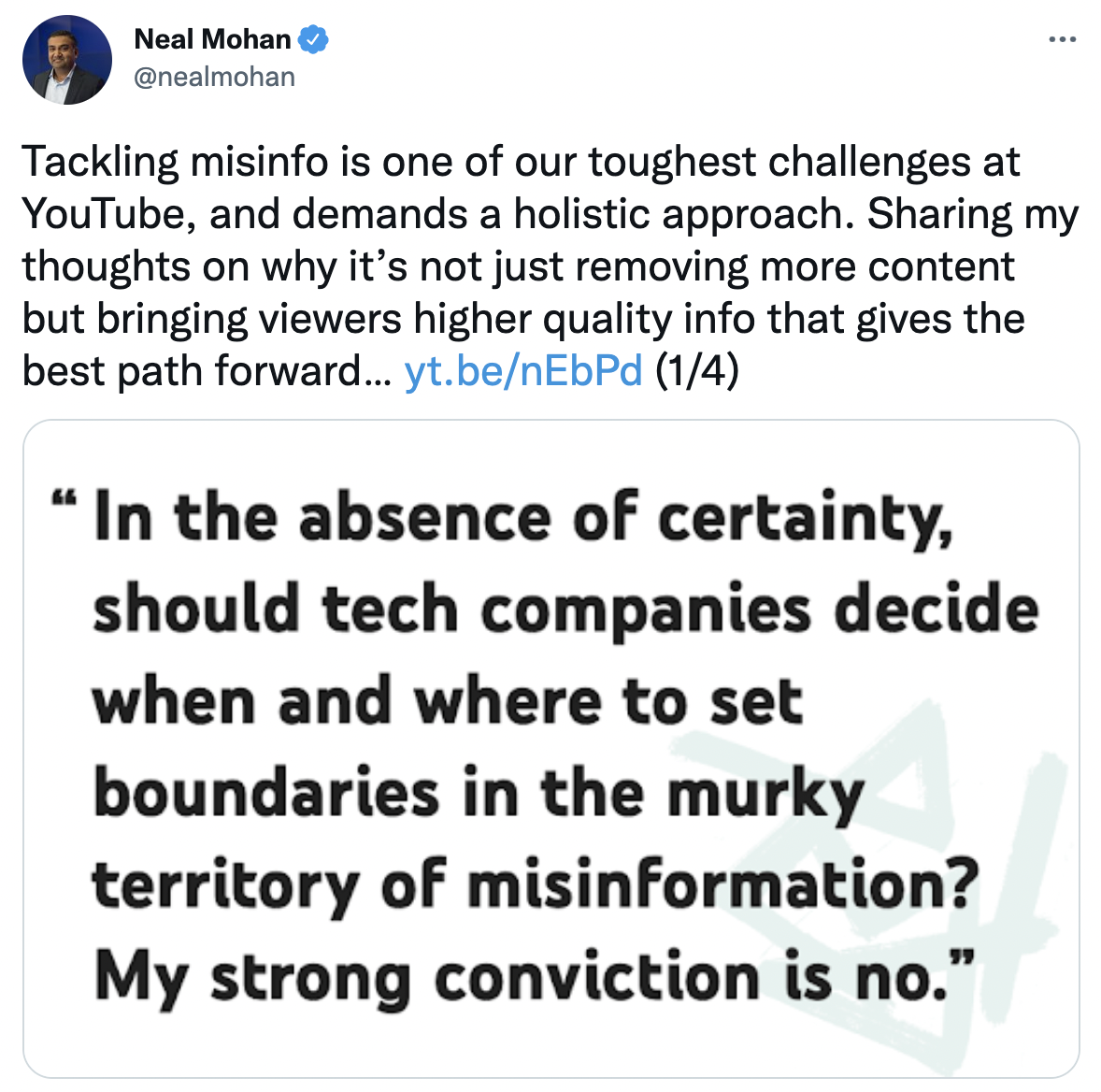 YouTube chief product officer Neal Mohan spoke about this on Twitter, to make contradictory claims that, on one hand, "in fast-moving situations, information evolves quickly without a clear source of truth" – but nevertheless, YouTube still knows what "trusted sources" are, and they will be given preferential status when users search for news.
This is nothing new, but it seems that Google is gearing to "boost the boosting" of these channels. If past instances are anything to go by, this means that corporate media will benefit while independent creators can expect their views and revenues to suffer.
On the other hand, Mohan says that "rater guidelines for info quality" are publicly available – in other words, if you'd like to bring your content in line with YouTube's policies, and politics, that can be done, too. Then this type of content will pass off as "free speech," and Mohan claims a balance will be reached with "freedom of reach."
If not, YouTube will clearly not be shy to continue to limit both, at will.
Misinformation has been around as long as information, but at some point during the past turbulent years when everything, including COVID, got heavily politicized, some people discovered how vague and broad the term "misinformation" can be, and how much censorship of legitimate topics can be hidden and justified once that label is slapped onto something.
In that context, a YouTube blog post is asserting that the world, and YouTube are for some reason awash in misinformation now – it is treated as a recent phenomenon. That's one way to explain why YouTube all of a sudden needs to implement such wide-scale censorship, and keep looking for "new and improved" forms of it.