In a move that has angered many music fans, artists, and producers, YouTube has discontinued comments on "Art Track" music videos and scrubbed all of the existing comments from these videos in the process.
Art Track music videos are auto-generated videos that consist of a music track from an album and the album artwork. According to YouTube, the purpose of Art Tracks is to allow artists to automatically provide a YouTube version of every track on their albums without producing a music video. This allows artists to get maximum exposure on YouTube by uploading their entire catalog and having all their tracks appear in album playlists and search results.
In addition to allowing artists to reach more people, Art Tracks used to facilitate fan feedback via the comments section. This allowed listeners to share their opinion on the music and artists to get direct feedback and interact with fans.
These Art Track comments sections were also a place where YouTube users could discuss songs that have become popular after being used in a movie or TV show that they love.
But now, YouTube has announced that comments on Art Tracks are being discontinued because "their comments can't be moderated."
Not only has the decision prevented viewers from commenting on the numerous Art Track videos that are available on the platform but all of the existing comments on these videos have also been deleted.
Some of the affected videos have millions of views and had tens of thousands of comments removed. For example, this video for "Roundabout (2008 remaster)," a popular remaster of the 1972 track by the rock band Yes that was used as the ending theme for the first season of the anime series "JoJo's Bizarre Adventure," had more than 38,000 comments before YouTube made the change.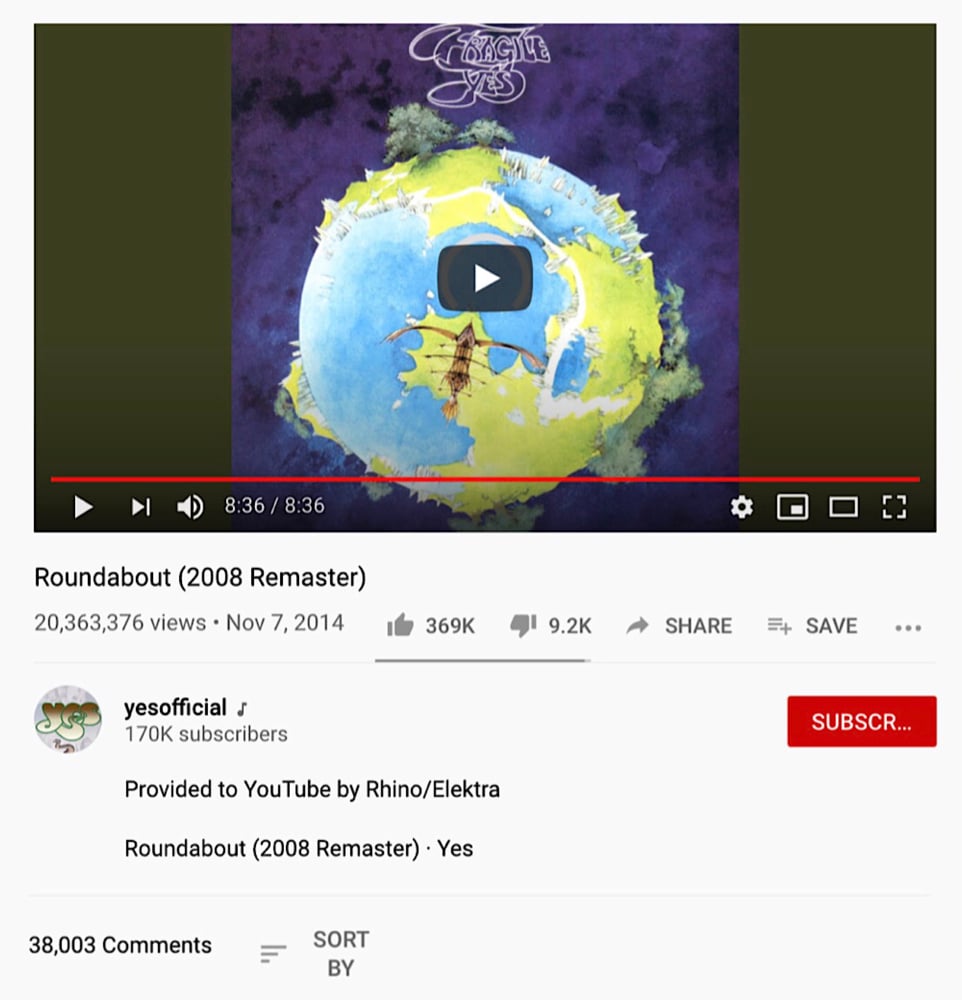 The sudden removal of comments from Art Tracks frustrated many YouTube users who described the move as making "absolutely no sense," "a disservice to both fans and artists," and "a dumb ass idea that they should've told us in the beginning."
Artists and producers have also slammed the decision to remove comments and noted that it was a key feature for getting feedback on music.
"I'm a small upcoming artist and seeing these comments were the ONLY way that I could tell how my audience felt about my music and where we would interact with each other," wrote pop rapper Justis Bratt. "And where they could interact with each other. I had over 200 comments and now they're GONE ? pls PLEASE fix this because having an open comment section is VERY important to to the artists on your platform."
Award-winning producer, composer, and writer, Alex Hitchens, described YouTube's decision as a "major trash move" and noted that the comments were a significant tool for allowing creators to see how people found their music.
The removal of comments on Art Tracks is the latest of several far-reaching restrictions YouTube has placed on the comments section over the past couple of years.
In 2019, YouTube announced that creators could be demonetized based on the comments left by other users and started to automatically hold some comments for review.
Then at the start of 2020, YouTube began disabling the comments on several popular channels as part of its Children's Online Privacy Protection Act (COPPA) changes.
This month YouTube launched a new alert that will warn users their comments "may be offensive to others" and force them to go through an additional step before they can leave their comment.