YouTube has removed another interview with former President Trump, continuing its pattern of blacklisting Trump from its platform, even when appearing as a guest on other channels.
This time, Trump's interview with David Brody on "The Water Cooler" show on the Real America's Voice news network has been purged after the tech giant claimed that the video contained "content that advances false claims that widespread fraud, errors, or glitches changed the outcome of the U.S. 2020 presidential election."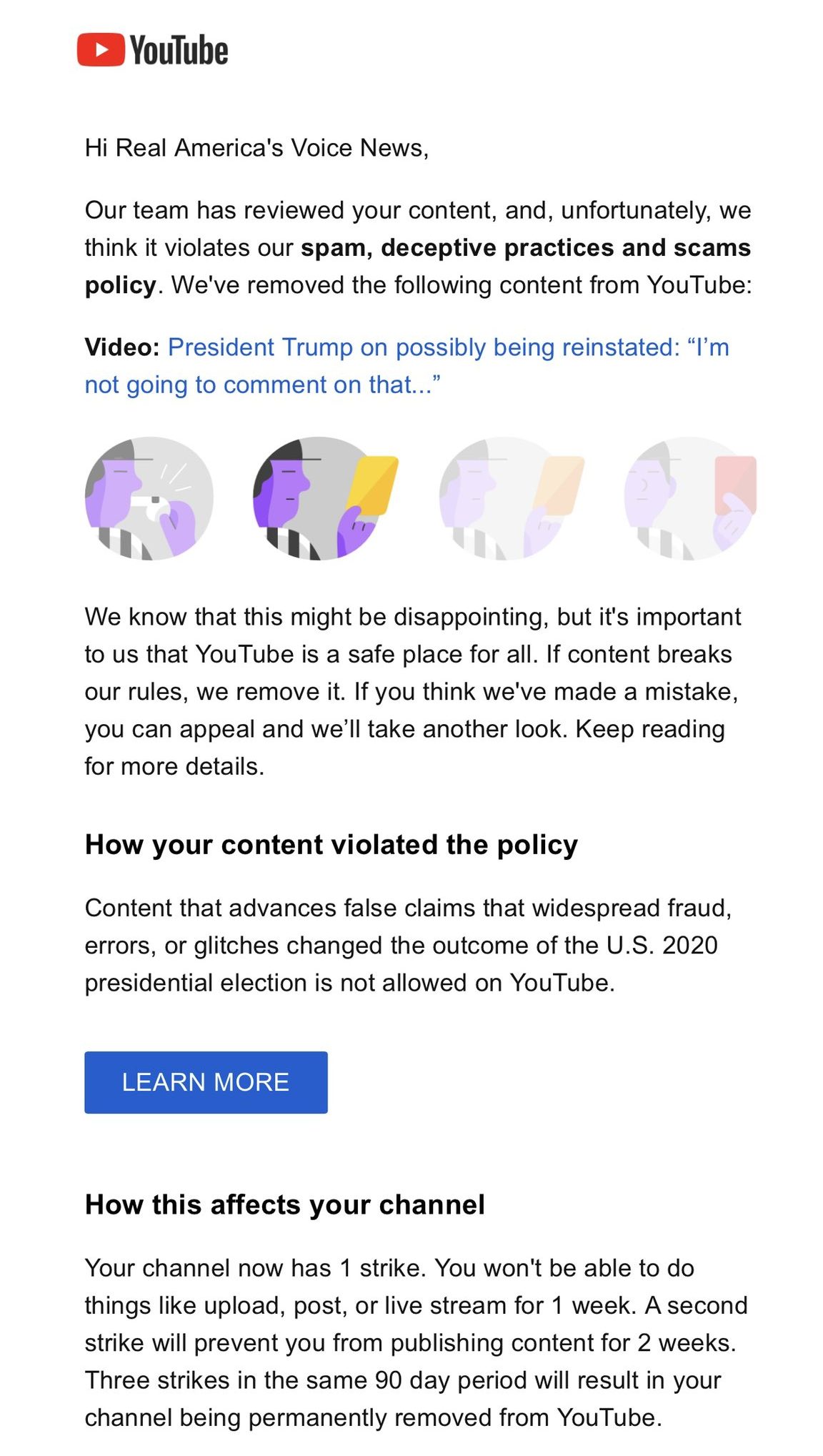 During the interview, Trump responded to headlines that claimed he'd admitted he lost the 2020 US presidential election by saying: "I never admitted defeat."
He also said it's up to the public and "perhaps, politicians" to decide wether the election was fraudulent and added: "I don't think there's ever been a case like this where hundreds of thousands of votes will be found. So we'll have to see what happens."
Not only was this Trump interview scrubbed but the Real America's Voice YouTube channel was also hit with a strike which blocks it from uploading or live streaming for seven days.
Real America's Voice program director Roger Hudson described the censorship of this Trump interview as "a little heavy-handed and probably inappropriate" and said Trump "didn't say what they [YouTube] said he said."
Hudson also noted that the seven day suspension will prevent Real America's Voice from live streaming Trump's rally in Ohio on Saturday and said this will be "a significant loss" to the network.
Brody responded to the takedown of the interview by stating: "Free speech is dying a slow death in America."
The censorship of this Trump interview comes as Missouri Senate candidate Eric Greitens also had a segment on The Water Cooler removed by YouTube. In his segment, Greitens praised this Trump interview and criticized the mainstream media's coverage of several major stories.
It's one of many Trump interviews to be censored since the former President was banned from YouTube and other Big Tech platforms. Since his January bans from these platforms, Trump's interviews with conservative commentator Dan Bongino, talk show host Lara Trump, and Newsmax have also been deleted by the tech giants.
While the tech giants continue to throttle Trump, free speech friendly video sharing platform Rumble has hosted Trump's censored interviews and attracted millions of viewers.
Trump's appearance on The Water Cooler is also available on Rumble and has passed the hundred thousand viewer mark in its first three days.