YouTube on Friday suspended a comedian's channel for – making jokes.
The week-long ban was slapped on the channel of the LongDays with Yannis Pappas satire news podcast, Pappas announced on social media.
In a post on Instagram, the comedian explained that YouTube labeled two episodes of the podcast as violating its rules and removed them – one titled "Fratricide Maybe," and another called "Adrenochrome Smoothies."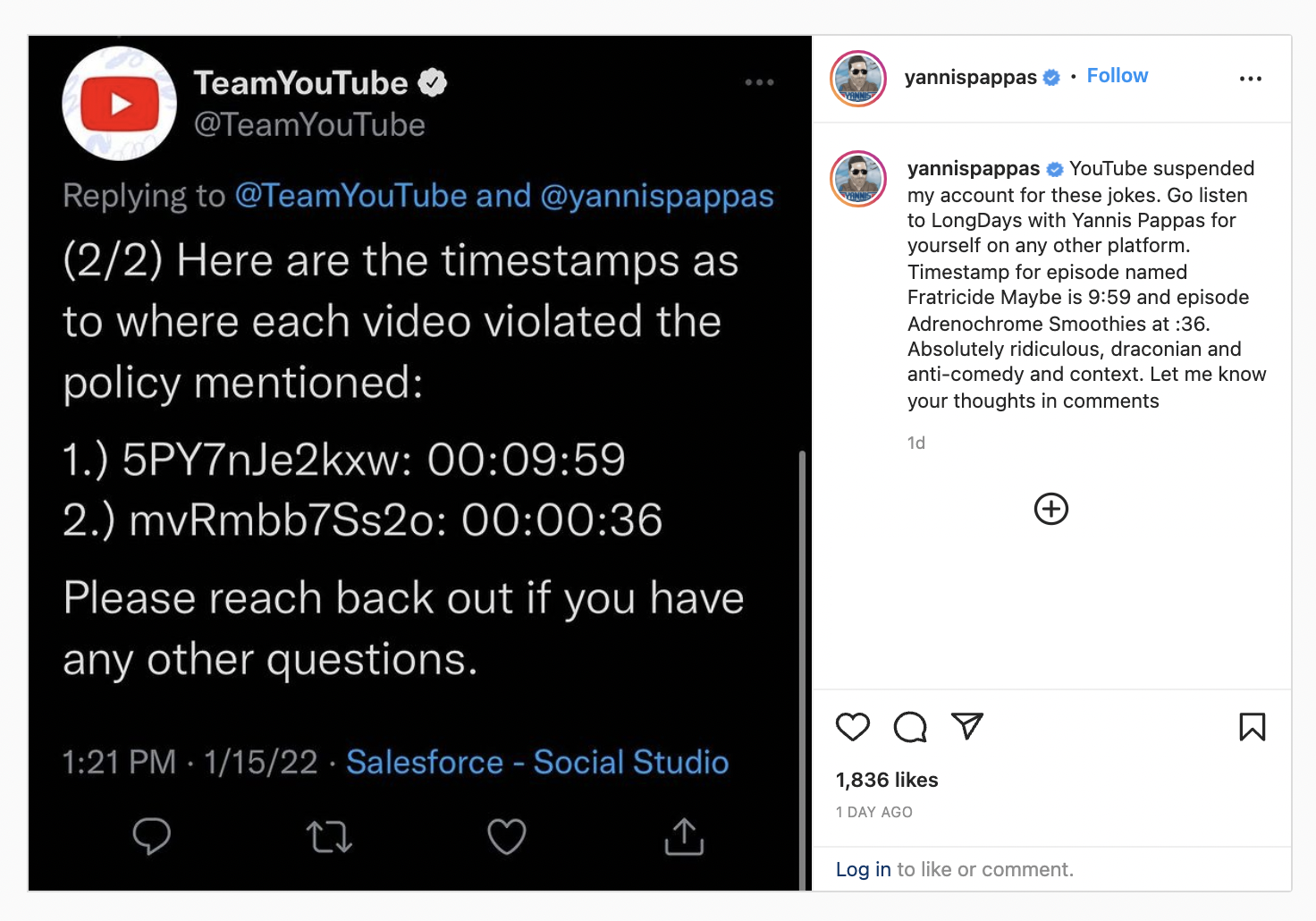 In a previous exchange Pappas had with the YouTube account on Twitter he sought an explanation for the censorship of the two episodes, one being six months old. On Friday, he posted that the only response he got was that the content breached harassment and bullying policies, adding there was no further clarification at that time.
Pappas also shared that he believed someone was trolling his account by falsely flagging videos, noting that he is a well known stand-up comedian who "voices satirical opinions about news."
However, a while later YouTube uncharacteristically provided some clarity, though in the podcaster's opinion no justification. In a tweet, the YouTube account said the two videos were reviewed and the violations confirmed, and cited two timestamps of where they detected these violations in each.
Pappas responded by saying that he listened to his podcasts again and "strongly disagreed" with the removals, calling YouTube's move draconian, subjective, harsh, and disappointing.
"As you do this to more and more content creators there will be more and more disapproval," he tweeted.
Referring to the two timestamps provided by YouTube in his Instagram post, Pappas said they were jokes, and that the decision to remove the episodes runs counter to comedy and context, describing it as "absolutely ridiculous" – and informing his audience that they can check the podcasts on other platforms and decide for themselves.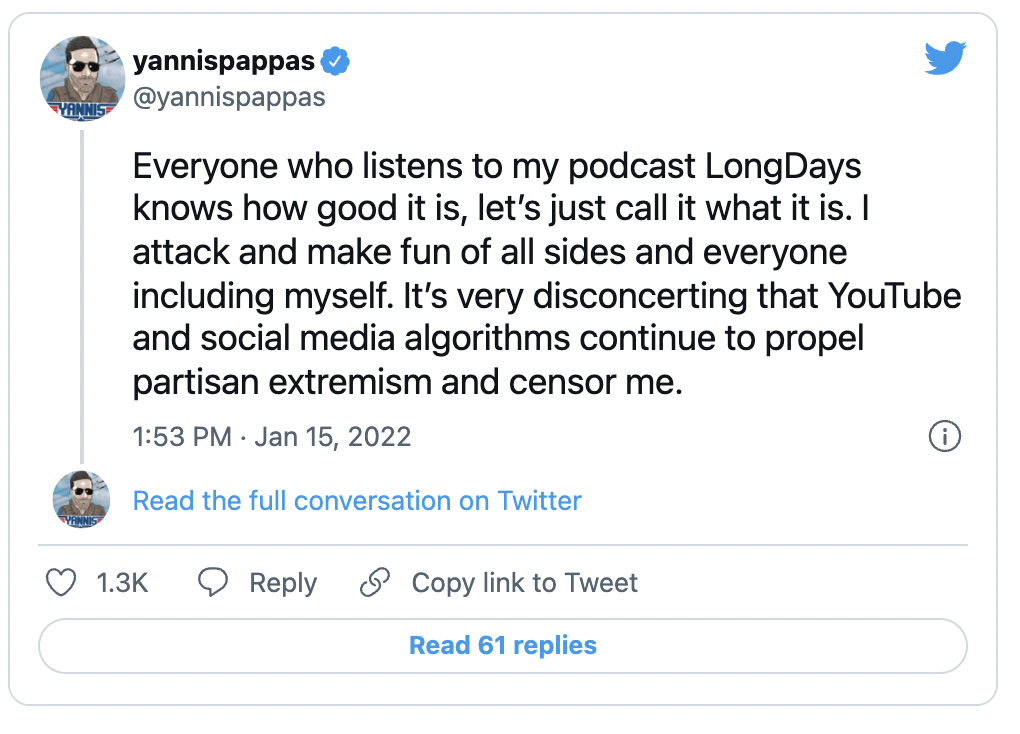 On Saturday, he revisited the topic in a series of tweets, essentially saying that his comedy takes aim at "all sides, including himself."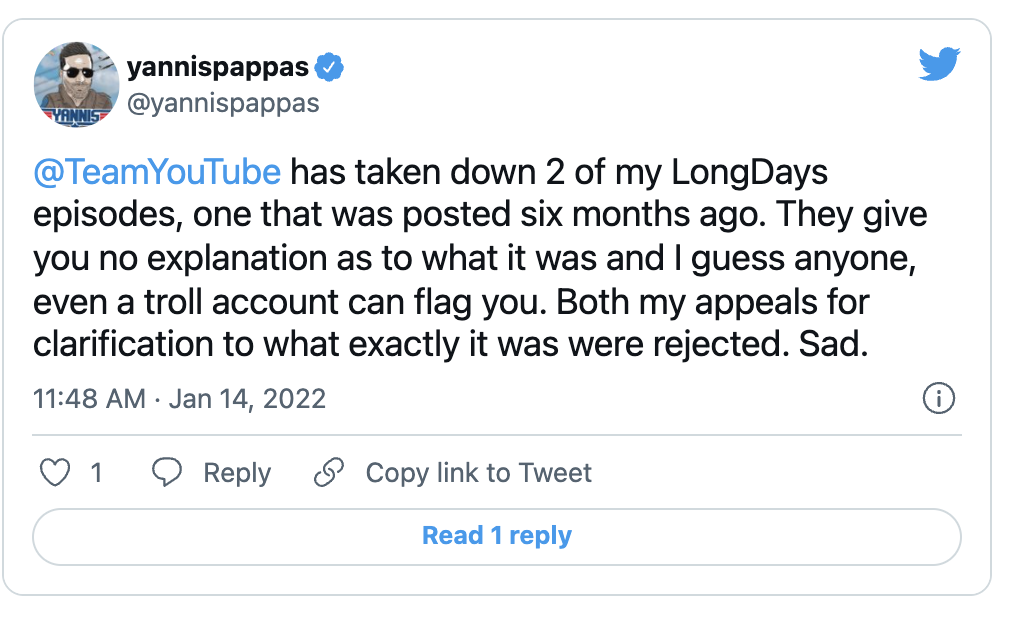 Pappas said he was neither left nor right, but a comedian, and that while his comedy interviews feature guests from diverse communities, coastal elites engage in "engineered diversity" which he lambasted as "fake, utopian bullshit."
He also believes that those enforcing online censorship are in reality distracting from the fact they themselves are the least diverse group – while censorship is their way of overcompensating.