Last week, YouTube was sued by payment protocol, Ripple, for not banning the accounts that impersonate their staff and are running scams on the platform.
(We obtained a copy of the lawsuit here if you want to read it.)
Now, a week later, YouTube has suspended the CTO of Ripple from the platform and says: "Please be aware that you are prohibited from accessing, possessing or creating any other YouTube accounts".
"Weirdly, @YouTube just decided to suspend my channel (SJoelKatz) for impersonation. I wonder who they think I was impersonating," wrote David Schwartz, the CTO of Ripple.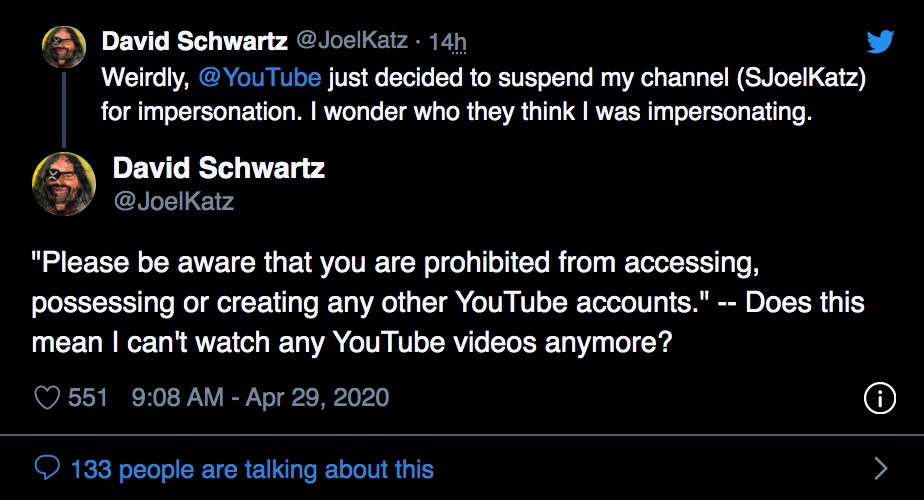 While Schwartz's genuine account was banned from the platform, there are still several impersonators who are deceiving YouTube users and promoting scams.
The scammers behind these videos often ask their viewers to send XRP to a certain wallet by providing an address and promise that they would reward them back with many more XRP.
Attacks such as these have become commonplace on YouTube, where famous personalities or brands are impersonated to rip people off.
YouTube channels have also been hacked for several months, with YouTube taking months to restore the channels to the original owner, meaning the scams have also remained on the platform for months, scamming users out of thousands of dollars.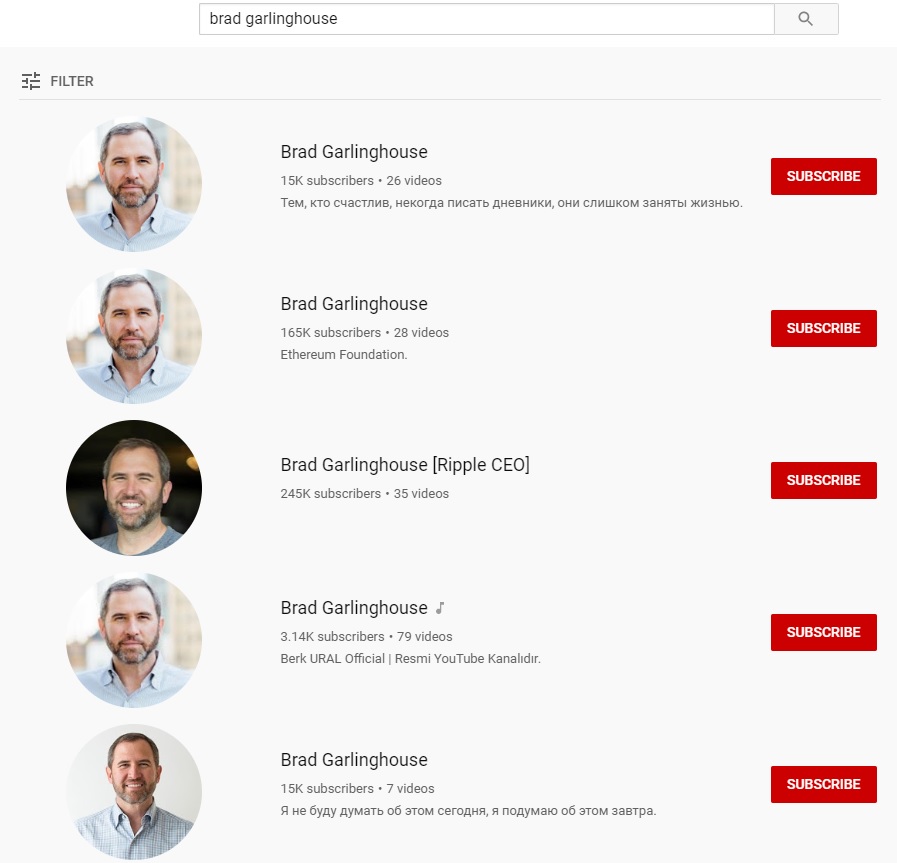 While dissenting content or anything that gives YouTube a whiff of a "conspiracy theory" is swiftly removed, scams remain up – showing everyone exactly where YouTube's priorities lie.
Naturally, Ripple tried to hold YouTube accountable and asked the platform to get rid of such scams. However, YouTube's inaction or the inability to weed out such accounts resulted in Ripple suing the platform.
"Social media companies have failed to police their platforms from being abused by the entirely preventable imposter giveaway scams," said Brad Garlinghouse, the CEO of Ripple. He further said that it was holding YouTube more accountable than others as "their platform is the epicenter for imposter scams, and they've done next to nothing in response to our constant takedown requests."
"YouTube's inertia is indicative of an industry-wide problem of a lack of accountability. Victims are forced to jump through hoops to report these scams, and oftentimes that doesn't even work – ex: when @Instagram told me I wasn't being impersonated. In times like these, when consumers already feel vulnerable, it's more important than ever to protect people from these rampant scams," said Garlinghouse.
And now, after suing YouTube for allowing fake accounts on the platform, YouTube shut Schwartz's account, suggesting it's one of the fake scams.