Here's YouTube, apparently attempting to effortlessly wreck another independent creator's life on the platform.
In one corner is Dan Salvato, founder of Team Salvato game developer studio, and creator of Doki Doki Literature Club, posting about his troubles on Twitter.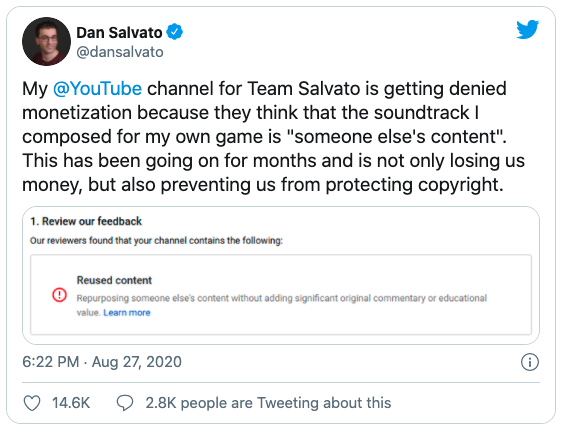 Whatever's in the other corner, however, is an entity large enough to not even really care, as it transpired from this Twitter exchange:
"My YouTube channel for Team Salvato is getting denied monetization because they think that the soundtrack I composed for my own game is 'someone else's content'. This has been going on for months and is not only losing us money, but also preventing us from protecting copyright," Salvato first posted on Twitter.
A screenshot Salvato added to his tweet shows that YouTube acted on the feedback of its reviewers, who found that the channel was guilty of containing "reused content," namely, "repurposing someone else's content" without adding anything original or educational to it.
The TeamYouTube Twitter account did respond to being tagged in the tweet – by asking for the channel's URL.
When provided with that, the account said that the channel "may be lacking context about the creative value it is adding to make the content unique" – and (this bot?) recommended "changing the overall strategy and reapplying in 30 days" for channel review.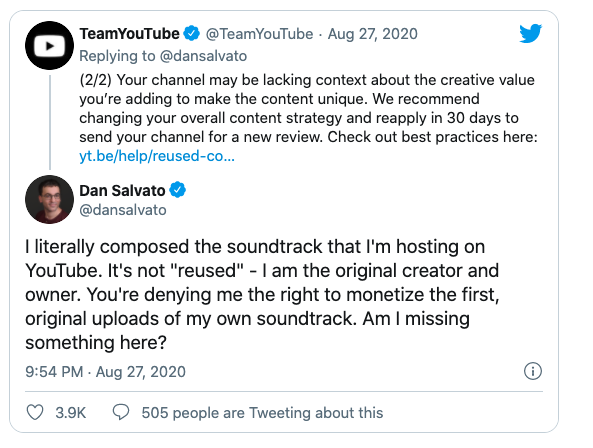 But Salvato is adamant that the term "reused" has nothing to do with his content, as he is the original creator of the soundtrack posted over on the YouTube channel.
And if this has been going on for months, and Salvato's claim of being an innocent victim of an absurd system turning its automated censorship so easily against what it appears to see as lesser creators – what is still doing on YouTube, you might ask?
Well – YouTube is accused by many of being a near monopoly. And as such, developers and creators like Salvato can't just give it up without serious repercussions to their exposure and ultimately income.
But then again – if YouTube itself is pushing demonetization against you, for apparently nonsensical reasons, while at the same time preventing you from legally protecting your work (through copyright law, such as it is…) – isn't it time to look elsewhere?
Salvato might still be hoping to create a response on Twitter significant enough to make YouTube take a second look at its policy against him and change its mind.
Some of the commenters, along with their wonder and outrage, expressed exactly this – that this particular case will eventually get resolved, but noting at the same time the big picture of YouTube's "complete ineptitude and disregard of creators."