One of the biggest independent news outlets on the internet, Zero Hedge, has had its Twitter account suddenly suspended.
The account has been in operation for over 10 years and had over 670,000 followers when it was suspended.
The Zero Hedge website itself pulls in more than 30 million visitors each month, according to stats from web analytics service SimilarWeb.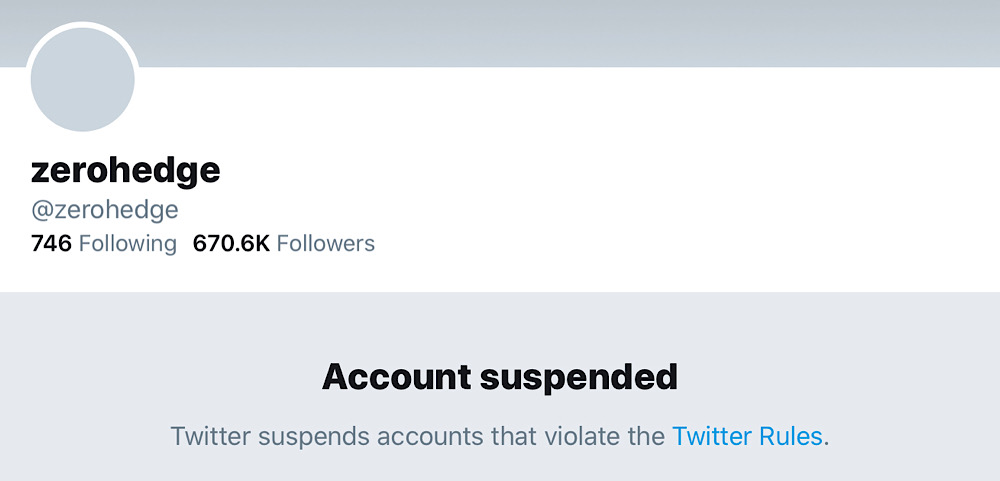 Zero Hedge say that they were banned from the platform for "abuse and harassment."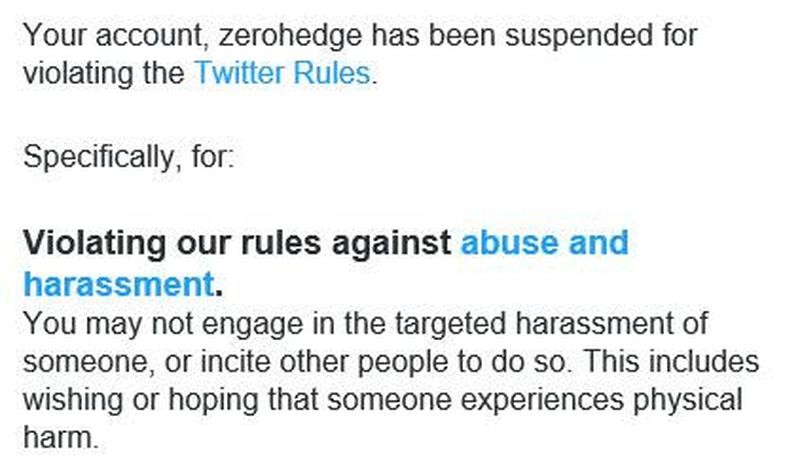 Zero Hedge says that their suspension came after a Buzzfeed journalist wrote an article saying that Zero Hedge "has released the personal information of a scientist from Wuhan, China, falsely accusing them of creating the coronavirus as a bioweapon, in a plot it said is the real-life version of the video game Resident Evil."
Zero Hedge responded to the claims with, "Contrary to the claims presented by Buzzfeed, we did not release any 'personal information,'" and that the scientist "is a public figure, and all the contact information that we presented was pulled from his publicly posted bio found on a website at the Wuhan Institute of Virology."
Many Twitter users are slamming the suspension and describing it as an example of CEO Jack Dorsey's "new BS terms of service" and "the biggest case of mass censorship of conservatives since Infowars was deplatformed."
https://twitter.com/zr1trader/status/1223386941539987457
https://twitter.com/ali/status/1223386058789965824
https://twitter.com/nibblix/status/1223388103177465856
https://twitter.com/lazcheven/status/1223385097258328066
The suspension of Zero Hedge comes a day after Twitter locked down the account of political commentator Katie Hopkins, removed most of her tweets, and temporarily suspended her from the platform.
Hopkins account had more than a million total followers and this suspension of Zero Hedge marks a second high profile purge by the social network within less than two days.